Most children relish in water play or when they have a chance to take a dip in the pool to splash and wade around. But did you know that learning to swim at a young age helps children to gain a range of development skills earlier?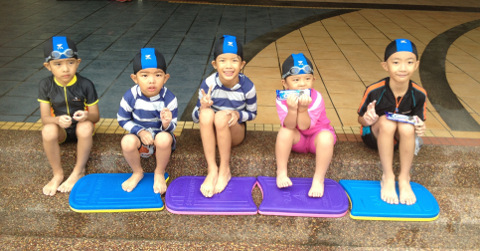 According to research findings from Australia, New Zealand and USA, children under five years of age who learn swimming achieved physical milestones faster, and also performed better in visual-motor activities.
More than just splashing around
Swimming is not just all fun and play, but also an excellent activity for a child's overall health and well-being.
Here are the top 5 reasons why your child should learn to swim.
1. Staying Trim and Fit:
A low-impact sport, swimming provides a full-body cardiovascular workout as the majority of the muscle groups are used during swimming. Plus it can be considered as a relaxing activity.
2. Swimming kids = happy kids:
Scientifically, the physical act of swimming helps to stimulate chemicals in the brain and releases stress-reducing hormones known as endorphins. It can help to improve one's mood and decrease anxiety. Studies have also shown that being in the waters and the feeling of buoyancy helps to improve one's frame of mind.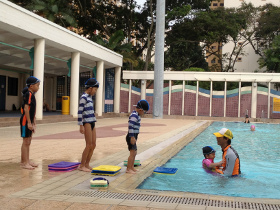 3. A skill that will carry on for life:
Although there is no 100% drown-proof way, swimming is a life skill and greatly reduces the incidence of drowning. It also provides the basic foundation for other activities such as kayaking, dragon boating and canoeing.
4. Self-esteem:
As your child slowly learns and improves their swimming skills, this helps to build their confidence and self-reliance. As they pick up new strokes and master them, they also learn the rewards of effort and determination. For children with special needs or disabilities, swimming gives them newfound freedom of movement, where they are unable to find on land.
5. Bonding in the waters:
Whether it's swimming with friends or family, swimming together allows children to have the opportunity to interact with others. Once your child is a competent and confident swimmer, you will be able to enjoy recreational swimming with them as spend some quality time in the water together. It is reported group swimming helps to improve family connections, even so for parents who have children with specials needs.
Contributed by Swimchamps Kinesis.
* * * * *
Like what you see here? Get parenting tips and stories straight to your inbox! Join our mailing list here.
Want to be heard 👂 and seen 👀 by over 100,000 parents in Singapore? We can help! Leave your contact here and we'll be in touch.