What if your child could learn with a smile on their face and a spring in their step? What if lessons had no more tears, except tears of laughter and joy?
Sparkanauts, a play and learn specialist for early years – 6 months to 6 years – aims to develop your child holistically through purposeful play via its brain development enrichment classes.
The founders of Sparkanauts believe that all children are born with an innate curiosity about the world around them. Hence, they created a unique Sparkanauts programme to provide children with lots of play activities that stretch them physically and mentally.
Sparkanauts incorporates music and movement in its weekly classes
Lynn Chua, a mother of twin boys, shared, "My twin boys are six and we have been with Sparkanauts for almost five years. Caleb and Callen started attending weekly class at Sparkanauts since they were 15 months old. We joined the playgroup when they were two years old. Lessons are always very vibrant and interesting. Teachers are dedicated and passionate."
"The boys had learnt every well in both academic and physical development all these years. They also grew very confident through the teachings. Joining Sparkanauts was the best choice we could ever make. Thank you to all the teachers who had put in so much effort," continued Lynn.
How does purposeful play build your child's holistic development?
At Sparkanauts, your child learns to play so that he or she can play to learn.
Their programme combines play exploration with results-oriented learning which aims to boost your child's intellectual, physical and social edge. Activities are specially designed to stimulate your child's brain development and hone their physical coordination abilities.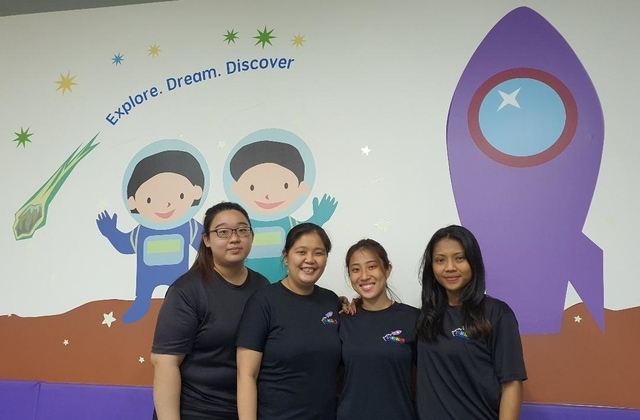 Sparkanauts' teachers are tertiary educated or are in the process of completing their degree.
Yao Fang, mum of CL, explained, "Having gone through various types of enrichment classes with CL, including the different popular brain training classes, I must say that Sparkanauts provides the most all-rounded programme for infants/toddlers."
"There is a clear balance of brain training, motor skills exercises and music appreciation all rolled into a single class so CL is able to warm up to the classes way faster than the others. In fact, we can clearly see how CL has improved from having difficulties doing her circuit practices initially to how she runs over to the circuit set up the moment she gets to class now."
Sparkanauts' approach is premised on the following:
1. Engaging children through purposeful play
2. Educating parents through a partnership
3. Enabling parent and child to learn positively through effective tools and methods
"My husband and I are very happy to have found Sparkanauts. The centre offers holistic brain development experiences in the different learning domains for my child. The variety of activities offered in each lesson kept my active son engaged constantly and meaningfully. I personally enjoy the creative and engaging lessons conducted by their ever enthusiastic and passionate teachers."
"Not only has my son benefited from the lessons, as a mother, I have also learnt useful tips and skills from the post-lesson sharing by the teachers. My son looks forward to his weekly Sparkanauts lesson. I have witnessed for myself improvements in his speech and interest in learning. Thank you Sparkanauts for providing a safe and engaging learning environment for my child," says mum Cherlin.
How does your child benefit from attending Sparkanauts' programme?
To cater to your child's needs, they will be evaluated according to their individual needs and pace. Sparkanauts will match the results with their growing up milestones to ensure that the learning journey will bring the following benefits:
• Brain development – improves your child's ability to process information, perform multi-task functions and attention span.
• Physical development – your child will have a greater awareness of postural control, fine motor skills and improve hand-eye coordination.
• Social development – your child will be more confident in group settings and relating with others around them.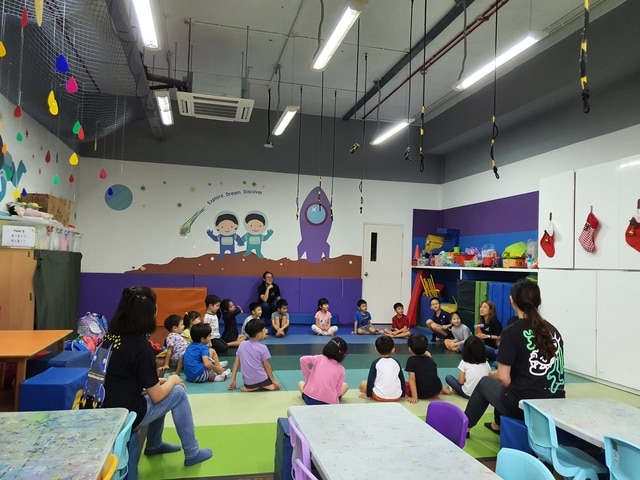 Children go through play activities in a colourfully-designed room. Ropes hanging from the ceiling are used for attaching trapeze bars during selected activities. (Photo was taken before Circuit Breaker)

"The other thing we love about Sparkanauts is how the children are not simply sorted by age but by their ability. For any parent who believes that each child learns at his/her own pace, Sparkanauts is definitely an enrichment class to check out! What's more, both parents can be there to participate and witness the development of the child, which means more meaningful bonding time with your infant!" said Yao Fang.
What are some fun activities your child can experience with Sparkanauts?
Sparkanauts' programme nurtures a positive attitude towards learning by demonstrating that learning is an interesting and enjoyable journey.
"All our learning activities are specially designed to stimulate the brain through a combination of play activities and research-based pedagogy. These activities include music and movement, visual training skills, memory training, letters and vocabulary identification, mathematical concepts, balance and coordination exercises, phonetic and action rhymes, and fine motor skills training," explains Sparkanaut's Principal Teacher Elizabeth Choo.
Hallmarks of the Sparkanauts lessons include the Vestibular Strengthening Programme, Motor Skills Programme and Intellectual Programme.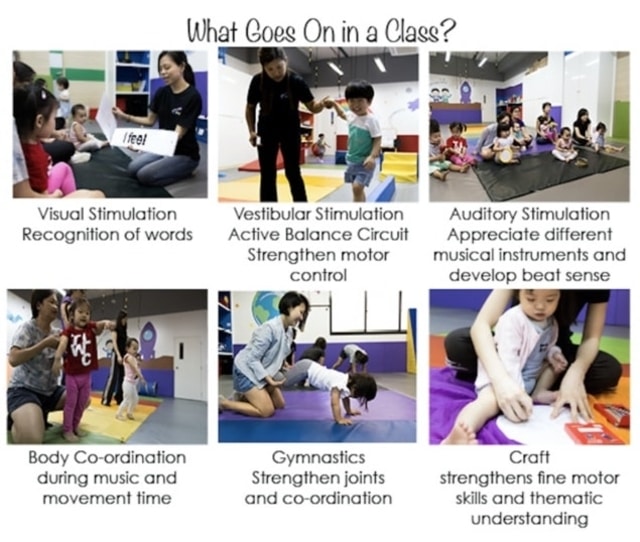 Vestibular Strengthening Programme
The vestibular system is located in a part of your child's brain that strengthens their ability to read, write, concentrate and pay attention. This balance programme is designed to strengthen your child's vestibular system and co-ordination.
In Sparkanauts' programme for two to three-year-olds, parents can join the class with their children to interact during activities. In this gym activity, a mother supports her daughter's legs in a wheelbarrow position to strengthen joints and improve balance and coordination.
Using a trapeze (with Teacher Rachel supervising) helps strengthen finger muscles while expanding the chest area, allowing the lungs to take in more oxygen for brain development.
Motor Skills Programme
Sparkanauts' mobility programme is designed to strengthen your child's midbrain. A strong midbrain strengthens your child's creativity, intuition, co-ordination and concentration abilities.
A student practises his grip with a large crayon. Sparkanauts includes activities where children can practise writing and colouring in the midst of music to help them remember key information.
Intellectual Programme
Through the use of visual and auditory training activities, Sparkanauts' intellectual programme strengthens your child's processing and memory skills. The materials used during the activities build a strong foundation for thinking, reading, writing and mathematics for pre-schoolers.
Teacher Syazza uses flashcards to teach students a song. Elements from around the world are often used such as greetings in different languages. Flashcards jog your child's photographic memory and visual recognition of letters and words.
Mum Joelle shared that her daughter had been attending Sparkanauts since her first baby class five years ago. "Today, she is a cheerful girl with a positive learning attitude. She looks forward to every class and especially loves the grammar and math segment as she finds them very interesting. I believe this is only made possible by the dedicated teachers of Sparkanauts. A big thank you!" said Joelle.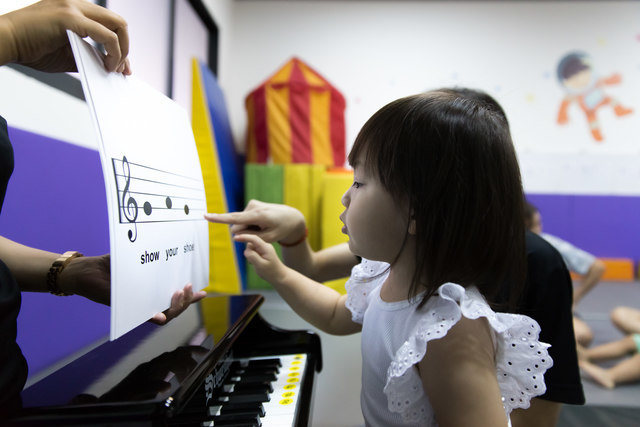 Simplified scoresheets are used to teach students how to read the notes and play on a small piano in class.
How can I learn more about Sparkanauts?
Sparkanauts conducts regular weekly enrichment classes as well as thematic holiday camps during the term breaks. You can visit sparkanauts.com and watch SparkanautsTV for short learning clips such as this specially created video for National Day.
Arrange for trial classes for the Sparkanauts' holistic enrichment programme by emailing info@sparkanauts.com or calling their hotline at 6259 0307.
Sparkanauts is located within SAFRA Toa Payoh's premises.

This post is brought to you by Sparkanauts.
By Julia Chan.
* * * * *
Stay in touch! Subscribe to our Telegram here for all our latest updates.
Want to be heard and seen by over 100,000 parents in Singapore? We can help! Leave your contact here and we'll be in touch.