Earning the title 'Dr Friendly' during his forty-two years of practice in managing children's dental care, Dr Lim Swee Teck was born in Perak, Malaysia. He graduated from the University of Singapore with a Bachelor of Dental Surgery in 1965 and was awarded the National University of Singapore School of Postgraduate Medical Studies scholarship and graduated with a Master of Dental Surgery in 1970. Dr. Lim continued to improve his communication techniques at his own practice which he set up in 1978.
A modern day pioneer in children's dentistry, he began to see results when his young patients enjoyed their dental visits instead of dreading them. From 2006 to 2009, he recorded his invaluable experiences on pediatric dentistry by authoring "The Healthy Smile Series", a 12-volume series of books for children aims to impart the importance of oral health care to children. Through these books, children can acquire good oral health care habits for life. The stories help children to build confidence and eliminate the fear of the dentist.
Married to fellow dentist (now retired) Dr Wee Kim Lian, TNAP spoke to this father of two and grandfather of five, aged two to ten.
Why did you decide to specialise in pediatric dentistry?
My love and passion to help children in Oral Health Care made me decide to specialise in this area. In the 1960, treatment and managing of children in Singapore was unheard of and most children do suffer from massive decay and cavities due to the lack of knowledge and management. These children were subjected to massive extraction under General Anaesthesia. As a result, these children grew up with numerous dental problems like crooked teeth and a tremendous fear of the dentist.
The passion to help children so that they can enjoy and better their lives with good oral health care motivated me to explore and pursue this area of specialty. At that time, being a new graduate and seeing all the continuous lines of crying and fearful children waiting in line for their extraction- made me want to pursue this area of specialty to help them.
How does a typical day look like for you at work?
With children be ready to expect the unexpected. It's always fun and challenging especially meeting and managing children between 3 and 4 years of age on their first visit to the dentist. The satisfaction of seeing the confident smile on the child's face after the treatment and getting a "high five" makes the day for me. This is satisfying for me as I know that I have added one more child to the thousands who will enjoy good oral health and have no fears of the dentist. They do make my day!
You were the first male specialist in children's dentistry in 1972, when you joined the faculty of dentistry at the National University of Singapore. What was that experience like for you?
It was nothing very special as in the United States where I was train, male Pediatric Dentists is such a common thing. But the more important aspect for me is that I am going to make the difference. Now that I am trained and qualified and have the expertise and know-how to implement programs for children in Dentistry in Singapore to better their oral health care.
Further being in the University and teaching undergraduates and postgraduates, we were able to develop programs to help them understand how to handle and manage children better. I am glad that many of these graduates have done well in the treatment of children in their practice. Some have gone further to specialize in Children's dentistry.
As this pool of expertise builds up more and more children in Singapore will benefit from this special care.
You spearheaded and formalised the pediatric dentistry department in the faculty of dentistry and developed the art of communicating with children. What does the "art of communicating" with children entail. Any secrets to share?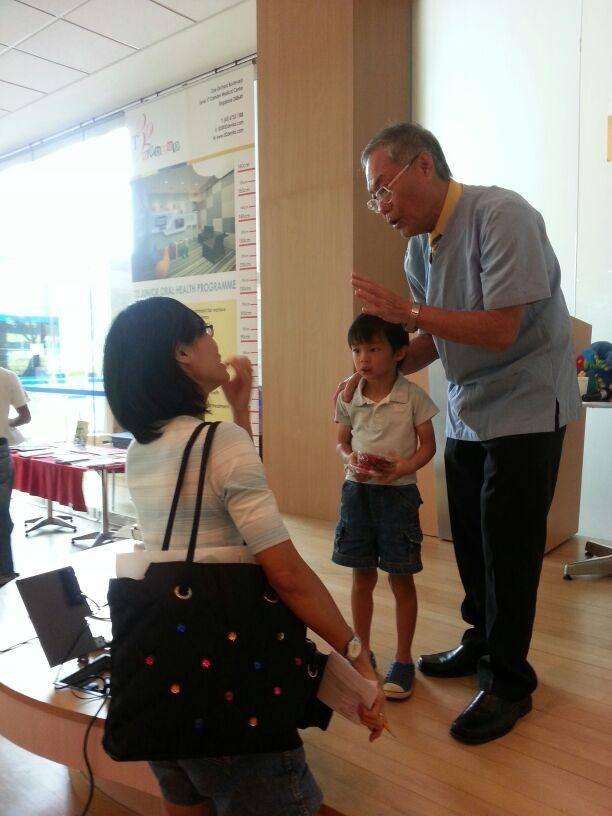 Communicating with children of different ages from 3 to teenagers require a lot of thought of what and how to say to them. It's getting the message across in a way that they can understand and comprehend. It's also to be able to do it kindly, sincerely and with love so that they are not put off, feel intimidated but instead encouraged and motivated. This is how we teach children. It's no point scolding or threatening them as it does not work. They get a lot of these vocal threats both at home and at school and it goes in one ear and out the other and makes them more resistant and stubborn.
In the process of managing a child, the secret is to bond with the children, so that they'll trust me and know that I am keen to help them. I have had kids that can fake a toothache, just because they love coming to see me. They tell me themselves.
What are some of the more interesting and severe cases you have come across?
Case #1 Pay-back: There was this 4 year old who was misbehaving and throwing a tantrum. So I had to be firm with her as she was used to doing this at home. She did response as my firmness and tone of voice meant that she'll not be able to do as she please. She settled down, co-operated and towards the end of the treatment, I suddenly felt my pants getting warm and wet. She had quietly in her own way of saying what she thought of me by peeing on me. She got her revenge. I looked at her and instead of scolding her I said "Thank you but I did what I can to help you." In the subsequent years, she was the most co-operative and wonderful patient.
Case #2 Managing Parents: And then there were children who have learnt the art of vomiting voluntarily to get their way. This is learnt by children to frighten and panic their parents whenever they do not want to do something or when they want to have their own way. They are really good at vomiting at will. I had a few- mainly boys. Recognising their ploy and with their parents present- whenever they attempt to do it on my dental chair, I will place a metal container in front of them and tell them "Go ahead and vomit into this dish. After that I am going to make you drink it." The look in their face and parents are amazing. When they know that I mean business – none of them have ever dared to do it. Until today, I am glad that I did not have to carry out the threat.
Case #3 What a girl can do: I had this classic case of a teenager who is very smart and intelligent but just refuses to brush his teeth. He always come with a body odour (as he skips baths), uncombed hair and a mouthful of dirty teeth with plague and infected gums. Years of gentle reminders did not work. Then one day when he was in Junior College, he came in smelling good and was well groomed. His mouth was sparkling clean. I was so proud of myself and I told his mother "Finally my message has sunk in." The mother looked at me and said "He has a girlfriend now." I realized that girls can do wonders for a guy.
Any life lessons learnt from treating and communicating with your young patients?
Children are now by nature much more informed and much more innovated with ideas learnt from the present exposure to technologies around them. It is fun listening to them and I have learnt a lot from them. Do not dismiss them as being too young to know anything but accept them that they are "an old Soul" in a child's body. They can tell you a lot of things if we will just listen.
You also wrote a 12-volume series of books for children on the importance of oral health care. What inspired you to write this series?
For forty odd years while treating and managing children and seeing them grow up from a 3 to 4 year old to an adult – I noticed that the many stories that I told them about oral health care as a child seems to work. As these children become adults and then parents themselves – they still remember these stories that I told them as children. They in turn are telling their own children.
These children have grown up confident and free from tooth decay and maintaining good oral health care habits and have no fears of the dentist. It made me think that these stories that I told them must have something in them and are indeed working. Further it is time tested. Further no such books on oral health care for children have ever been written and these are about the first ones. So, I decided to write them down and leave it as a legacy for future generations. Otherwise, these stories if unrecorded will die and vanish with me.
Children reading The Healthy Smile series books
The 12 volume series are now widely read and used by dentists, parents and children themselves to understand and practice good oral health care. It gives me a wonderful feeling when a child after reading these books comes into the dental office confident as he or she now knows what it is all about seeing a dentist. Hopefully these books can be translated into various languages for the international audience.
Are you currently working on any new projects?
My current project which I am passionate about is "Milk Bottle Decay in infant feeding". Young infants at the age of 2 years to 4 years have had bad experiences of massive decay or rampant cavities on their baby teeth. Treatment for them involves massive extraction under General Anaesthesia to remove the painful and infected baby teeth. It is a very traumatic experience for both child and parents.
The solution to avoid this is simple education of the parents (especially first time and young parents) of what to do after a milk feed – whether breast or formula. By merely cleaning and removal of the milk from the mouth after each feed will prevent all these problems from arising.
We have produced brochures on them and giving talks to care-givers like doctors, obstetricians, pediatricians and nurses on this subject so as to make them be aware and to seek their help in addressing this problem and educating the young parents. This situation is rampant all over the world. Hopefully in Singapore we will be successful and be a model for the world to follow.
One little known fact about children's teeth is…
Children's teeth are structurally thinner and have larger nerves (pulp) than adult teeth. That is why they are so prone to decay. However, through sustained effort put in to help a child acquire a good habit of proper oral health care will go a long way in ensuring not only a healthy individual and his well-being but also the development of a good attitude and self- esteem in the person for the rest of his life.
* * * * *
Like what you see here? Get parenting tips and stories straight to your inbox! Join our mailing list here.
Want to be heard 👂 and seen 👀 by over 100,000 parents in Singapore? We can help! Leave your contact here and we'll be in touch.