"You have the responsibility of helping the children of the world. That's your job." That was what my mum told me before she passed away.
A bespectacled and lanky lady, Dr. Jane Williams has quite a responsibility to bear. Before passing away in 2008, her mother Margaret Sasse, founder of KindyROO passed the baton to her to continue the KindyROO legacy.
So does she feel pressured to fill her mother's shoes?
"Not pressure, but pleasure. I get a lot of pleasure from my role because I have seen how many children and parents I have helped. The joy I get from helping parents help their children. Helping parents understand what important and helping them not to feel so pressured. I've seen many 'miracles'. I also feel very honored to be put in that position." Jane adds.
⇒ Related Read: I Can Predict My 4-Year-Old Child's Future!
How It All Begin
The Sasses grew up in a farm where Jane's Dad was a farmer and mother Margaret was a teacher. While teaching, Margaret encountered a lot of children who really struggled to learn. She learnt all sorts of ways to help them. But the one method where she found which really worked well with children was one with a lot of movements; climbing, creeping, crawling. She was so successful with implementing the methods with her class children that those who were considered to be 'dummies' from her class passed with flying colours.
"My mother thought to herself: Why do we wait for children to fail? When children start failing at school, its enormously emotionally stressful for them. So my mum decided to start something before they started to fail in school." Jane comments.
Thereafter, Jane's mother went overseas, looked at all the research, met and trained under key people. And that was how KindyROO started. When Margaret died suddenly in 2008, Jane took over her role.




Taking Over Her Mother's Role
Trained as a Paediatric Nurse, with a Business Management Degree and a Doctorate in Early Childhood Development and Parent Education, Jane worked as a full time lecturer at James Cook University, Townsville. Now she is an Adjunct Senior Lecturer at the School of Nursing, Midwifery & Nutrition at the University. Besides that, Jane is also the Editor of First Steps, a free magazine given to all parents in Australia dedicated to parent education.
Previously, she had run a KindyROO Centre on her own for 10 years when her children were little. Now, as the Director and General Manager of Research and Education for KindyROO, Jane's schedule revolves around a lot of travelling. When TNAP editor Michelle Ang spoke to her, she has not been home for almost a month. Before stopping over at Singapore, she was in Bulgaria speaking at a conference, and in Shanghai and Indonesia overseeing the curriculum program at the centres there.
A Family Affair
Jane's two older brothers also help in the business. Older brothers Rob Sasse, is the CEO while Peter Sasse, is the CFO of the company. What's interesting to note is that Jane's father, Harry Sasse, was the designer of all the equipment for KindyROO when they first started. At the request of his wife Margaret, he built the first piece of KindyROO equipment in 1981 for 30 years. The last piece of equipment he built was in 2005. Harry has since hung his carpentry tools and is happily retired at 88 years old.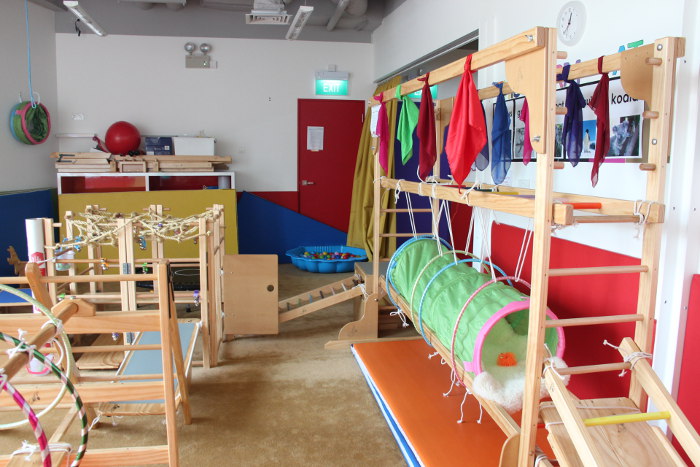 The equipment at KindyROO centre in Singapore at Alexandra Retail Centre (ARC). These are not built by Jane's father but the initial equipment were all hand made by him.
Story Close To Heart
Married with two sons and one daughter, Jane speaks fondly of her three children. Her two sons are in their 30s. One is an IT consultant and the other son is a Workplace Health and Safety Officer. Her daughter is in her late 20s and is a Physiotherapist. She is also a grandmother to a new born baby and a 4 year-old grandson.
Besides her mother's influence, another reason why Jane was so heavily involved was because her oldest son was born with oxygen deprivation.
Recounting how she was told that her eldest would never do really well as he had cerebral palsy, Jane proved them wrong.
"Being born with oxygen deprivation affected my son's cerebellum which in turn affected his motor and muscle tone. With a low motor and muscle tone, it was harder for him to do all the normal movements abled children could do. We did the KindyROO program together when he was only 6 weeks old. He was able to hit the developmental milestones albeit a little later. I am proud to say he is 33 this year and he has had a job as an IT consultant for the past 10 years. He's a great example of how our program helps children. I was told he would never do really well as he had Cerebral Palsy and we proved them wrong."
Text and Photos by Michelle Ang
If you find this article useful, do click Like and Share at the bottom of the post, thank you.
Want to be heard and seen by over 100,000 parents in Singapore? We can help! Leave your contact here and we'll be in touch.