Deborah Weber probably has the dream job of every child-lover. As Senior Manager of Child Research at Fisher-Price, Deb is responsible for product development research for the brand's babygear, licensed products and newborn and infant toys. As an infant-development expert, Deb observes children playing with products to determine size, scale, ergonomics, interest and appropriateness before Fisher-Price makes and introduces new toys to their range.
Most recently, Fisher-Price introduced the Play IQ concept, a form of assessment to aid parents in determining their child's level of development in three key areas – Physical, Cognitive and Social & Emotional. The team found that when infants are playing, they're also developing their Play IQ. The simple notion of play enables a child to learn about the world around them and develop a wide range of important skills essential for growth.
In fact, the more children play – the more they learn.
TNAP spoke to Deb and asked her more about Play IQ, the importance of play and what makes a good toy.
Hi Deborah, nice to meet you! So, tell us more about yourself.
I have two children Macy 12 Years old and Natalie 10 years old, and husband Gary. I have worked at Fisher-Price for 20 years. Prior to working at Fisher-Price I was an Instructor at University.
What is your role at Play Lab and how does a typical day look like for you working at Play Lab?
I am Sr. Manager of the Fisher-Price Child Research Department, which includes the Fisher-Price Play Laboratory, where our work is child's play. We work closely with the designers and engineers to make sure the toys and products we develop toy are safe, fun, age-appropriate and easy to use. There are children attending toy testing sessions almost every day. There is always something we are checking, such as how infants fit in a new bouncer seat, how toddlers use a new riding toy, or how interesting and exciting a new learning toy is to for preschool children.
We are involved in the product development process from the beginning idea through the manufacturing process. We send products into homes to continue the evaluation of how the products are meeting our expectations. Several thousand children participate each year. We also have on-going discussions with parents (and occasionally grandparents) to better understand their desires and needs. All in all, we are in close contact with our consumers and end-users – parents, grandparents and children.
You spend days observing children at play. What intrigues you the most when you watch them play?
I continue to be surprised by the ingenuity of even the youngest of children! The way they explore, discover and play is amazing. Observing them play is more than entertaining. We learn how they think and try to anticipate what they will do. However, they do things we don't expect. We look for surprises! One of the things that I find fascinating is how naturally comfortable today's children are with technology, from toys to computers to mommy's cell phone.
When you are observing children interacting with products, what are some traits and habits that you look out for specifically?
When evaluating a toy, we observe if the child is interested in it and can use it appropriately, how much fun it appears to be for the child, and we consider what
is working well and what could use improvement to add to the fun and enjoyment. We also confer with the moms, to gather opinions from them about the new toy ideas.
One little known fact about how infants and children play is…
They are attracted to bold, contrasting colors and simple but interesting patterns. They like listening and moving to lively, rhythmical music, as well as listening and falling asleep to soothing lullabies.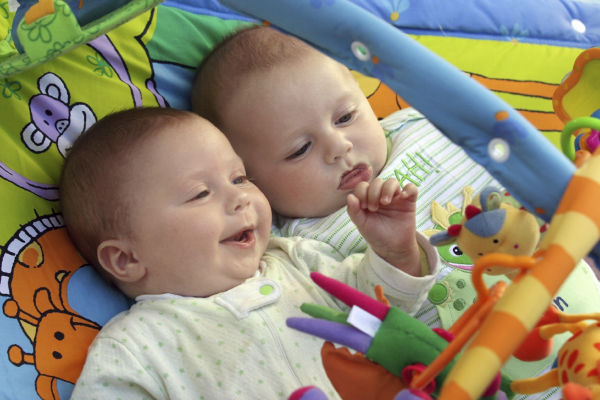 Toys are important because…
Toys provide play and developmental benefits for children. When infants grasp and shake a rattle, they are using their motor skills and hand-eye coordination. And, they experience cause and effect when they shake a rattle…they hear the sounds it makes. That provides an early learning experience for them. When children stack rings of different sizes on top of each other, they learn about size, counting, and have fun putting and taking the rings on and off, again experiencing cause and effect. And, when children play with a zoo playset containing animal figurines, they explore the sounds the animals make, where the animals live, what they eat, the sounds they make, all while having fun and playing imaginatively.
We take great care to include a variety of play features in toys to encourage imagination and an opportunity for children to fully enjoy and have fun playing while they experience the developmental benefits the toys provide.
Why are some toys so expensive? Does the price determine the quality of the toy?
Some toys are more expensive than others because they include multiple play features and electronic content – songs and phrases. There are many good quality toys available in different price ranges.
A good toy is one that…
Is safe and durable, age appropriate, fun to use and interesting to the child, stimulates creativity and imagination,encourages inquisitiveness and resourcefulness, is a tool for learning, is challenging yet not frustrating, invites repeated use, involves child interaction, addresses developing needs and emerging skills.
What is Play IQ all about?
Play IQ is a Fisher-Price concept and platform that helps parents assess a child's level of development in three key pillars: Physical, Cognitive and Social & Emotional. By identifying child development in this way, parents can learn how to help their baby achieve new milestones and keep track of their progress in these areas. Play IQ is more than just letting babies play. It is really about realising that babies develop at their own pace and achieve milestones at different times. Play IQ highlights the importance of giving children the right toys at the right developmental stage to develop their fullest potential.
Is Play IQ a quantifiable measure? How can it be measured?
Fisher-Price brings Play IQ alive through a unique and innovative website. On the site, parents can track the developmental progress of their children through special tools and badges. At the same time, the site also recommends toys for babies aged 1-24 months according to their developmental needs. Parents can also learn about their child's persona (e.g. Born Leader, Natural Charmer or Small World Explorer) and how they can participate in developing their child's Play IQ.
How can parents improve your own children's Play IQ at home?
It is important to choose toys that are designed to focus on developmental skills most suitable for certain age ranges. For example, for newborns to 9 months, it is good to give them toys that engage the senses such as playpen mobiles, rattles or teether toys. For 9-18 months, you can give them toys that 'imitate' real life-like plastic tools or an animal farm. For 18-36 months, problem-solving toys are great, such as balls, push and pull toys or things that fit together. You can also give them toys that help them use their imagination like those with animal figures or dolls. Giving the right toys at the right developmental stage will help in developing a child's fullest potential.
Many parents in Singapore are working parents and time with their children is limited. Your best tip to these parents is…
It is worthwhile for parents to get involved in playing with their children because not only will that be a fun activity, but such interaction will develop a special connection and bond between parent and child. Busy parents might not have time to play with their child for hours at a time, but the quality time that is spent together is precious and the most should be made of it. It is just as important to sit back and observe the play sometimes, to really understand how the child is thinking and developing and getting along with others.
Thanks for your time Deb!
* * * * *
Like what you see here? Get parenting tips and stories straight to your inbox! Join our mailing list here.
Want to be heard 👂 and seen 👀 by over 100,000 parents in Singapore? We can help! Leave your contact here and we'll be in touch.