Research consistently shows a positive association between financial literacy and more financial planning and savings, better investment behaviour and a better understanding of managing retirement drawdowns.
In Singapore, statistics show that there is an increasing tendency in younger Singaporeans​ to default on their credit card debt – a telling indication of low financial literacy, skills and discipline.
As parents, you hold the power to reverse this trend. Find out how you can begin to inculcate healthy financial habits in your children with their CNY ang baos (red packets).
➡️ Related Read: Parents' Guide to Important E-Money Conversations this Chinese New Year
Make it clear that money is a limited resource
In today's world where money tends to be invisible (owing to the increasing usage of credit cards, digital wallets, and mobile bank transfers), not seeing actual money exchanged can make it challenging for children to grasp the concept of money.
That makes it even more crucial for you to explain money as a limited resource to your child and for them to understand the concept that once the money is spent, it's gone forever.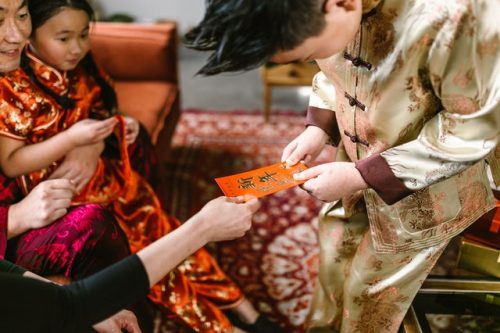 CNY ang baos make this lesson easier since your children have most likely received physical cash.
Come up with a simple exercise, where your child has to pay for something with real money; for instance, buying a snack at the grocery store. Once they have made the purchase, reinforce the idea that they have now spent the money – and they cannot get it back. Then, drive the idea that there is no difference between spending cold hard cash and other 'invisible' forms of money.
Give your children the opportunity to spend their money

It's crucial to allow your children to spend their money. Squirrelling all their CNY ang bao money away the moment they've received – takes away from the opportunity to learn basic financial skills such as budgeting.
One way you could go about teaching your children how to manage money is to let them know that you're giving them S$50 from their CNY ang bao money to spend however they wish. Guide them through the decision process by asking simple questions like:
Do you need a new bag?
Will you use this notebook?
Why is buying a new Lego set important to you?
Can you find this stuffed toy cheaper elsewhere? (showing them a table of different prices across retailers can also help drive across this point)
Explain how interest can grow savings over time
Kids' Savings Bank Account
Highest Interest Earned
Initial Deposit & Minimum Balance
POSB's My Account
3.8% when converted to a multiplier account%
None
UOB Junior Savers Account
0.05%
S$500 initial deposit
S$2 fee charged per month if average daily balance falls below S$500
OCBC Mighty Savers
0.20%
None
CIMB Junior Savers Account
0.40%
S$1,000 initial deposit
No fall below fee
Maybank Youngstarz Savings Account
0.38%
S$10 initial deposit
No fall below fee
Standard Chartered e$saver Kids
Call to find out
None, but you must deposit S$50 each month by GIRO
Use the remaining CNY ang bao money to teach the importance of delayed gratification (i.e. the importance of savings). Depending on how old your child is, they may find it challenging to grasp the concept of putting their money in a bank to earn interest. You could use a practical exercise to show how interest works.
Encourage your child to put S$1 into their piggy bank every day for a month. For every S$1 they put in, you put in S$0.50. Once the month is over, ask your child how much they expect to be inside the piggy bank.
Open the piggy bank and separate what your child has put in and the excess. Explain to them that the extra money is what they could receive if they put their savings in a bank account.
Tip: At the end of this exercise, take your child to the bank and open a bank account to deposit their remaining CNY ang bao money.
➡️ Related Read: How to Use Ang Pow Money to Teach Children About Money
This gives your child responsibility and ownership of the account, which goes a long way in instilling discipline and creating a savings mentality. Banks that offer kids savings accounts (for those under the age of 16) include DBS, UOB, OCBC, CIMB, Citibank, Maybank and Standard Chartered.
Teach the concept of investing
If your child is slightly older, you can provide a more in-depth explanation of stocks and other investments – and how, when done appropriately, can grow their savings much faster compared to interest received from a savings account.
Eventually, you may even want to let your child buy their own stocks. Just make sure that they are putting in an amount they're comfortable losing and are not over-leveraging.
This article is contributed by ValueChampion.sg, a personal finance research firm.
Photos provided by ValueChampion.
* * * * *
Like what you see here? Get parenting tips and stories straight to your inbox! Join our mailing list here.
Want to be heard 👂 and seen 👀 by over 100,000 parents in Singapore? We can help! Leave your contact here and we'll be in touch.