Question:My 5 year old daughter still can't recognize her alphabets and she just started to have spelling tests every Friday. How can I make her learn her spelling words? I've tried making her write the word a few times but she still can't get it right. I'm so stressed. What should I do?
Answer: To retain words as vocabulary in the mind, the words need to draw a context and meaning for the child. Whilst I am a believer of practising to gain familiarity, the retention level will be very short if the comprehension aspect is absent. At 5 years, a child should have some basic concepts toward literacy and even some phonics background. Work first on her ability to understand and reproduce the letters in the alphabet, both in the upper and lower case, independently. When the next spelling list comes home, work through the words with your child and communicate the meaning of the word(s) to her.
I would also suggest that you have a talk with the teacher and manage the number of words that the teacher might want to 'test' your child. Crashing the child's self-confidence with a 'failed' spelling test is the last thing that we should see happening. Make some arrangements with the teacher in class and start off with 2 to 3 words for your daughter. Increase it as she gains better grasp of the language.
LEAP Schoolhouse has an 'Ask and Learn' section every Thursday. If you have any questions regarding language or literacy development, feel free to drop your questions in the comment box below, or post them on LEAP SchoolHouse Facebook page.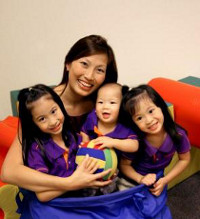 In this Ask The Expert section, we asked Esther Lim, CEO and Founder of LEAP SchoolHouse, about language and literacy development in children. Born and educated in Singapore, she holds a Master Degree in Education (NTU/NIE), Bachelor Degree in Arts (NTU), Diploma in Marketing – Top student for the year 2000 (Chartered Institute of Marketing). Esther has more than 10 years of teaching experience and has taught widely in both Secondary and Primary schools. She was also involved in curriculum planning and development work for the primary unit at MOE for several years. Esther has also conducted workshops and talks for educators, locally and overseas. Besides all the above credentials, Esther is also a mother of three children.
For more info, visit leapschoolhouse.com.sg
If you find this article useful, do click Like and Share at the bottom of the post, thank you.
Want to be heard and seen by over 100,000 parents in Singapore? We can help! Leave your contact here and we'll be in touch.