Have you ever stopped in your tracks when you witness a two-year-old reading aloud so proficiently? Or even a young infant pointing at signs and reading the words printed on them?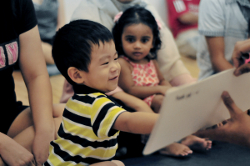 "Stop!" "Go!" "Thank you!"? Is it actually possible for children before the age of one to recognise alphabets/letters, let alone read them aloud? The answer is YES! Reading is a baby's first step into the world beyond his mother's arms.
There is no better gift that any parent could give to her child than teaching him how to read. It is a lifelong gift that parents can give their children and a very valuable one at that.
Benefits of teaching your baby to read
There really is no need to go into details on the many benefits of teaching your baby to read at a young age. Parents around the world are all aware of this and have been finding interesting ways to interest and teach their child. Many studies have shown that the process of teaching a baby how to read simultaneously teaches him how to comprehend spoken languages more effectively and efficiently. Reading also stimulates the child's overall brain development, as the brain grows by use.
The internationally-recognised Glenn Doman method is in complete agreement with the positive benefits of reading at a young age and have taught parents around the world that teaching their child to read can be as easy as 1, 2, 3! Here are some of the methods that you can also practice with your child at home!
Teach your baby to read with three easy steps!
Present new words in large print word cards (2 to 3 inches high) and in red so that the baby's immature visual pathway can absorb the information easily.
Read to your child loudly and clearly to ensure that they arrive in baby's brain for storage. The message is reinforced when it goes simultaneously down two pathways – the visual and the auditory pathways. Rather than just relying on the auditory pathway alone when speaking directly to your child.
Be organised, Mommy! Your baby's brain is a highly organised system, teaching him how to read in an orderly approach allows language to be learned with great speed and efficiency. For example, present reading words two or three times on the same day for four to five days consecutively before presenting a new series of words.
Paint your baby a vibrant and imaginative world through words with the Glenn Doman reading program. Parents who are keen to receive proper guidance on teaching reading to their child can also visit our centre, Sparkanauts. Being the first and only early enrichment gym endorsed by Glenn Doman it incorporates the method of structured reading to babies from as early as five months old!
All parents want their children to be intellectually capable and independent, but few parents know that when you teach a baby to read, he will very quickly become a child who can read absolutely anything and who adores reading. Reading opens an entire universe to a child.
So let's start today!
Look at the world around us, there is actually a wealth of information that we can pass on to our child. Go beyond the ABCs and 123s, do you know you can easily teach your little toddler facts such as who invented the world's first light bulb? The various artworks of Vincent Van Gogh and more? Yes, it is possible to help our children kick start acquiring knowledge that will spur a greater interest towards learning.
Do keep a lookout for our next article on Encyclopedic Knowledge for more tips!
By Selene Diong, Principal, Sparkanauts.
* * * * *
Like what you see here? Get parenting tips and stories straight to your inbox! Join our mailing list here.
Want to be heard 👂 and seen 👀 by over 100,000 parents in Singapore? We can help! Leave your contact here and we'll be in touch.