This Mother's Day, The New Age Parents spoke to Esther Lim, CEO and founder of LEAP Schoolhouse. A mother of three children, she shares with us about her journey through motherhood, what influenced her parenting style and how she juggles her work and family.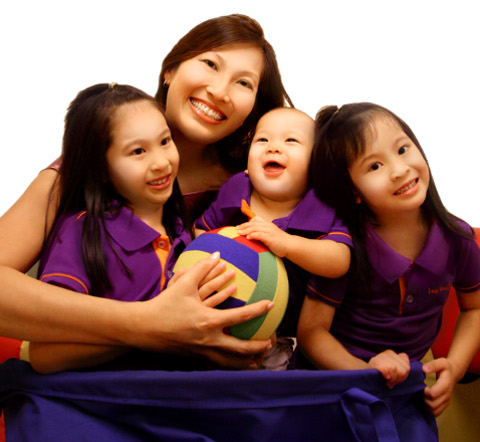 Hi Esther! Tell us more about yourself, your family and your kid(s)
Myself? I'm a mother of 3 kids aged 7, 4 and 1.5 years old. The elder 2 are my princesses and my youngest is the prince (and tyrant!) in the family. I come from a small family with only my parents and a younger brother so I have always wanted a bigger family when my own time comes. I had wanted to have 6 kids initially but that kind of freaked my husband out and we compromised at 3.
I have been in the business of education all my life. I taught tuition whilst supporting myself through University and my first job was as a registered MOE teacher in a now-defunct primary school. It has been a wonderful 15 years!
What was the biggest hurdle you had to overcome during your first pregnancy?
For me, the biggest challenge was the health aspect. I have always been active and exercised quite abit, so I had always thought that even when pregnant, my golfing and swimming could continue. Alas, my first trimester was a challenge and I was on tenterhooks for most of the first 5 months of my pregnancy as I was spotting throughout. I am glad though that things eased off, my gynae was a great comfort and family support pulled me through.
As an educator, do you feel that you were better informed and equipped of what to do and what to expect in raising a child?
I do feel so. In fact, my husband is the one who sometimes feels that I am too relaxed with them! My belief is that given time, children will blossom. My eldest daughter did not start on the reading process till she was 5 years old but today she is reading short chapter books independently. Building skills, values and self-confidence in a child are important aspects to me. In today's technologically-driven world, knowledge is so transient; it is how you manage the knowledge you have in hand that is important.
How has having a child changed your perspective in life?
Having children has made me value things around me even more. Relationships, especially, is something I treasure close to me now more than ever. I have also become more willing to accept the different perspectives of things. Not sure if that is something to do with age too.
How has your own parent's upbringing influenced you in your own parenting style?
I have been fiercely independent since I was a child. I was 3 when I was sent (alone) to buy newspapers for my dad and 5 when told to go run errands at the market with my 2.5year old brother in tow. I started part-timing for pocket money at 15.
My parents, therefore, left me very much to myself. My father's mantra has been that one needs to be able to take care of one-self, because no one else can do it for you. I suppose that has therefore rubbed off in the way I was brought up. I kept therefore to myself a lot. In some ways, whilst I might be able to do a lot for myself, I found it difficult to relate to people (Surprise! Surprise! ) whilst growing up.
So for me, I value that I have a communicative relationship with my children. I see it as "What I had lacked in, I would wish for my children to have". I love the girl talk with my eldest daughter, Liv (she is 7) before she goes to bed and I will never get tired of them (all 3 of my kids) screaming at the door when I come home. Yes, parenting is the toughest job cause I never get a day of rest! But it is the most rewarding for me.
What are some everyday routines you have with your child before leaving for work, and after you come home from work?
I get up by 6-ish every morning to get my eldest ready for school. Then it is my second one, Liz's turn to be cleaned up when my husband drops Liv off. We leave together by 8am and after dropping Liz at school, it is off to work for the both of us. I try to be home by the late afternoon to work with Liv on her homework as well as see to my son Lloyd. He is a gem at 1.5 years old.
I make it a point to have dinner at home, spend play time with the kids and put them to bed every night. It is often after all that is done then can I go back to following up with work or if possibly, some 'me' time. I am lucky if it is a night that I can get 5-6 hours of continuous sleep.
How do you juggle between your career and family?
I take one day at a time. Time is finite so how you spend it counts. I am blessed that I have great family support. When I need to make business trips, the fact that I know that my kids are cared well for puts my mind at great ease. Whenever I can, I take a vacation or a stay-cation to purposefully put aside time to be with my kids. I make an effort to call back home to my parents at least once every 2 days. Every morning is quiet time with my husband to catch up on things and with each other. Having a business and a young family is tough but being positive and looking at the bright side of things helps a great deal!
Best thing about being a working mother?
The ability to contribute, to be part of something exciting and moving towards things that has a cause to, keeps my adrenaline going. Working makes me more aware of things around me, the social dynamics of interacting with people makes me feel that I am still in touch with the "outside world".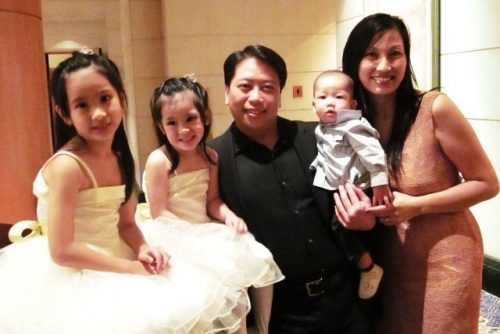 Worst thing about being a working mother?
It's a juggling act that at times I must admit I falter too. I used to hate not being able to be by my child's side when they are ill. Things however are getting better now that they are older and my time is a little more flexible with work being minding a business of my own.
Any parenting secrets or words of encouragement to share with our readers?
Being a parent is a learning process every day for each and every one of us with a kid. Look at the positive and enjoy the time with your child(ren). They grow up too quickly.
By Esther Lim, CEO and Founder of LEAP SchoolHouse.
Born and educated in Singapore, she holds a Master Degree in Education (NTU/NIE), Bachelor Degree in Arts (NTU), Diploma in Marketing – Top student for the year 2000 (Chartered Institute of Marketing). Esther has more than 10 years of teaching experience and has taught widely in both Secondary and Primary schools. She was also involved in curriculum planning and development work for the primary unit at MOE for several years. Esther has also conducted workshops and talks for educators, locally and overseas. Esther is also a mother of three children.
* * * * *
Enjoyed reading this or learned something new? Click the Like and Share button below!
Want to be heard 👂 and seen 👀 by over 100,000 parents in Singapore? We can help! Leave your contact here and we'll be in touch.