As our children grow from curious toddlers to active preschoolers, it becomes tougher for parents to monitor whether they are eating right and consuming a balanced diet that meets their nutritional needs. The daily schedule of preschoolers and primary school children today does not help either. Their after school time can be packed with enrichment classes, co-curricular activities tuition and more.
If you have an active and growing child at home, how do you ensure that their diet is enough to fuel and nourish their day-to-day activities?
Nutritious Growing-Up Milk for Kids
GROW Ready-to-Drink (RTD) is conveniently packed and is scientifically designed to support the nourishment of children in their formative years to get the most out of work and play, anytime, anywhere.
Here are 7 reasons why GROW RTD is the premium healthier choice milk for your child.
1. It contains Calcium & Vitamin D* – Calcium helps your child to build strong bones and teeth while Vitamin D supports calcium absorption and improves bone strength
2. It is teeming with Vitamins (26 to be exact!) to support your child's overall growth and development
3. It is loaded with Iron and Zinc to reinforce your child's natural defenses
4. It carries Vitamins B1 and B2 help to release energy from proteins, fats and carbohydrates
5. It contains Antioxidants such as Selenium, Vitamin C and E, to protect cells from free radicals that may have escaped the natural processes of your child's body defenses
6. It comprises of Choline, Taurine and DHA – important compounds that aids mental and physical development**
7. It includes 2 Prebiotics (Inulin & FOS) that promote the growth of good Bifidus bacteria to help maintain a healthy digestive system
*In comparison to previous formulation
**For children up to 6 months of age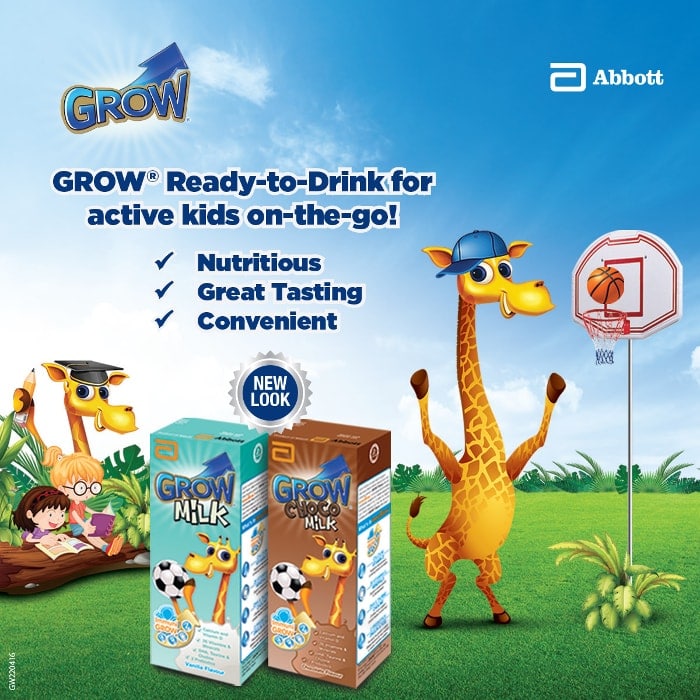 GROW RTD delivers more with its higher nutritional value for your growing preschooler.
Suitable for children aged 3 to 12 years old, GROW RTD is available at all major supermarkets at $7.90 for six 180ml packs.
Get your packets today in two great tasting flavours, chocolate and vanilla!
If you find this article useful, do click Like and Share at the bottom of the post, thank you.
Want to be heard and seen by over 100,000 parents in Singapore? We can help! Leave your contact here and we'll be in touch.