Beautiful store-bought Christmas cards are so easy to get these days. But there's something special about a handmade card – especially one that's made by a child! This Christmas, rope the little one in and create some cards of your own that your friends will utterly love. Here are five fun ideas to try.
⇒ Related Read: Christmas DIY Gifts
#1 Layered effects
It's amazing how very simple stencils can come together to create a gorgeous work of art like this! You can buy stencils from Art Friend, Spotlight or most other craft stores. Use coloured ink and stamp pads to layer the stencils randomly onto a thick sheet of water colour paper. Optional: You may want to add paper snowflakes or other cut-out shapes below these layers.
Colourwash the whole sheet with a kaleidoscope of water colours. Once dry, cut up the big sheet to get your preferred card sizes.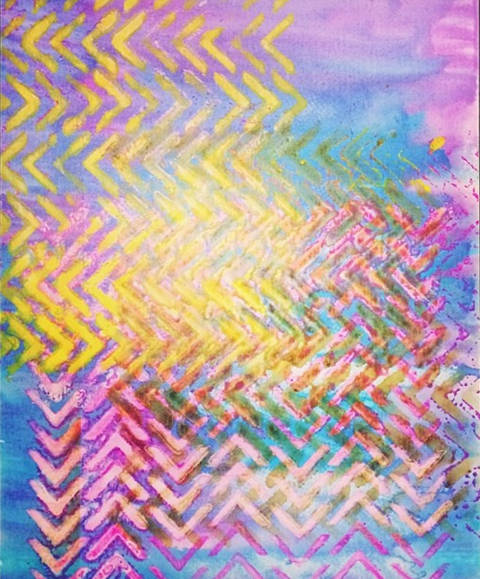 #2 Thumbprint magic
Even if your child's not adept with a brush yet, he'll enjoy using his thumb to create little wreaths for your cards! Of course, you'll need to guide him until he's confident printing on his own. Lightly trace out a circle on some plain card, to use as a guide in the printing. Add some dots of red circles to represent holly, and a painted or fabric ribbon to finish it up! Simple but effective!
#3 Tissues to the rescue
Tear up a whole bunch of coloured tissues. You can buy these from Art Friend, or ransack your kitchen for remnant pieces of napkin! Next have your kids glue these down onto paper with a glue solution and brushes (Equal parts water and white glue should work fine. Or invest in a tub of mod podge.) Brush over the tissue with another layer of glue and leave to dry. Once your collage pieces are all dried up, cut out shapes of your choice and adhere to coloured cardstock! You can cut triangles for trees, or star shapes, or hearts – whatever you fancy, really!
#4 Waxing beautiful
Wax and water don't mix, so wax patterns and water colours can make for some very pretty pieces! In a technique called "wax resist", use a wax crayon or candle to draw a simple design on some plain thick cardstock. Then paint over with your water colours! That's all there is to it, really. Use as many colours as you'd like – in fact the nice thing about water colours is how the colours merge and blend together on the paper. You can use any colour of crayon to draw, but there's something really special about a plain white crayon on white paper, so that it looks like the pattern is just part of the paper when you're done.
#5 All that glitters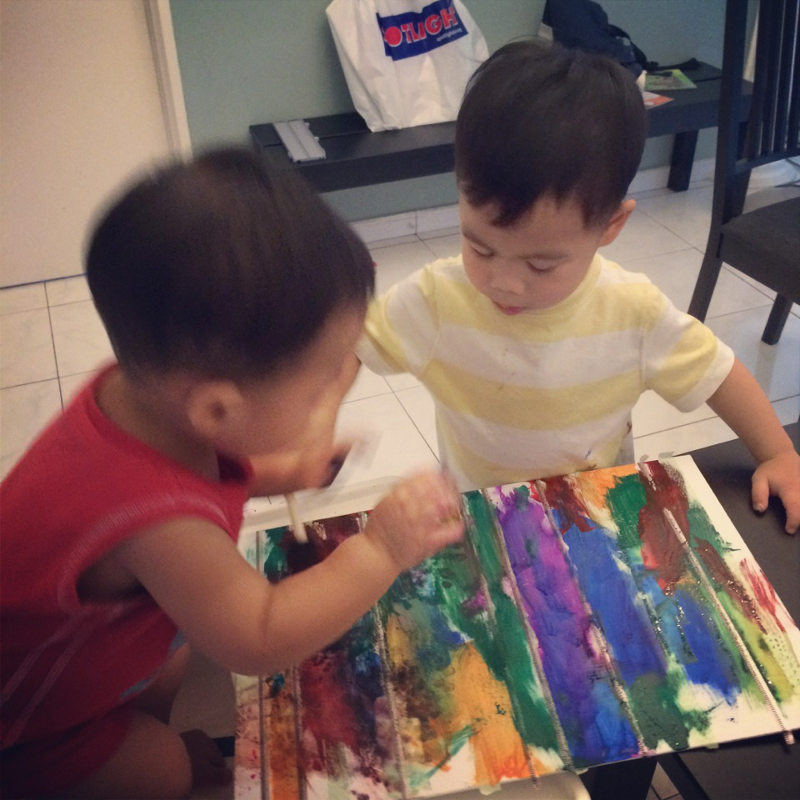 Using green triangles as your "Christmas trees", ask your child to decorate each tree with glitter pens and glittery stickers! They'll have such fun making their trees look pretty, and you'll have many trees to choose from in a very short time! Let dry completely, and adhere to plain cardstock for a pretty card.
➡️ Related Read: Where to Buy Christmas Trees in Singapore
By Dorothea Chow.
This article was first published in The New Age Parents e-magazine.
* * * * *
If you find this article useful, do click Like and Share at the bottom of the post, thank you.
Like what you see here? Get parenting tips and stories straight to your inbox! Join our mailing list here.