Whether you're a fan of sweet creamy Mao Shan Wang or the bittersweet Red Prawn, it can be tempting to go on a massive buying spree when the King of Fruit is in season!
But what happens when you've eaten your fill of this delicious fruit and now feel too jelak to wipe your plate clean? Here's an idea: try baking a durian dessert with these easy recipes! From a light chiffon durian cake to the ever-loved durian cream puffs, here are some of our favourite durian recipes that'll have you coming back for more!
---
1. Durian Chiffon Cake
Durian chiffon cakes are perfect if you love the contrast between the rich fruit and the lightness of chiffon! What makes this durian cake recipe stand out is its use of vegetable oil instead of butter. The end result is a moist durian-flavoured cake that's soft and fluffy!
Prep time: 30 minutes
Cook time: 60 minutes
Servings: 6 slices
Ingredients:
120g

durian

flesh (blended)
50g corn oil
70ml milk
40g caster sugar
120g plain flour
5 eggs (separated)
1 tsp lemon juice
80g sugar
How to make:
Preheat the oven to 130°C.
Start your

durian puree

preparation by peeling the flesh off leftover durian seeds and using a Mayer hand blender to get a fine paste.
Mix the corn oil, milk and caster sugar in a bowl. Add flour, durian paste and egg yolks and mix till it forms a batter.
Whisk the egg whites until they turn white and opaque. Squeeze in a dash of lemon juice and add the sugar in small batches as you're mixing the egg whites. Mix till stiff peaks form.
Combine the egg white mixture and egg yolk batter by introducing a third of the egg whites into the yolk mixture. Fold the remaining egg white mixture in.
Pour the combined mixture into a

chiffon cake mould

(available on

Home Supplies

), pop it into the preheated oven for an hour (130°C for 45 minutes and 160°C for the remaining 15 minutes).
Let it cool before serving.
Pro tip: It's easier to separate yolks from whites when eggs are first taken out of the fridge!

2. Durian Lava Cake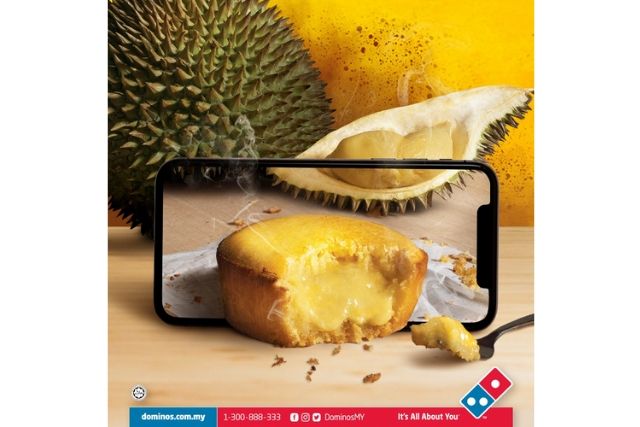 (Photo credit: Domino's Pizza Malaysia / Facebook)
If you're a hardcore durian fan, you've definitely heard of the fantastic news across the border! As a limited-time promotion, Domino's Pizza is appealing to dessert lovers with their mouth-watering durian lava cake — the true definition of pure liquid gold, rich and creamy. It's no wonder the reviews on social media are rad. Feeling the #FOMO? Satisfy your lava cake cravings with this easy durian cake recipe instead!
Prep time: 30 minutes
Cook time: 8-10 minutes
Servings: 8 portions
Ingredients:
200g durian flesh (blended)
110g butter
4 tbsp yoghurt
65g plain flour
¼ tsp salt
4 eggs
220g fine sugar
1 tsp vanilla extract
Oil
How to make:
Preheat the oven to 200°C.
Brush oil on your

ramekins

, then add a tablespoon of sugar in each and swirl the mix around to coat the sides and bottom.
Whisk the remaining butter and add the durian puree, yoghurt, vanilla extract and sifted flour.
In a separate bowl, beat the eggs with salt and sugar until the mixture turns thick and light yellow.
Gradually fold the durian puree mixture into the egg mixture.
Fill the cups with the mixture and bake in the oven for 8 to 10 minutes. Leave your lava cakes to cool till room temperature and serve thereafter.

3. Durian Mousse Cake
Craving a more intense durian flavour from your durian cake recipes? Try baking a durian mousse cake! Durian mousse cakes pack a punch in the texture and flavour departments by offering fluffy sponge layers that pair well with the creamy durian puree.
Prep time: 45 minutes
Cook time: 35 minutes
Servings: 8 portions
Ingredients:
400g durian flesh
4 eggs (separated)
2 tbsp vegetable oil
1 tbsp water
1 tsp vanilla extract
½ tsp cream of tartar
⅛ tsp salt
80g sugar
100g cake flour
200ml milk
5g gelatin
Sugar to taste
300ml thickened cream
How to make:
Preheat the oven to 170°C.
Combine oil, water and vanilla essence. Set aside for mixing later.
Add salt and egg whites to the clean bowl and beat on medium speed until frothy with big bubbles.
Add

cream of tartar

and beat with a mixer until foamy, while gradually adding sugar until soft peaks form.
Reduce to low speed and beat in the yolks, one at a time. Then, add in the oil mixture that was previously set aside.
Add sifted flour and keep the beating going. Make sure not to overwork the batter or it'll deflate.
Use a

spatula

to gently scrape the mixture into a pan and bake in the preheated oven for 30-35 minutes. Cover with

cling wrap

to prevent the cake from drying out.
While the sponge cake is baking, start preparing the mousse. Add the milk and puree the durian flesh.
Bloom the gelatin powder in cold water and let it sit for two minutes. Microwave it for five seconds so it can easily dissolve into the puree mixture.
Whip the thickened cream until stiff peaks form. Thereafter, combine with the durian puree to form your durian mousse.
Assemble the final product by spreading the durian mousse over the sponge cake. Use a

cake slicer

(available on

Walfos Official Store

) to split the cake into separate layers so you can spread the mousse evenly.
When you're done layering and filling out crevices, freeze the cake overnight before serving it the next day!

4. Durian Butter Cake
Prep time: 20 minutes
Cook time: 40 minutes
Servings: 10 portions
Known as pound cake among veteran bakers, the durian butter cake has to be the simplest recipe in our list! With its sweet buttery taste, you'll love how both durian and butter flavours mesh to overwhelm your taste buds — in a good way! Using a small range of ingredients and simple baking techniques, It's the perfect durian cake recipe to try if you're new to baking.
Ingredients:
160g durian flesh (blended)
180g butter
140g sugar
4 eggs
120g cake flour
½ tsp baking powder
How to make:
Preheat the oven to 170°C.
Prepare the cake batter by first mixing butter with

sugar

. Then add in the eggs to form a golden yellow mixture.
Mix the

cake flour

(available on

S-Mart by Shopee Official Store

) and baking powder. Add the mixture in two batches, making sure to mix well in between for easier dissolving. Once done, pop the blended durian flesh in and mix thoroughly.
Pour the batter into a

baking tin

(available on

CHEFMADE Official Store

) lined with parchment paper and bake in the oven for 35-40 minutes. Leave to cool and slice the cake so it's ready for eating.

5. Durian Crepe Cake
Preparing a durian crepe cake certainly isn't easy given the amount of preparation work needed. Patiently work past this and you'll discover a rewarding durian cake recipe that combines pleasing aesthetics with layers of luscious durian cream.
Prep time: 60 minutes
Cook time: 30 mins
Servings: 6 portions
Crepe ingredients:
3 eggs
160g cake flour
100g sugar
30g corn starch
50g butter
400ml milk
Filling ingredients:
120g durian flesh
200ml thickened cream
40g sugar
How to make:
Starting with the crepe batter, whisk together the eggs, sugar and cornstarch while sifting in cake flour.
After this is done, gradually pour in the milk and melted butter. Whisk away until there are no lumps.
Refrigerate the crepe batter for 30 minutes before preparing it for pan-frying. Remember to brush oil on the sides so the batter won't stick. Cook until both sides are golden brown.
Deseed the durian flesh and blend it until it turns into a fine paste.
Begin whipping the thickened cream and sugar until stiff peaks appear. Following this, carefully fold in the durian paste and mix well.
Start forming the mille crepe by alternating between laying a pancake crepe down and spreading the durian filling over it. Repeat until you achieve the desired height.
Once done, cover the durian crepe cake with cling wrap and refrigerate it for at least three hours so it can set.

6. Durian Pie
We understand that making a durian pie from scratch is no easy feat. From constantly stirring the durian filling at low heat to getting the dough-to-water ratio just right, you're putting in lots of work for this sweet and flaky pastry. Thankfully, this durian dessert recipe details and summarises the necessary steps to baking your very own durian pie.
Durian filling ingredients:
500g durian flesh
400ml milk
200g sugar
2 egg yolks
100ml water
1 tbsp cornstarch
Pie crust ingredients:
500g flour
200g butter
1 tsp sugar
1 tsp salt
½ cup of cold water
How to make:
On low heat, mix fresh milk with sugar in a

pot

and let it sit until the sugar fully dissolves. Then, add the durian flesh and stir well.
Cover the lid until the durian mixture begins bubbling. Periodically uncover the lid and stir to ensure everything the heat is evenly distributed.
When the flesh is fully dissolved, add two egg yolks in separate batches.
Mix water with cornstarch and add this resulting mixture into your pot to increase the overall thickness.
Preheat the oven to 180°C.
For the pie crust, first thoroughly mix the flour, sugar and salt. Add butter in two batches so the mixture is evenly distributed.
Gradually add cold water to the dough and feel the dough each time. Stop adding once the crumbly dough holds together when you pinch it with your fingers.
Place the dough mound in the fridge for five minutes so the fats are solidified and spread less when baked.
Prepare to roll out the dough by first covering the table with flour so the dough doesn't stick. Make sure it's wide enough to fill your pan. Wipe with egg wash for added pastry shine and to seal up crust edges.
Pour the durian filling in the crust-covered pan and bake for 40-50 minutes.

7. Durian Puffs
Arguably one of the most popular durian dessert recipes in Singapore for its addictive, just-one-more nature, durian puffs are the go-to snack if you're feeling skittish while craving durian. Instead of overpowering your palate with a buttery and sugary taste, well-baked puffs elevate the flavour of the durian filling with its crisp texture and overall airiness. Merge this incredible taste profile with its bite-sized charm and you have a winning formula that'll please the most ardent of durian connoisseurs.
Durian filling ingredients:
500g durian flesh
100ml thickened cream
Choux pastry ingredients:
50g butter
120ml water
¼ tsp salt
75g plain flour sifted
2 large eggs
How to make:
Preheat the oven to 180°C.
Bring water, butter and salt to boil in a pot over medium heat. Once boiling, add sifted flour and stir the mixture to form your dough should start forming.
Reduce to low heat, and keep stirring the mixture for about a minute until the dough's surface smoothens.
Cool the dough to room temperature and add eggs one at a time, beating well with each addition.
Transfer dough mixture into a piping bag and pipe onto a greased tray.
Brush tops of dough with egg wash and bake for 20-25 minutes until choux puffs are crisp on the outside and dry on the inside. Let puffs cool to room temperature.
For the puff filling, blend the durian flesh until creamy.
Whip thickened cream till stiff peaks form and fold in together with durian puree.
Cut cooled choux puffs in half and pipe in durian cream.
For the finishing touches, dust icing sugar over durian puffs and serve cold.
Thrilled to test these out for yourself? Order quality durians easily with these online durian sellers!
This article was first produced by Shopee Singapore.
* * * * *
Like what you see here? Get parenting tips and stories straight to your inbox! Join our mailing list here.
Want to be heard 👂 and seen 👀 by over 100,000 parents in Singapore? We can help! Leave your contact here and we'll be in touch.