When it comes to indoor activities to do with your little one, baking sure takes the cake. Not only is baking with kids fun, but you can count on teaching your child useful measuring skills as well.
Thumb through a recipe book or the internet for an easy and fun baking recipe both you and your child would like to try. Shop online for the ingredients or visit here for a list of online grocery stores and dedicate some time to try one of these easy baking recipes for kids at home!

Baking with kids: Reel them in with colourful baking tools!
1. Easter Rabbit Cookie Cutter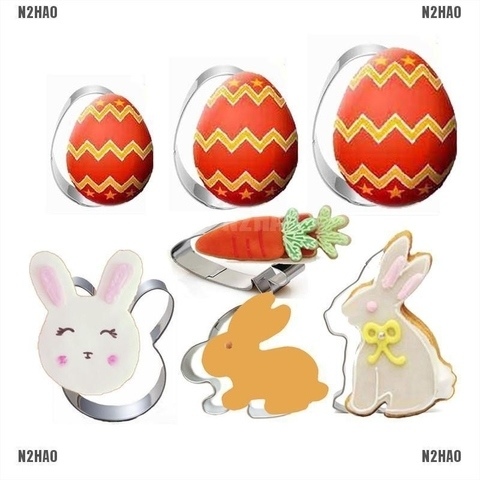 (Credit: cupcake.sg)
What's Easter without Easter bunnies? We love these rabbit easter moulds (available on cupcake.sg)! From cute bunny moulds to carrot and Easter egg moulds, encourage your kids to use these and make baking with kids the fun activity it's meant to be!

2. Mini Spatulas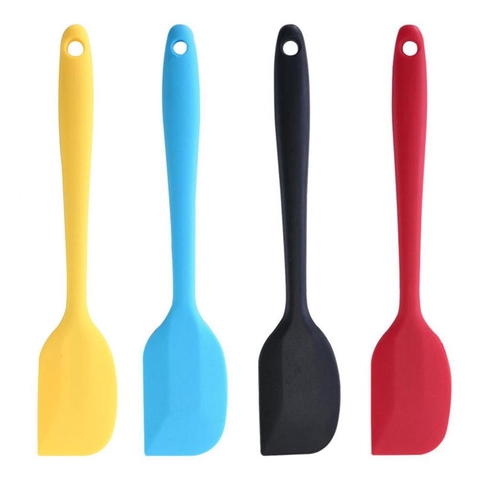 (Credit: allinit.sg)
Don't let your little ones struggle with large spatulas! Hand them these nifty heat-resistant silicone grade spatulas (available on allinit.sg).
They are non-stick and easy to use when your little one is folding and mixing batter in the bowl. And if you're up for letting your kid try his or her hand at browning butter, these spatulas won't heat up easily so they are safe to use!

3. Colourful Measuring Scoops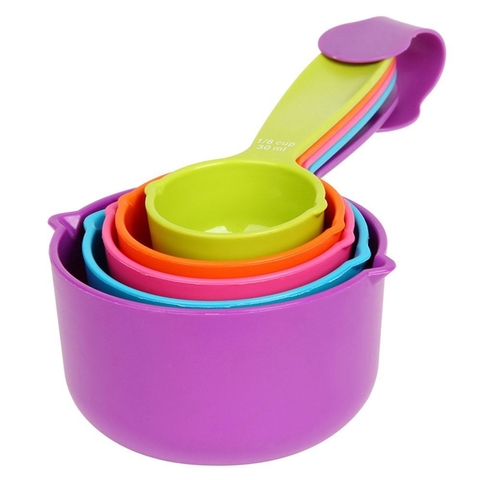 (Credit: september.sg)
Get your kids to love math with these colourful measuring scoops (available on september.sg). Stackable and lightweight, these baking tools come with large handles for your little pastry chefs to measure the amount of flour required for the recipe!
Did we mention they have useful scales on their handles — in cups and millilitres?

4. Apron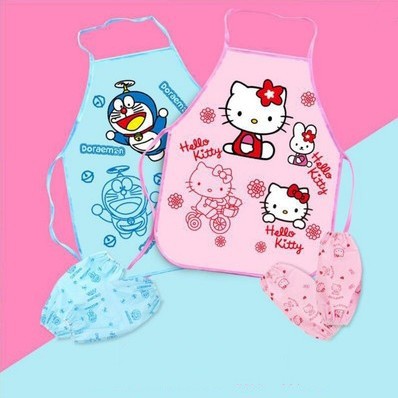 (Credit: haoyang.sg)
Who says you can't dress up, even if you're just spending some time at home in the kitchen? These cute aprons are adorable outfits! This apron and sleeve set (available on haoyang.sg) designs include Doraemon and Hello Kitty.

5. Mini Rolling Pins
(Credit: Hellow)
Baking with kids involves them participating in as many steps of the recipe as possible. Hand them these mini rolling pins (available on Hellow) and guide them with the correct technique of rolling the dough.
They are small enough for the young ones to handle while their non-stick silicone surface means cleaning up wouldn't be a nightmare!
That's not all, check out these silicone baking whisks, bright cupcake liners and a sturdy 2-step stool so your little ones can reach the kitchen countertop and feel involved in the process!
---
Easy baking recipes to get started with
1. Animal-Shaped Lemony Biscuits
Kids will adore this easy animal-shaped lemony biscuits recipe! If you've been wanting to expose your kids to the tangy taste of lemon, this is one way to do it. Use Easter bunny and carrot-shaped cookie moulds for a festive touch, and let the kids try decorating their animal biscuits with dried fruits!
What you need:
150g of brown sugar
100g salted butter
1 egg
225g of plain flour
½ teaspoon of baking powder
1 lemon
A packet of

cranberries

to decorate
How to make:
Mix butter and sugar in a mixing bowl — this is for the biscuit dough
Crack an egg into the mixture, add half a teaspoon of baking powder and mix well
Squeeze the zest of 1 lemon into the mixture
Add in baking flour and stir
Guide your kid in shaping the dough into bunnies with these bunny moulds
Add rice sprinkles or cranberries for decoration
Pop them into the fridge to set them
Place them on a baking tray and bake at 180 degree-Celsius, for 12-14 minutes until they're golden brown
Dig in!

2. Vanilla Cupcakes
Vanilla cupcakes serve as a great starting point for other cupcakes. You can easily transform them into any other cupcake later on with coloured icing and other cake decors.
What you need:
200g self-raising flour
200g unsalted butter
200g of caster sugar
4 eggs
1 teaspoon of vanilla essence
How to make:

 Pour castor sugar and butter into the mixer
Blend for about 30 – 60 seconds till its light and fluffy
Sift in the self-raising flour and add four beaten eggs into the mix
Mix it again on low speed for 30 – 60 seconds
Add a teaspoon of vanilla extract and mix it for 30 seconds, at low speed
Scoop two spoonfuls of the mix into each cupcake liner
Bake the cupcakes at about 175-degree celsius for about 17 minutes
Once baked, let them cool on a cooling rack
Your kids can also choose to add on these cute bunny cake toppers!

3. Mug Brownie
Let your kids take over the reins with this easy mug brownie recipe!
What you need:
6 tablespoons of your favourite chocolate mix
4 tablespoons of flour
2 tablespoons of canola oil
3 tablespoons of water
¼ teaspoon of vanilla extract
A handful of chocolate chips
How to make:
Add the hot chocolate mix and flour into a microwaveable mug
Stir the mixture using a fork
Add in canola oil, water,

vanilla extract

and a handful of chocolate chips
Stir the mixture till it's of a gooey consistency and microwave it for about 30 minutes
Carefully remove the hot mug from the microwave and dig in! (You can add a scoop of ice-cream to cool it down too)

4. Chocolate Hot Cross Bun
What's Easter without hot cross buns? This recipe comes with a chocolate twist and is perfect for fussy little eaters!
What you need:
50g butter
1 egg
250ml milk
50g sugar
7g dried active

yeast

400g bread flour
60g cocoa powder
½ teaspoon salt
125g chocolate chips
2 tablespoon flour
1 tablespoon cocoa powder
2 tablespoon water
50g sugar
60ml water
How to make:
To make the dough, melt the butter in a saucepan or microwave it
Mix in the egg, milk (both at room temperature), half of the sugar, egg, melted butter and yeast in a mixing bowl. Mix for 10-15 minutes till it is bubbly
Add bread flour, cocoa powder, the remaining sugar and salt into the same mixture. Use a wooden spoon and combine the mixture well
Scoop out in the mixture onto your counter, on a bed of flour and knead the dough for 10-15 minutes or till elastic. Pro tip: Guide your little ones to use the base of their palms to really get into the dough
Once done, it's time for the dough to rise! Place the dough into the same mixing bowl and cover it with a damp cloth. Leave it for an hour so it can rise and double in volume
Turn out the dough onto the counter (sprinkled with flour) and press it into a large disk shape. For the fun part, pour the chocolate chips over the disk!
Fold the sides of the dough into the middle and knead the dough once again, to evenly distribute the chocolate chips
Divide the dough into 10 smooth balls and place them on a baking sheet, making sure to leave 1-inch space between them
Cover the tray for with the same damp cloth and leave it to rise for an hour
Pipe the hot cross buns chocolate crosses (a mixture of flour, cocoa powder and water)
Bake the buns at 180-degrees Celsius for about 20 minutes
Once done, brush on them a sugar syrup (mix equal sugar and water and boil until sugar has dissolved)
Serve toasted with butter, enjoy!

5. Peanut Butter Chocolate Egg

What you'll need:
About 220g of unsalted butter
About 240g

peanut butter

About 120g confectioners' sugar
About 240g plain cookies such as graham crackers or

digestive biscuits

250g chocolate of your choice
1 tablespoon vegetable/canola oil
Sprinkles for toppings
How to make it:
Start by adding the cookies into a food processor and blitz till it becomes a crumbly, smooth paste
Add butter into a mixing bowl and microwave it till it melts and becomes smooth
Whisk in peanut butter and milk into the bowl. Add powdered sugar, salt and whisk till it becomes of thick consistency
Pour the cookie crumbs into the mixture and use your hands to knead the mixture into a dough
Pinch out a portion of the dough and roll into egg-shaped (use

Easter egg moulds

for the perfect shape)
Place the eggs onto a baking tray lined with parchment paper and pop them into the freezer till they turn solid
Meanwhile, melt chocolate in a microwave and pour into a bowl with tall sides
Add 1 tablespoon of vegetable oil and blend the mixture
Dip the eggs into the bowl and tap on off excess chocolate
Place the eggs onto the baking sheet and top on rainbow sprinkles
Place into the freezer and freeze them further before serving!
Baking with kids is more about the process rather than the end result!
⇒ Related Read: Baking With Your Child: A Practical Step By Step Guide
Baking with kids can get messy so there are bound to be some accidents. Teach your kids that mistakes are normal in the process and find a solution together! Most importantly, let them know their help was important — praise them when they complete a task, no matter how simple.
Continue engaging them in other ways this stay home period, perhaps through these creative arts and crafts activities for kids?
This article was first produced by Shopee Singapore.
* * * * *
Like what you see here? Get parenting tips and stories straight to your inbox! Join our mailing list here.
Want to be heard 👂 and seen 👀 by over 100,000 parents in Singapore? We can help! Leave your contact here and we'll be in touch.