Keeping my children occupied with enriching activities while they are at home has always been important to me and many of my fellow parents. With the recent school holidays brought forward to coincide with Circuit Breaker measures, I must admit that it was difficult looking for ways to meaningfully engage my primary schoolboys, who are full of energy, practically bouncing off the walls.
Of course, one of the obvious solutions was to allow them more screen time than our usual (pre-Circuit Breaker) quota of half an hour a day.
As a work-from-home-mum, I do need to carve out pockets of time for myself to manage work-related tasks during the day and it was difficult to do that while keeping an eye on the boys. I can imagine that many parents have been in the same boat as me during this time.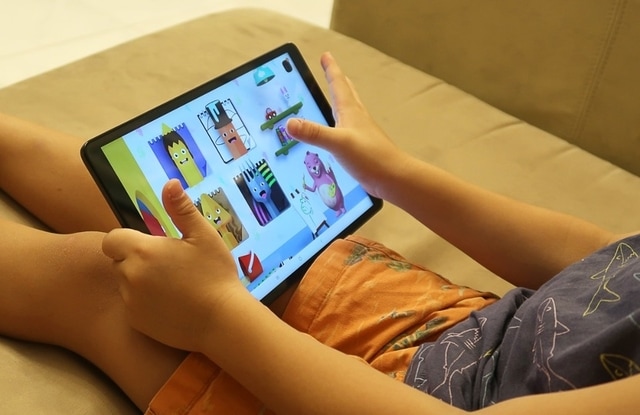 To be honest, I am keenly aware of the extensive research that highlights how digital media can have a negative impact on child development or lead to cultivating technology addiction and habits. I was also concerned about what the extra screen time might do to their eyes and worried about whether the boys might accidentally access mature content or fritter the hours away if I leave them unattended with a device.
That said, I am not one for throwing out the baby with the bathwater. I do believe that digital media is not as "negative" as some might say. Rather, it is a tool that has to be used with much discretion and parental involvement.
I believe that with the right amount of controls and guidance, a moderate amount of screen time is not detrimental and can even be beneficial to our children's mental well-being and ours.
So, I was intrigued when Samsung reached out to me to review their latest app: Samsung Kids.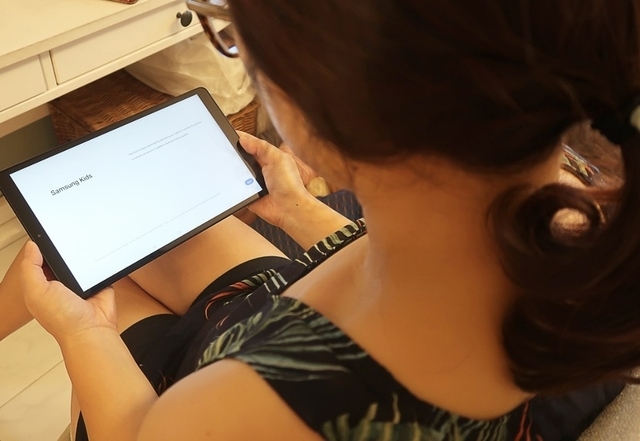 No price tag
While there are other parental control apps such as Familytime or Qustodio that work well, they, however, require a subscription. Samsung Kids is available FREE on all Samsung devices and seeks to help parents be proactive in guiding their children in developing good digital media habits and boundaries.
While it might take a while for children to try out and become familiar with navigating through the app and its activities, it's a small price to pay for the peace of mind that comes from knowing your children are safe from advertisements and negative content during their usage of the device.
Navigate with ease with parental controls
Samsung Kids is basically a child-friendly digital playground for young children to enjoy navigating independently. Besides providing a range of entertaining activities for the children to enjoy, parents are given access to parental control features that allow us to set limits on media consumption, such as the duration of screen time per child and access to different apps on the device.
We can also review usage reports to keep track of how much time our children are spending on each app!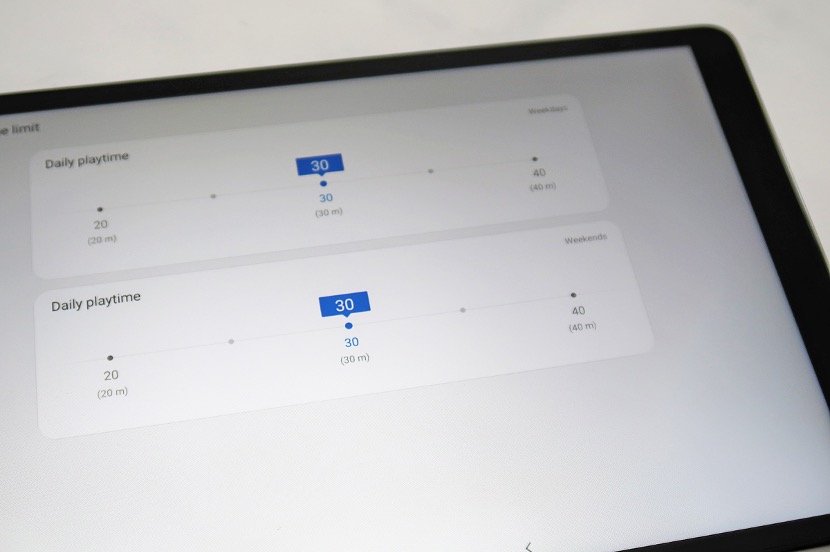 After downloading the app from the Galaxy Store, it was easily launched via the drop-down Quick Panel¹ on our Samsung tablet. I was able to quickly set up separate accounts for each boy, including setting a weekday and weekend quota of screen time, and choosing which apps they would gain access to during that time.
They are not authorised to change these settings or to exit Samsung Kids to access other apps on the device, as this action requires a pin code, which the parent sets (secretly, of course). In that sense, Samsung Kids creates a separate "world" which the child can safely enjoy on the device.
Fun activities designed for children
The Samsung Kids app is home to Crocro, Bobby, Lisa and Cooki, four cute and attractive cartoon characters, which children dress up and play the different games with.
Interactive and fun activities such as Crocro's Friends Village, Bobby's Canvas, Lisa's Music Band, My Magic Voice, Croco's Adventure and My Art Studio are easy to navigate with large buttons and simple controls.
The boys' favourites were Crocro's Adventure for its mind-teasing challenges and My Magic Voice which allowed them to record all sorts of crazy tunes!
They were also excited to discover a world of kid-friendly news reports, book and movie reviews curated especially for them under My Browser including Frozen, Angry Birds and Harry Potter! Although they could not read the books or watch the movies in the app, the reviews gave them plenty of ideas of what they wanted to read or watch next outside of their tablet time.
Besides these readily available options, there is also a wide range of additional free and paid apps from the Galaxy Store for Kids accessible via Parental Control. Parents can choose from over 2,500 apps² designed to help children learn as well as play. These include language-learning apps, maths apps and popular cartoon character apps, such as Strawberry Shortcake and Lego.
Peace of mind for parents
While I initially hovered nearby for the first couple of sessions, I soon realised that the system was easy enough for my boys to navigate on their own and that it was indeed safe from advertisements and adult content. This gave me peace of mind to be able to leave them unattended for the next few days of playtime on Samsung Kids, as I could always check on their usage after their time on the device was up.
(Once their time limit is up, the Samsung Kids character goes to sleep, and the child is not able to navigate out of this page.)
Our Verdict?
Samsung Kids is truly an innovative and excellent tool for helping parents cultivate healthy screen time limits and curate positive content for their children. For parents working from home, this is a win-win situation for everyone, as it frees you from some of that guilt of not engaging your children actively during every waking moment.
At the same time, we feel that it must be reiterated that screen time should not become a substitute for physical involvement and play together as a family.
Harness the benefits of technology to enable you to accomplish what needs to be done, but at the same time, do remember that your children need your physical presence and emotional support every day. Always make time for what matters most.
To find out more about Samsung Kids, visit here!
Photos and text by Dorothea Chow.
This post is brought to you by Samsung.
---
¹Requires Android 9.0 or higher in order to access Samsung Kids from Quick panel. For devices with a lower version of Android 9.0, you may access similar features available under "Kids Mode" applicable which can be downloaded or updated through Galaxy Store.
²Availability of content may vary depending on country, device, and ongoing maintenance.
Device and screen images are simulated for illustrative purposes only.
* * * * *
Want to be heard 👂 and seen 👀 by over 100,000 parents in Singapore? We can help! Leave your contact here and we'll be in touch.
Stay in touch! Subscribe to our Telegram here for all our latest updates.