Most parents would agree that raising a bilingual child is important, especially in a globalised country such as Singapore.
However, this is sometimes easier said than done. If your child is from a predominantly English-speaking household, they may have very little exposure to Chinese at home.
Or if you're an expat who has just moved to Singapore, it's tough to introduce your child to the Chinese language if you are unfamiliar with it yourself.
As such, enrolling your child in a Chinese preschool is a great way to immerse them in a Chinese learning environment from a young age!
We outline the benefits of attending a school like MindChamps Chinese PreSchool, an award-winning institute where the Chinese language is infused into their unique, research-backed curriculum.
Building a Foundation for Chinese Ahead of Primary School
If your child has little exposure to Chinese, a Chinese preschool will help them build a solid foundation in the language. This, in turn, prepares them for the rigours of learning at the primary school level.
At MindChamps Chinese PreSchool, Chinese is used extensively at the Playgroup and Nursery 1 levels, providing more opportunities for your child to be exposed to the language as they embark on their learning journey.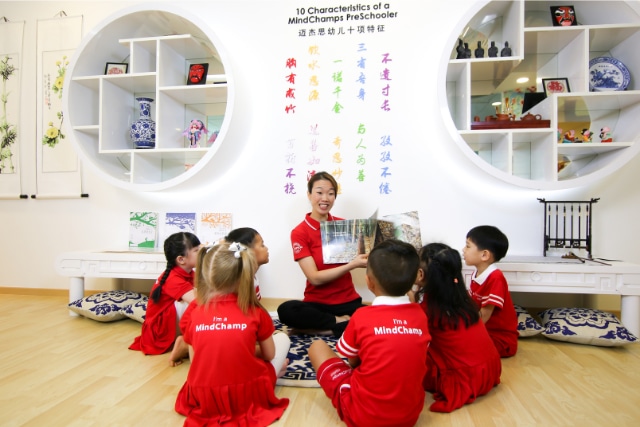 Selected enrichment programmes are conducted in Chinese instead of English. These include 'Gourmet Moments™' – aimed at cultivating healthy eating habits, as well as 'NeuroMooves™' – which enhances your child's physical and neural development.
Children become strong in both English and Chinese languages
Some parents may also have the preconceived notion that enrolling children in a Chinese preschool means that everything is taught in Chinese. They may worry that their child will fall behind in English, given the heavy emphasis on Chinese.
Well, you'll be reassured to know that MindChamps Chinese PreSchool's programme is designed to be effectively bilingual for all levels.
The use of Chinese is greater at the younger ages, where children are best acclimated to the language. As they get older and enter Nursery 2, English is incorporated to help them transition to the kindergarten curriculum and ensure holistic preparation ahead of primary school.
Therefore, enrolling your child in MindChamps Chinese PreSchool will allow them to fully develop both their English and Chinese language literacy skills. You won't need to sign your little one up for Chinese enrichment lessons outside of school, thus saving you both time and money.
Cultivating a Love for Learning Chinese
Of course, you don't want your mini-me to learn Chinese just for the sake of it. You also want them to develop an innate love for the language so that learning will be both fun and meaningful.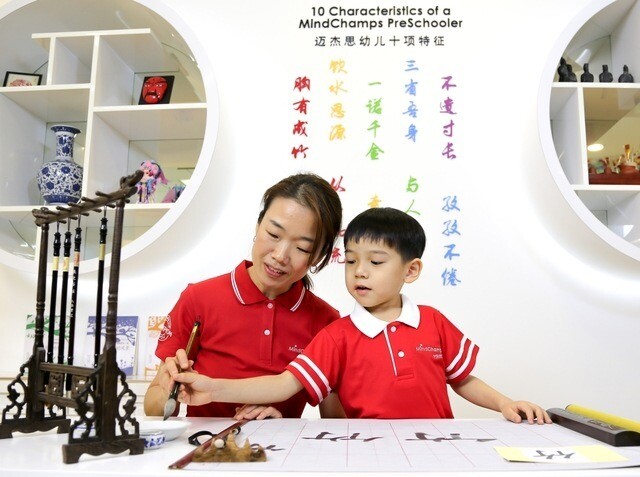 At MindChamps Chinese PreSchool, there's no such thing as rote learning with a mere focus on memorising phrases from textbooks. Chinese is infused into the curriculum and integrated into the children's daily routines.
For example, the school's 'The Love for Chinese Language™' module develops your child's language communication skills through interactive lessons. They'll be exposed to drama, games, songs, music and movement. With such interesting and engaging activities, learning Chinese becomes more natural and enjoyable.
Consequently, this creates a positive association with the language for children. They then become more willing to use Chinese in their daily speech and conversations.
Fostering an Appreciation for the Chinese Culture
A well-rounded Chinese preschool should also go beyond language education. After all, the Chinese language originates from a rich and historically-dynamic culture!
MindChamps Chinese PreSchool aims to foster a deep appreciation for Chinese culture. The school offers an exclusive Chinese Cultural Appreciation module, where children learn and experience Chinese heritage.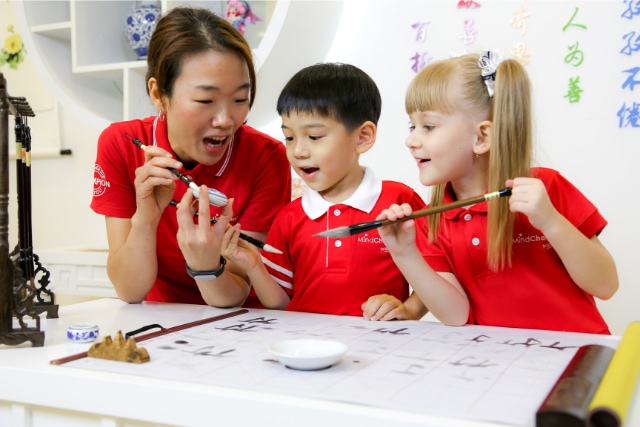 They will get the opportunity to participate in hands-on activities like clay modelling, Chinese painting and calligraphy, Chinese tea appreciation and paper art. There are even lessons featuring Chinese chess and Chinese opera too − topics which kids don't get to learn about and experience every day!
How MindChamps' Programme Stands Out from The Rest
Backed by over two decades of research in the four domains of education, psychology, neuroscience and theatre, MindChamps Chinese PreSchool's unique curriculum is curated to provide your child with a holistic learning experience in a vibrant Chinese-speaking and learning environment.
MindChamps is also the only preschool to nurture the Champion Mindset in children, based on the works of renowned neuroscientist Emeritus Professor Allan Snyder.
Preschool teachers are required to undergo up to 200 hours of compulsory training and accreditation before conducting classes, to ensure they're more than qualified to guide your child and nurture a love for learning!
How Can I Learn More about MindChamps Chinese PreSchool?
To find out more about MindChamps Chinese PreSchool's programme and facilities, book a tour at any of the three centres (Thomson, Cecil Street or Tampines Central) here.
Register now to enjoy up to $1,500 savings on school fees for the first 5 months and receive a School Kit worth $224!
Stay tuned for the MindChamps Chinese PreSchool Virtual Talk this November to hear from experts about why it's important to start young in learning Chinese.
Register now to give your child a headstart with MindChamps Chinese PreSchool in Singapore.
This post is brought to you by MindChamps Chinese PreSchool.
By Rebecca Wong.
* * * * *
Like what you see here? Get parenting tips and stories straight to your inbox! Join our mailing list here.
Want to be heard 👂 and seen 👀 by over 100,000 parents in Singapore? We can help! Leave your contact here and we'll be in touch.