Busy day today and feeling too frazzled to think of what to cook? Keeping up with the kiddos and having to whip up tasty meals after that can be exhausting – if you need some quick meal solutions, try out some of these recipes to make feeding your family a breeze!

1. Shrimp Fried Rice
Image credit: Baking Beauty
Ingredients
3 tablespoons soy sauce
1 tablespoon sesame oil
1/2 teaspoon ginger powder
2 tablespoons olive oil
1 pound medium shrimp (peeled and deveined)
Kosher salt and freshly ground black pepper to taste
2 cloves garlic minced
1 sweet onion diced
2 carrots peeled and grated
1/2 cups frozen peas
2 large eggs
3 cups cooked white rice
2 green onions sliced
Preparation
In a medium saucepan bring 3 cups of salted water to a boil. Stir in 3 cups of rice. Remove from heat and cook for around 5 minutes or until the water is absorbed.
In a small bowl, whisk together soy sauce, sesame oil, and ginger powder. Set aside.
In a large skillet, heat olive oil over medium-high heat. Cook shrimp for 2-3 minutes or until pink. Season with salt and pepper to taste. Set aside.
Use the same skillet to cook your onion until softened. Then add garlic.
Add carrots and peas. Cook until tender.
Push vegetables to the side of the pan. Scramble 2 eggs in the centre of the pan.
Stir rice, green onions and prepared sauce into the eggs and vegetables. Stir constantly until everything is heated through.
Recipe from Baking Beauty.
---
2.  Orange Pork Chop Stir-fry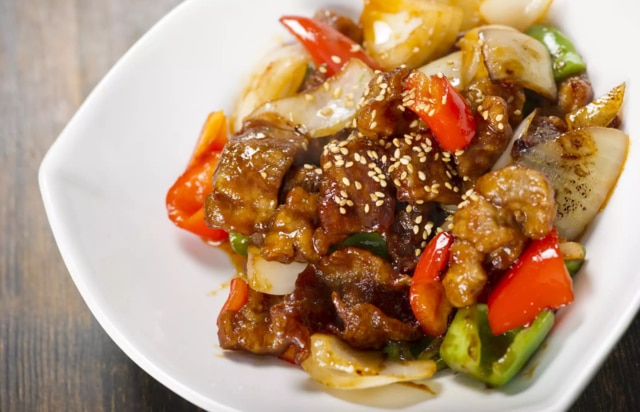 Image credit: The Spruce Eats
Ingredients
4 boneless pork chops (about 1 1/2 pounds)
For Marinade:
1 tablespoon rice wine or dry sherry
2 teaspoons cornstarch
For Sauce:
1/3 cup orange juice
2 tablespoons water
2 tablespoons soy sauce
1 1/2 teaspoons liquid honey
Other:
2 slices ginger, chopped
1 garlic clove, chopped
2 baby bok choy
1/2 cup baby carrots
2 teaspoons cornstarch mixed in 4 teaspoons water
A few drops sesame oil, as needed
4 tablespoons oil for stir-frying, or as needed
Preparation
Cut the pork chops into cubes. Add the rice wine and cornstarch and marinate for 30 minutes.
While the pork is marinating, prepare the vegetables and sauce. Wash the baby bok choy, drain, and chop, separating the leaves and the stalks. Wash and drain the baby carrots and cut in half. Combine the sauce ingredients and set aside. Combine the cornstarch and water in a small bowl and set aside.
Heat a wok or heavy gauge frying pan. Add 2 tablespoons oil. When the oil is hot, add the pork chop cubes. Let the pork chops cook for a minute, and then stir-fry until they change colour and are nearly cooked. Remove from the wok or pan and drain on paper towels
Clean out the wok and add more oil. When the oil is hot, add the garlic and ginger. Stir-fry briefly until aromatic. Add the carrots. Stir-fry briefly and add the baby bok choy stalks. Cook briefly, add the leaves and stir-fry briefly until they turn bright green.
Make a well in the middle of the wok and add the sauce. Turn up the heat, give the cornstarch and water mixture a quick re-stir and add it to the sauce, stirring quickly to thicken. Mix everything together. Add a few drops of sesame oil and serve hot.
Serve with cooked rice.
Recipe from The Spruce Eats.
---
3. Chicken Salad with Apple and Pomegranate
Image credit: Parents
Ingredients
2 cups chopped cooked chicken
1 small crisp apple, cored and chopped
1/4 cup pomegranate seeds
2 – 3 tablespoons mayonnaise, (or substitute low-fat plain yoghurt for up to 1 tablespoon of mayo)
1/4 shallot, minced
1 tablespoon minced fresh parsley
1 – 2 teaspoons cider vinegar, to taste
Salt and pepper to taste
Preparation
In a bowl, toss all the ingredients together until well combined. Serve over tender salad greens or on toasted multi-grain bread.
Recipe from Parents.
---
4. Mushroom Spaghetti
Image credit: Noob Cook
Ingredients
2 servings of spaghetti or your favourite pasta about 140-160g
200 grams fresh button or favourite mushrooms stalks discarded and caps sliced thinly
10 cloves garlic peeled and sliced thinly
4 tablespoons olive oil divided
1/2 teaspoon dried chilli flakes (or substitute with finely chopped chilli padi)
20g butter cubed
20g Italian flat-leaf parsley finely chopped
Sea salt to taste
Freshly cracked black pepper to taste
Preparation
Bring a pot of water with 1 tbsp sea salt to a boil. Cook spaghetti until al dente (usually 2-3 minutes minus the recommended time). Drain and set aside the pasta, reserving a small cup of the pasta water.
Heat saucepan with 1 tbsp of olive oil. Add mushrooms, a pinch of salt and black pepper. Stir fry or saute until cooked, about 3 minutes. Set aside cooked mushrooms on a plate.
Heat 3 tbsp olive oil in the same pan, add garlic and chilli padi/chilli flakes (if using). Saute the garlic until it starts to turn light golden brown.
Turn off the stove. The garlic will continue cooking in the hot oil on its own for a few more seconds in the hot oil until they turn a lovely golden brown. Melt cubed butter in the garlic & oil mixture.
Add cooked pasta, chopped parsley, cooked mushrooms, sea salt and black pepper (to taste). Toss to coat all the ingredients evenly, adding some reserved pasta water to help the ingredients bind together.
Recipe from Noob Cook.
---
5. Chicken and Mushroom Stir-fry
Image credit: Amanda's Cookin'
Ingredients
1/2 pounds or 200g chicken, sliced thin
1 cup mushrooms, sliced
1 cup broccoli florets
1/4 cup chicken broth
2 teaspoon cornstarch
1 teaspoon sugar
1 clove garlic, minced
1 tablespoon rice cooking wine
1 tablespoon hoisin sauce
1 tablespoon soy sauce
Preparation
Combine broth, soy sauce, hoisin sauce, rice cooking wine, cornstarch and sugar and set aside.
Heat wok on high heat and add a tablespoon of olive or other cooking oil. Stir fry vegetables for 3-4 minutes, remove vegetables.
Add another tablespoon of oil to the wok on high heat. Add garlic and stir fry one minute, then add the chicken. Stir fry chicken until no longer pink.
Add the broth mixture and let thicken a little, about 2 minutes.
Add vegetables and cook for a few minutes, stirring to combine sauce, meat and veggies.
Recipe from Amanda's Cookin'.
---
6. Ham Macaroni Soup (Hong Kong Style)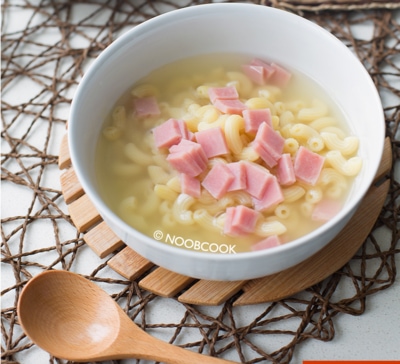 Image credit: Noob Cook
Ingredients
2 servings (about 100g or more) dried macaroni
2 teaspoons salt
300ml rich (tetra-pak) chicken stock or "jin hua" ham stock
250ml water adjust accordingly to the saltiness of chicken stock used
1 slice picnic ham cubed or sliced to long strips
Tiny pinch of salt to taste; only if needed
Preparation
Cook the macaroni. Bring a pot of water with 2 tsp salt added to a boil. Add macaroni and cook to preferred doneness, about 7-9 mins. Dish out the macaroni and divide into two serving bowls.
Make soup and warm up the ham. Discard the macaroni cooking water and rinse the pot. Add chicken stock & water. Bring to a boil. Place the ham in a slotted ladle and warm it up in the bubbling hot soup for 30 seconds. Top the bowl of macaroni with the ham.
Serve. Adjust the soup to taste by adding more water (if too salty), more stock or a tiny pinch of salt (only if needed). Ladle the hot soup over the bowl of macaroni and serve.
Recipe from Noob Cook.
---
7. Vegetable Chow Mien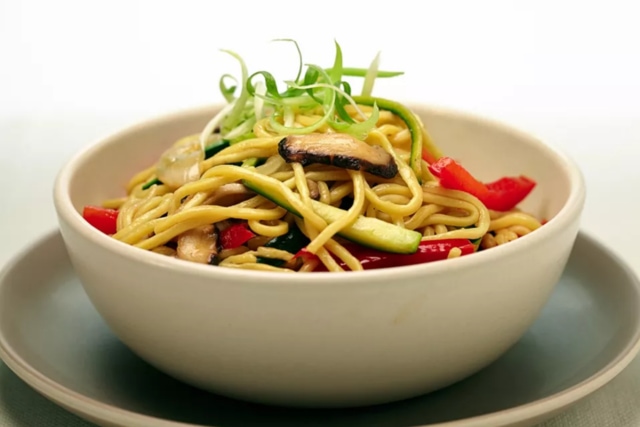 Image credit: The Spruce Eats
Ingredients
1/2 lb. fresh egg noodles (standard size, or 3 oz. dried)
1/2 cup yellow onion (thinly sliced)
1 cup bell pepper (red, thinly sliced)
1 zucchini (cut into thin strips)
1 cup mushrooms (thinly sliced shiitake, fresh)
1 tablespoon fresh ginger (grated)
2 cloves garlic (minced)
4 tablespoons canola oil
For the Sauce:
2 tablespoons oyster sauce
2 tablespoons dark soy sauce
1 tablespoon light soy sauce
2 tablespoons rice vinegar
1 teaspoon sugar
1 tablespoon sesame oil (toasted)
Preparation
Bring a large pot of water to a boil and add 1 tablespoon of salt. Boil the noodles for 2 minutes, drain and rinse well with cold water. Place the noodles in a bowl and toss with 1 tablespoon of oil. In a small bowl, combine the sauce ingredients with 3 tablespoons of water and set aside.
Heat a large non-stick pan until very hot. Add 2 tablespoons of oil and saute the onion and red bell pepper until just tender, 2 minutes.
Add the zucchini and mushrooms and continue to stir-fry until golden brown, 5 minutes. Transfer the vegetables to a bowl.
Reheat the same pan until very hot. Add the remaining 2 tablespoons of oil and saute the ginger and garlic for several seconds.
Add the noodles and stir-fry until the noodles are heated through, 5 minutes. Return the vegetables to the pan with the noodles, add the sauce and continue to toss the noodles until they are well combined and heated through. Transfer to a warmed platter and serve immediately.
Recipe from The Spruce Eats.
Compiled by Marinne Santiago.
* * * * *
Like what you see here? Get parenting tips and stories straight to your inbox! Join our mailing list here.
Want to be heard 👂 and seen 👀 by over 100,000 parents in Singapore? We can help! Leave your contact here and we'll be in touch.