Many of us are familiar with Singapore's Speak Mandarin Campaign—a campaign launched in 1979 by then Prime Minister Lee Kuan Yew to encourage Chinese Singaporeans to embrace the use of Mandarin in their daily lives and enjoy an appreciation for Chinese culture. However, not all of us took this campaign seriously. We all had that one friend who dreaded 听写 (spelling) or 默写 (dictation) tests and struggled to even understand a simple Chinese phrase.
Today, the importance of speaking Chinese cannot be overstated. With more than 1.31 billion speakers, it is one of the most spoken languages across the world. Yet, the language remains a major hurdle for our children who are largely used to speaking English at home.
Luckily for us, there are many options out there for parents to turn to for help. If your child is struggling with Chinese in school, check out these Chinese Enrichment Classes in Singapore with a wide range of Chinese programmes to suit your child's needs.
---
1. Singapore Hokkien Huay Kuan Arts & Cultural Troupe
The Singapore Hokkien Huay Kuan Arts & Cultural Troupe is a pioneer in Chinese Language and Enrichment Children Programmes. Setup since 1986, we have grown leaps and bounds to a student population of over 2000 in Singapore. Many of whom has progressed to perform in our staged productions to schools and the public.
Our Children Chinese Speech & Drama programme received accolades from the audience as well as media. We have also helped many children improve their Chinese language mastery and learn to love the Chinese culture and its heritage as seen from the glowing testimonials from the students' parents.
Through our well-designed syllabus, we help children of all ages improve their comprehension, reading and writing of the Chinese language in school.
For more information on the detailed syllabus, please click here.
You may also contact us at:
Sennett Campus
Tel: (65) 6589 9502
Toa Payoh Campus
Tel: (65) 6354 1972
Email: shhkact@shhkact.com.sg
*******************************
2. BibiNogs
Are you looking to nurture your confident child in a global environment? We're BibiNogs, a specialist bilingual and Chinese language centre that develops your child to be confident, kind, expressive, and appreciative of global cultures.
We believe that to enable your child to be bilingual, lessons should be a sensorial experience, engaging your child to spark wonder and curiosity in the world.
Check out our parent-accompanied enrichment classes such as Mandarin Babes where you and your child will enjoy hands-on activities like art & craft, object exploration and puppetry, with Chinese nursery rhymes/poems, story-telling, dramatization and songs to promote your child's physical development and parent-child bonding.
Website: bibinogs.com
Email: enquiry@bibinogs.com
Tel: 8800 7711
*******************************
Having trouble getting your child interested in Mandarin? Chengzhu is your solution. It offers a range of language and literacy, creative writing and cultural arts programmes that nurture a love of learning Mandarin. Following Julia Gabriel Education's unique EduDrama® methodology, the centre uses children's drama, combined with planned educational outcomes to foster a love of Mandarin. Chengzhu also holds an annual Chinese Cultural Arts Night to encourage a whole Chinese environment, where children and their families are immersed in both language and culture.
Website: chengzhu.edu.sg
*******************************
4. Top Chinese Enrichment Programme (TCEP)
At TCEP, we nurture confident, avid young learners of Chinese language and culture. We engage our students with a stimulating learning environment, and empower them with skills and techniques needed to excel academically. We believe that by fostering an extensive understanding of the Chinese culture, we transform them into bicultural, future-ready students who espouse good moral values and an enduring interest in the language and culture.
Website: ntu.edu.sg/student-programmes
*******************************
5. LingoAce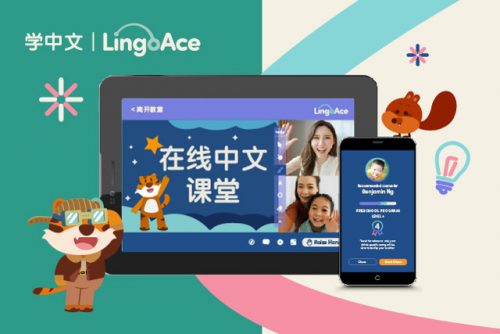 LingoAce is a global Edutech platform that delivers authentic and engaging Chinese learning for kids aged 3-15. Using gamified elements, we create inspiring bite-size learning content aligned with Singapore MOE syllabus to help kids achieve their academic goals. Our rigorous recruitment process has developed highly skilled and dedicated teachers – only 1 out of 50 applicants qualify to be part of our team of over 4,000 teachers. To date, we have provided more than 2 million class hours to our learners from across 100 countries and regions, and 60% of our new learners joined LingoAce through friends and family referrals.
Website: lingoace.com
* * * * *
Like what you see here? Get parenting tips and stories straight to your inbox! Join our mailing list here.
Running a service or business targeted for parents? Reach out to a wider audience in our Best Enrichment Classes compilation. Leave your contact details here and we will get in touch with you.