For most parents, choosing a preschool for their children is a long process filled with weeks of research before they weigh their options, compare the offerings from various preschool providers, and eventually narrow down the best choices and settle on "the one".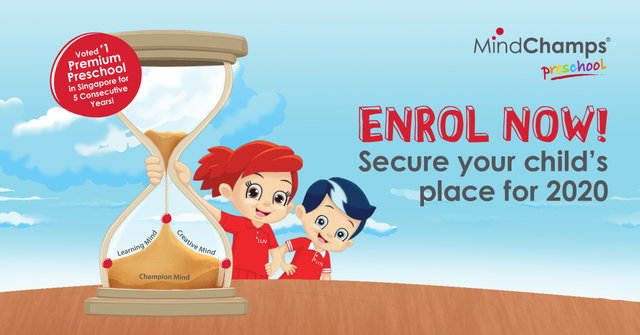 One of the more common things parents do is to visit the preschool to get a better idea on what goes on during lessons, instead of just reading about it on the website or hearing views from other parents.
If you are looking for a preschool for your child, one preschool which is a popular choice of parents in Singapore that you definitely should shortlist is MindChamps PreSchool. All MindChamps PreSchool centres are taking in enrolment for 2020 (subject to availability) from now until 20 October 2019, and parents are welcome to visit their preferred centres islandwide.
To help you make the most of your visit, we share with you the ultimate checklist of things that you should look out for and ask.
1. Preschool license and awards
In Singapore, preschools are required to obtain a license to operate and offer half-day and/or full-day childcare programmes. License tenures range from six to 24 months – with a longer license period indicating that a centre has commendably met the key licensing requirements, whereas a shorter license period indicates that the centre has several areas for further improvement.
Apart from the preschool's license, it is also worthwhile to find out the awards that the preschool has garnered in recent years, as this showcases the areas that they have done exceptionally well in. For example, the unrelenting commitment to excellence in nurturing young minds has led MindChamps PreSchool to win notable awards, such as the Superbrands Mark of Distinction for five consecutive years (2014-2018).
2. Teacher-Child ratio
Guidelines for teacher-child ratios are set to ensure that all children in class get the attention and care required from the teachers. Smaller teacher-child ratios provide your child with more one-on-one time, as teachers are able to keep track of their progress more closely to bring out the best in them.
At MindChamps PreSchool, the teacher-child ratios for all class levels are set to be smaller than the recommended guidelines set by the Early Childhood Development Agency (ECDA). Check out MindChamps' Teacher-Child ratio.
3. Curriculum
During the first five years of life, a child's brain develops rapidly. This is also a time of rapid development in terms of their cognitive, linguistic, social, emotional and motor skills.
Developed by early childhood experts through years of research and based on its very own 3-Mind education model, MindChamps PreSchool's unique S.M.I.L.E.S.™ curriculum emphasises on providing preschoolers with experiences that engage all of the S.M.I.L.E.S. elements (consisting of the Sensory, Motor (Music and Movement), Intellectual, Linguistic, Emotional and Social aspects of development).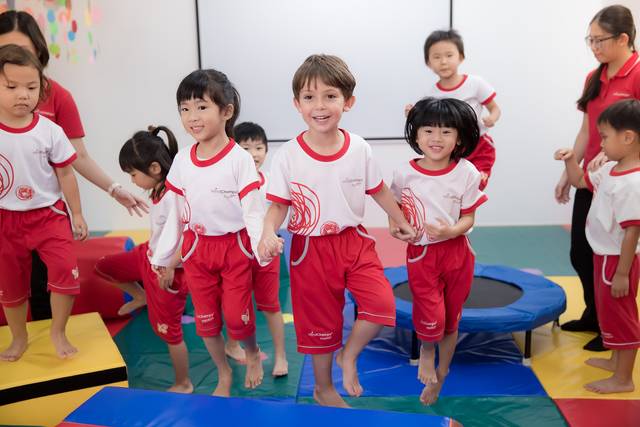 This is carried out through programmes that target specific areas of a child's learning and development, such as Enquiry Teaching and Learning™, Numeracy Strategies™, Creativity & Theatrical Strategies™, NeuroMooves™ and more. Details on these programmes can be found here.
Click here to find out how your child will benefit from MindChamps PreSchool's S.M.I.L.E.S.™ curriculum and 3-Mind education model.
4. Teachers' qualifications
It is often said that "a preschool is only as good as its teachers". Apart from developing a curriculum based on decades of research in the domains of neuroscience, psychology, theatre and education, it is also important to have the right people to deliver the curriculum.
And that is where the role of preschool teachers comes in.
All MindChamps PreSchool teachers are required to undergo up to 200 hours of on-going professional training and accreditation, regardless of their prior qualifications and experience. This helps to ensure that teachers are empowered with the necessary skills to effectively deliver the unique curriculum and inspire the minds of preschoolers.
Enrichment programmes provide learning experiences that go beyond the usual lessons that are taught in the classroom. Many preschools in Singapore offer enrichment programmes as an "add-on" to the curriculum. As these may be outsourced to external vendors, parents would need to top up for additional fees.
Children at all MindChamps PreSchool centres get to enjoy programmes such as Creativity and Theatrical Strategies™, Music for the Mind™, NeuroMooves™ and Gourmet Moments™, which are included in the curriculum at no additional cost.
6. Teaching methods
More preschools in Singapore are moving away from traditional learning methods and leaning towards child-centred learning. While the former emphasises on memorisation and learning by heart, the latter encourages children to think, explore and wonder throughout the learning process.
MindChamps PreSchool applies their own unique method of Enquiry Teaching & Learning™, where children are actively involved in exploring a subject or topic that interests them.
Inspired by the principles of Inquiry Learning, the MindChamps teacher takes on the role of a facilitator and director and guides the children to find out all there is to know about the topic and uses evidence-based reasoning and creative problem-solving to reach a conclusion.
This learning process helps to bring children from the stage of general curiosity and moves on to critical thinking and understanding.
7. School values
What values are children taught in the preschool and do they align with your beliefs?
In line with MindChamps' education and life philosophy of 100% Respect, Zero Fear, children at MindChamps PreSchool are instilled with important life values that help to bring out the champion potential in them.
With emphasis on values such as confidence, integrity, gratefulness, compassion and creativity, among others, we prepare them to rise to the challenges of the future, in a world that is set to be quite different from today.
8. Parent-centre communication
There are many benefits of having parents work closely with the preschool, as this allows them to be kept updated on their child's progress and to reinforce the lessons covered in preschool.
Parents of children at MindChamps PreSchool will get ample opportunities to work closely with their child's teachers throughout the course of the learning journey – for example, through updates in person when they pick up their child at the end of the day or through weekly communication and updates sent via the MindChamps mobile app.
Parents are also encouraged to play an active role in their child's preschool learning journey by playing the role of "mystery chefs" and "mystery readers" during lesson time.
9. School bus services
Most MindChamps PreSchool centres provide school bus services at a separate monthly fee for parents who need help to get their children to and from school daily.
You can get more details from the centre during your visit.
10. Enrol now for 2020!
If you are looking to enrol your children in preschool next year, now is the perfect time to head down to your preferred MindChamps PreSchool centre to find out more and meet the teachers.
Click here for more details and to book an appointment!
Check out what other parents have to say about their children's experience at MindChamps PreSchool:
"Thank you for the dedication and effort put in to make the school a place where Edgar looks forward to going every day!"
– Jeff and Eileen, Parents of Edgar (MindChamps PreSchool @ Boon Keng)
"As native English speakers, I've been so impressed with how much Taylor enjoys the Chinese classes and the Chinese books he gets to bring home once a week. He understands all the instructions given to him and even comes home singing Chinese songs!
We also love how beautiful, bright and airy the classrooms are and the fact that the children have access to outdoor spaces which gives a good variety of opportunities throughout the school day."
– Jenna Moran, Mother of Taylor (MindChamps PreSchool @ Raffles Town Club)
The post is brought to you by MindChamps PreSchool.
Photos by MindChamps PreSchool.
* * * * *
Like what you see here? Get parenting tips and stories straight to your inbox! Join our mailing list here.
Running a service or business targeted for parents? Reach out to a wider audience in our Best Preschools compilation. Leave your contact details here and we will get in touch with you.