The world is moving at a rapid pace and as parents, we want to better prepare our children for the unforeseeable future. Some of the greatest assets we can develop in our children are the skills to be confident and effective communicators and to be able to think creatively and flexibly.
Such qualities will stay relevant and invaluable regardless of the path that your child chooses to take in the future, empowering them to be future-ready and lifelong learners.
The performing arts provide the ideal platform to help your child develop these skills, qualities and mindsets in an enjoyable way.
For example, drama allows young children to learn about the broad spectrum of life situations and helps them develop greater self-confidence. Through dance, they develop stamina and more refined gross motor skills. In fact, studies show that young children who participate in music classes have improved speech development and learn to read more easily¹.
To leverage the power of the performing arts, MindChamps Performing Arts PreSchool was introduced as a new way of learning for children to equip them with skills that will empower them to succeed in the future.
How does MindChamps Performing Arts PreSchool offer your child a brand-new way of learning?
MindChamps Performing Arts PreSchool combines the academic benefits of their renowned holistic curriculum with key learning outcomes rooted in the four pillars of the performing arts – dance, drama, music and singing.
Developed by performing arts professionals, the programme is designed to help children aged 18 months to 6 years develop literacy, numeracy and socio-emotional skills. Furthermore, your child will be learning in an environment infused with the performing arts so learning becomes extremely fun and hands-on!
The specialist performing arts educators are trained to conduct lessons using the Enquiry Teaching and Learning™ approach and they work closely with the class teachers to deliver holistic lessons integrated with the performing arts.
Lessons and activities activate all aspects of the young mind – Sensory, Motor, Intellectual, Linguistic, Emotional and Social – in what's called the S.M.I.L.E.S.™ environment. These are specially planned to develop each child holistically, moulding them to develop creativity, confidence and the Champion Mindset.
How can your child benefit from MindChamps' specialist modules in the performing arts?
At MindChamps Performing Arts School, your child will be exposed to the four performing arts disciplines (drama, dance, music and singing) which will integrate and reinforce the learning outcomes and concepts from the core curriculum.
Every school term, a new learning theme is introduced to the children. For example, if the theme is "Our World", your child will embark on a journey to discover different cultures and natural landscapes around the world through the core modules which will be extended into the specialist modules!
Here are the specialist modules your child will learn at MindChamps Performing Arts PreSchool:
1. Drama
Developed in collaboration with Dean Carey, MindChamps' Dean of Theatre, each lesson in the Drama module is based on three pillars – Confidence, Creativity and Collaboration.
Children will go through basic actor training and develop their imagination, communication skills and self-confidence! The drama module will also cover storytelling and improvisation and expose children to experiences of empathy, understanding and positive reinforcement.
Your child will learn and experience the power of the spoken word by creating unique languages such as how animals might communicate or by imagining a story from the perspective of an animal!
2. Dance
Early exposure to dance helps your child develop stamina, flexibility and physical strength. As most dances are performed to 8-beat music, this helps to strengthen your child's knowledge of basic numeracy concepts such as patterning, sequencing and counting.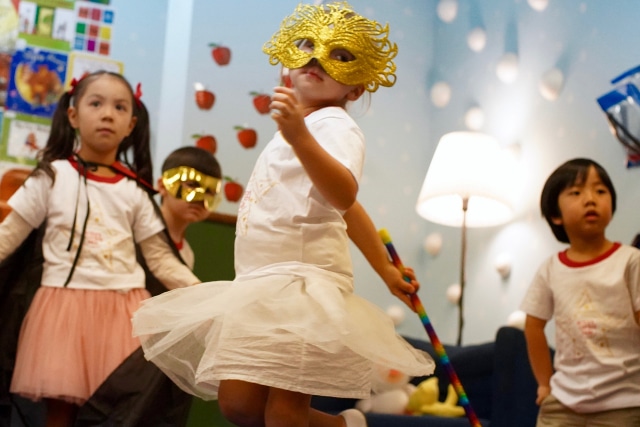 The stimulating nature of dance, with its blend of recurrent as well as free-flow movements, allows your child to develop coordination and memory skills at his or her own pace.
Depending on the theme for the term, your child will learn the steps and movements of various dances from around the world, explore the movements of sea creatures or even learn and move to the words and rhythm of an African poem.
3. Music and Singing
In this module, your child will be exposed to a wide range of instruments and musical languages such as voice, percussion, recorder, violin and keyboard. This helps to build your child's foundation for a lifelong interest in music.
A key feature of this module is the MindChamps Music manipulatives that will enable your child to think flexibly. Through the use of props and specialised teaching methods, your child will pick up music literacy skills and learn to associate his or her knowledge with concepts in different areas such as languages and mathematics.
The module will also introduce your child to singing, focusing on vocal production, breath control and sound placement.
By learning these "technical" aspects of singing, your child picks up the ability to communicate well, learns how to perform complex tasks simultaneously and develops advanced memory retention in the process.
Learn more about MindChamps Performing Arts PreSchool
The unique dynamics and benefits of the performing arts will truly empower your child with a set of skills that will help him or her succeed in the future, such as the ability to think creatively and connect meaningfully with others.
To find out more about MindChamps Performing Arts PreSchool's unique curriculum or learn more about the benefits of a learning environment integrated with the performing arts, book a centre tour here.
Registration for new classes in 2021 at MindChamps Performing Arts PreSchool is now open!
Sign up now to avoid the waitlist. You can save up to $1,500 and receive a Champs® School Kit* (worth $224) when you enrol your child at the Concorde Hotel Orchard centre.
Book a centre tour today.
This post is brought to you by MindChamps Performing Arts PreSchool.
By June Lim.
Sources:
1. Children's brains develop faster with music training. Link
* * * * *
Like what you see here? Get parenting tips and stories straight to your inbox! Join our mailing list here.
Want to be heard 👂 and seen 👀 by over 100,000 parents in Singapore? We can help! Leave your contact here and we'll be in touch.