In recent years, there has been an increasing emphasis placed on children's intellectual development, resulting in a neglect of physical development.
What we have failed to realise is that physical development goes hand-in-hand in aiding the success of a child's intellectual development. A holistic program that integrates physical activity into our children's lives is important in creating a foundation that will carry them throughout the rest of their lives.
In this article, we discuss how a good physical program can affect a child's development through life.
Strengthening the Vestibular System
Have you met a disruptive child in class due to his inability to sit still? He needs to rock his chair excessively or bounce on the seat continuously. This child is often tested positive for facing difficulties with his vestibular system. The vestibular system plays an important role in the muscles that control posture. The muscles and strength needed to sit still, hold the neck steady for academics, or compete in sport are dependent on the vestibular system. The vestibular system can be strengthened and stimulated in children from as young as one-month-old.
At Sparkanauts, a series of passive and active balance exercises have been designed for children from 5 months to 5 years old for this specific purpose.
Ability to Write
We see parents encouraging children to start tracing and colouring within the lines almost as young as 2 years old. All these are done in an attempt to encourage them to start writing early. By strengthening a child's gross motor skills at a young age, we are strengthening their abilities to write at an older age. It is counterproductive to place an overemphasis on the fine motor skills when a child's gross motor skills are not strengthened.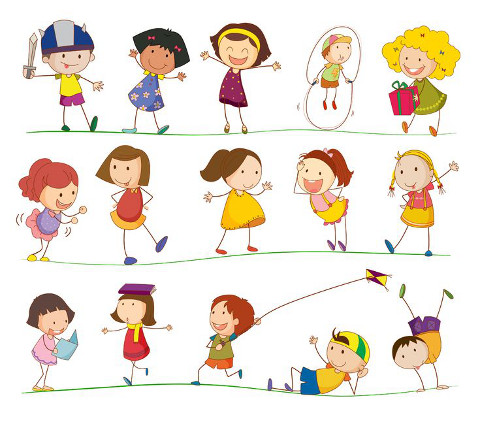 Children with poor gross motor skills may find difficulties with fine motor activities such as holding a pencil to write. Such activities require the stability of our shoulders and hand muscles. The core muscles also affect a child's posture that determines their ability to sit for a longer period. The shoulder, hand and stomach muscles are important for a child to be able to write.
➡️ Related Read: Good Sitting And Studying Posture
Motor Planning Abilities
A good physical program is also important in encouraging a child's ability to plan, organise and complete his intended movements. Children who have developed a good understanding between their sensory system and muscle action will display better co-ordination which results in good motor planning abilities. To strengthen a child's motor planning ability, a good physical program should
Encourage a child's understanding of their body
Include activities that involve the contracting and stretching of muscles
Increase the amount of force the child's muscles must use to perform a gymnastic movement
At Sparkanauts, this ability is strengthened and developed weekly through our trapeze and brachiation activities. A series of gymnastic exercises are introduced to our young ones for the exact purpose.
While we are all aware that a good physical program is important for our children's physical health, we need to realise that it goes beyond just good physical health. A good physical program benefits our children's intellectual and social abilities, which will eventually carry them throughout their whole lives.
➡️ Related Read: Why Active Babies are Healthier
By Selene Diong, Principal Instructor at Sparkanauts.
This article was first published in The New Age Parents e-magazine.
* * * * *
Like what you see here? Get parenting tips and stories straight to your inbox! Join our mailing list here.
Want to be heard 👂 and seen 👀 by over 100,000 parents in Singapore? We can help! Leave your contact here and we'll be in touch.