When your child goes to Primary One, chances are, he or she will be sitting on a chair and using a desk a lot more.
You would probably need a new study table and chair for junior, to accommodate the incoming stationary, school texts and workbooks.
While you may be thinking of heading to a regular furniture shop to buy the new items, allow us to stop you there for a moment.
In most Singapore classrooms, students sit on rigid plastic chairs and desks, on average of about 6 hours a day. After school, when your child gets home, he may be spending another hour or more sitting down using his study table.
Whether it's doing his homework, playing games on a tablet, your child is bound to spend substantial hours a day on their desk. And this amount of time increases as they move on to formal education.
Not forgetting, screen time in our children's lives is higher than before. While these smart devices do offer a form of interactive learning for children, on the flipside, they also cause health problems when children use them for hours.
A child's development years are crucial. If their postures are not right from the start, the effects may lead to long-term issues, such as musculoskeletal disorders and chronic pains.
Conventional chairs that we see have a rigid seat that inclines backwards and merges into a seating hollow. Children seated in unsupportive chairs or at the wrong desk height can experience immediate and cumulative effects over time. This can be made worse when they have poor postural habits.
While we can't change the chairs that are used in school, and can't change the demands of a computer era, we can provide a more ergonomic-friendly environment for our children at home.
Investing in an ergonomic study table and chair not only prevents your child from developing poor postural habits, it also ensures he or she is in a comfortable and relaxed position. And this creates a more conducive and effective learning environment for your child.
Win a new Ergonomic Study Table or Ergonomic Schoolbag in TakeAseat.sg's Giveaway!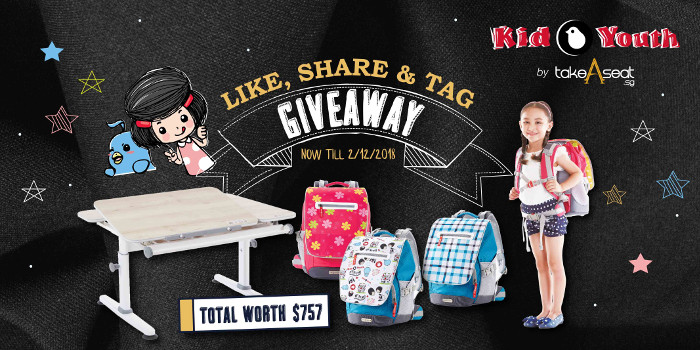 Choosing A Kids Ergonomic Study Table and Chair
When choosing a good ergonomic study table and chair for your child, the key question to keep in mind is: "Does the furniture have features that will grow with my child?"
Different tasks also require different postures. For example, the desk tilt needed for writing is different for other tasks such as reading or drawing.
A good ergonomic study table will have multiple tilt functions and height adjustments to adapt and grow with your child.
Children grow fast, and you would want the furniture to grow with them too.
Get their postures right with M6+Xs Study Table & Babo Chair Set by Kid2Youth.
This perfect ergonomic study table and chair combo has all the features to adjust to your little one's needs. With an adjustable study table, inclusive of an L-shaped fixed table top and a 0 ~ 50 degree adjustable tilt tabletop, this table will grow with your child through the years!
The Babo Chair has Adjustable Seat Depth, Seat Height and Backrest Height, allowing it to cater to your growing preschooler or primary-schooler. This set is suitable for children 3 years and above.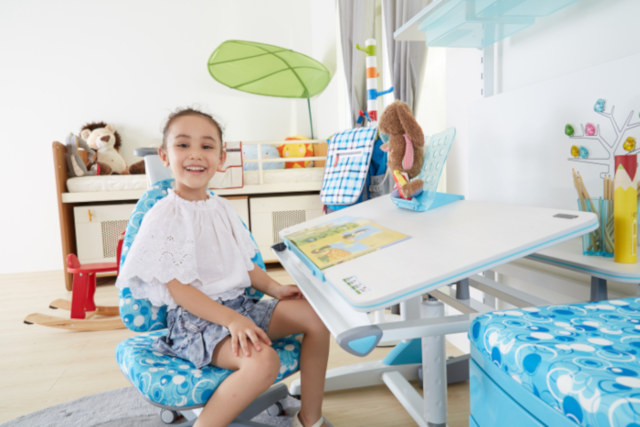 About Kid2Youth
Kid2Youth is the leading children's ergonomic brand in Taiwan a furniture manufacturer that was set up more than 40 years ago. Through research and development, it produces ergonomic children study tables and chairs that provide a safe and stimulating learning environment for children. Their focus is on health, safety and using eco-friendly and quality materials, with certifications to back this up.
Kid2Youth carries marks and certifications that indicate all products are safe for toddlers and children to use, with eco-friendly EU PEFC certified wood, gas lift system from Germany's STABILUS and the assembly in Taiwan. Amongst the certification includes endorsement from China Hong Kong Macao Chiropractic Association & Singapore Physiotherapy Association.
TakeAseat.sg is the sole distributor of Kid2Youth in Singapore.
Have a loose or damaged part? Not to worry.
Kid2Youth provides a 10-year warranty for the STABILUS gas lift system, a 5-year warranty for the frame and 1-year warranty for the furniture parts.
Kid2Youth is now having a special promotion on their children ergonomic table and chair!
If you work in an office setting, find out if you're hurting your body unknowingly at work.
Kid2Youth: Kids Ergonomic Study Table and Chair
Where to find them: 27 Mandai Estate, Innovation Place Tower 2, #06-07, Singapore 729931
Opening Hours: 9am to 1pm, 2pm to 5.30pm (Mon – Sat), 10am to 1pm, 2pm to 5pm (Sun) Closed on Public Holidays
Website: kid2youth.com.sg (By TakeAseat.sg)
Like and Follow them here!
TakeAseat Facebook page | TakeAseat Instagram
This post is brought to you by TakeAseat.sg
* * * * *
Like what you see here? Get parenting tips and stories straight to your inbox! Join our mailing list here.
Want to be heard 👂 and seen 👀 by over 100,000 parents in Singapore? We can help! Leave your contact here and we'll be in touch.