Water is essential in our daily diet. According to Singapore's Health Promotion Board, toddlers aged 1 to 2 years old need at least one to three 250ml glass of water per day.
Preschoolers age 3 to 6 should have at least three to five 250ml glass of water per day.
Your toddler and preschooler should also consume two more glasses of fluids such as soup, porridge or milk a day.
| | | |
| --- | --- | --- |
| |  250 ml glass of water per day |  250ml glass of total fluid intake per day |
| 1 to 2 years | 1 – 3 | 4 – 6 |
| 3 to 6 years | 3 – 5 | 5 – 7 |
Source: Health Promotion Board
But what if your child does not like water? Here are fun tricks to encourage him to drink up.
1. Make it fun
Make drinking water a fun activity. You can add colourful bands to the base of their cup, or mark certain lines on his bottle to challenge them to drink to that level. This is a great visual motivation for them.
2. Grab a fun cup or bottle
Having a special cup keeps them interested in drinking water. The more sense of ownership they have, the more they will not see drinking water as a chore but be encouraged to use their own cup. If your daughter loves princess, try telling her "princess water" is important for her to drink every day and how it is made specially for her. It might just work!
3. Use coloured straws
Sip time can be playtime too. Sippy straws that are flexible or long enough to "follow" your child's drink to the very last drop can be fun. Or try alternating with different coloured straws.
4. Set up a reward system
Little rewards can really encourage kids and keep them motivated. Giving them stickers to paste on their water bottle after drinking up can serve as reminders to them to continue with this habit. Establish goals so that they will have a schedule to follow and be motivated to meet their daily water needs.
5. Infuse it with fruits
If your child does not like the taste of plain water, punch it up with natural light flavours. You can add in a slice of citrus fruits like fresh orange or lemon. The delicious flavours can be very refreshing. To make it fun, consider freezing fruits in ice trays with cute moulds and add it into their water.
6. Lead by example
The most important thing to do is to lead by example. From mimicking your actions to eating vegetables and drinking water, your child takes after you whether you realise it or not. If they do not see you drinking it, they will not want to too!
Here are tools to help your toddlers drink up!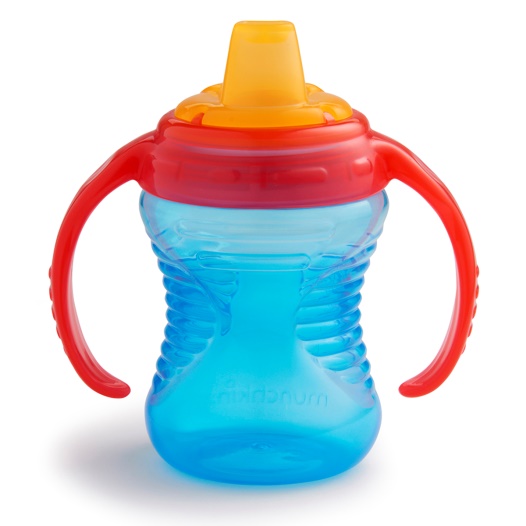 Grip On: Don't want to clean up your toddler's spills? Here's a sippy cup that won't slip! Designed with ridges and a contoured shape, Munchkin's Mighty Grip® Trainer Cup ($11.90) is leak-free and super easy for baby and toddler hands to grip. This 8 oz BPA-free trainer cup is suitable for 6+ months and up.
---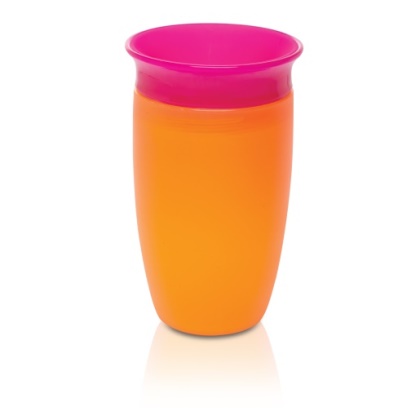 Bottoms Up: If your toddler is able to navigate cups without handles, and can drink more liquids, this calls for an upgrade. The Munchkin Miracle 360° Sippy Cup ($18.90) eliminates messes and helps support muscle development in your child's mouth. With no extra spouts, straws or pieces, the Miracle 360° Cup is easy to use and even easier to clean. Suitable for 12 + months and up.
---
Locked And Loaded: Store water, milk or juice in Munchkin Click Lock™ Weighted Flexi-Straw Cup ($13.90). The clever design allows your toddler to hold it like a bottle but drink from a straw. The weighted straw cup dispenses liquid from any angle, and with the flip top lid and Click Lock® functionality, it is also perfect for use on-the-go. Suitable for 6+ months and up.
Items mentioned above are available online at www.infantino.com.sg.
This was first published in our e-book Your Baby's Feeding and Growing Years.
If you find this article useful, do click Like and Share at the bottom of the post, thank you.
Want to be heard and seen by over 100,000 parents in Singapore? We can help! Leave your contact here and we'll be in touch.