As parents, we love our children and will do everything we can to protect them and keep them safe and happy. This is seen right from birth, where our babies are immediately wrapped up in an age-old technique called "swaddling", which has the intention of making them feel secure and keeping them calm from any loud noise disturbances.
However, this act of immobilizing our babies is in direct contrast to how they spent the first nine months of their life, confined in the warm and safe environment of the mother's womb, but essentially free to move. And as they gain the ability to move, they do move a lot. This movement is a good thing because where there is movement, there is life.
A baby who is active in utero is assumed to be healthy and vigorous. So isn't it an irony how we stop our child from moving freely the moment he is born? Babies have a right to move. It is a basic right that we all have.
The more we move, the healthier we are. This is even more so for a newborn baby.
Move, Baby, Move
Movement is critical for all aspects of a newborn baby's development. When the baby is on his belly moving forward on the floor, he begins to use his vision in a way he would not have when we move him through space. This helps the visual pathway to develop rapidly at a time when being able to see is very important to him. The better he sees, the more he wants to move to get to the things he sees, enhancing his desire to explore and learn about the world.
In addition, this will promote the maturation of his breathing ability, allowing him to make a wider range of sounds much sooner, aiding in his speech acquisition. This improved ability to communicate from an early stage sets the foundation for becoming an effective speaker. So parents, don't keep your infant all wrapped up, let him have the opportunity to move those limbs right from day one.
Active Toddlers
In our article on Developing Your Child Through Purposeful Play, we shared a little about the importance of providing physical stimulation to your child. This is a key factor in your child's brain developmental process.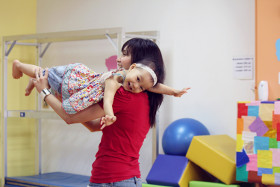 As your baby progress to becoming an active toddler, crawling and creeping around, just free movement alone is no longer enough. Rather, parents might want to consider a series of well-researched and tested physical exercises that they can practice with their child at home. Here is an example of a physical exercise that you can practice with your child at home:
Build an obstacle course at home using pillows, boxes and encourage your child to creep around looking for you. As he does so, he engages in action planning, enhances visual stimulation and even strengthens his fingers for writing.
This above-mentioned exercise is just one of the many physical activities that you as a parent can learn and conduct with your child. Let's not stop at one – as it is important to always keep our children active and inquisitive about what they can expect next from you.
At Gymnademics, the only centre in Singapore that is endorsed by The Institutes for the Achievement of Human Potential (IAHP), in Philadelphia, U.S.A, we incorporate this need for physical development into its play activities, allowing the child to find pleasure and fun in carrying out these activities.
For parents who are keen to find out more, do bring your child down to Gymnademics to experience the holistic programme specially put together to bring out the best in your child, intellectually, physically and socially through purposeful play.
Now that we have moved and exercised quite a bit, shall we spend some time looking at how to teach our child to read at a young age? In our next article, we will share with you more on how your little infant can begin to recognize words and start reading on his own at a very young age!
By Selene Diong, Principal of Gymnademics (rebranded to Sparkanauts).
* * * * *
Like what you see here? Get parenting tips and stories straight to your inbox! Join our mailing list here.
Want to be heard 👂 and seen 👀 by over 100,000 parents in Singapore? We can help! Leave your contact here and we'll be in touch.