When parents are asked about their child's growth and development, they can remember the ages at which their child first rolled over, crawled, stood upright, or walked. However, who among them can recall the age at which their child transferred objects from one hand to another, pointed to objects or picked up small items?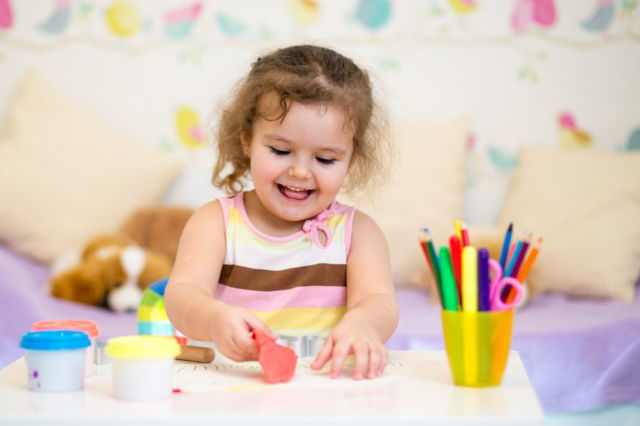 Most parents are not able to remember. More often than not, a child's fine motor skill development is overlooked. As much as gross motor skills are easily identified in a developing child, fine motor development is of huge importance and should be given equal attention.
Fine motor skills refer to the manner in which we use our fingers, hands, & arms. These are motor skills that include reaching, grasping and manipulating objects. Fine motor skills also involve using different tools such as crayons, scissors and pencils to colour, cut and write.




Feeding involves the use of our fine motor skills too (e.g. holding a spoon and learning to bring it to our mouth). In fact, we use our fine motor skills without thinking too hard about them, throughout the day. For our children, efficient hand use and coordination help them to gain confidence and independence in daily tasks.
⇒ Related Read: How Do You Know If Your Child Is Not Developing Normally: Fine Motor Skill Impairment
Milestones
Motor skills gradually develop through each developmental stage of a child's life; infancy, toddlerhood, preschool, and school-age. Typically, between age 6 and 12, children will have mastered basic fine motor skills.
There are many developmental milestones that children attain to reach a functional level of fine motor ability. Parents, teachers, and primary caregivers need to have a clear understanding of how young children develop fine motor skills in order to promote their development. The following table outlines some early, significant milestones in fine motor development.
Age by year
Fine Motor Skills
Birth-1 year

waves his arms to swat at or bang a toy
holds and shakes rattle when placed on hand
looks at and plays with his hands
directs his arm to reach out and grasp a toy
holds bottle
transfers toys from one hand to another
picks up and places toys down using his thumb in opposition to his fingers
points at objects

1-2 years old

picks up small objects using a pincer grasp (thumb and fingertip)
uses and coordinates both hands together during play
uses tools for a purpose (e.g. spoon; crayon; play dough cutters)
scribbles on paper, using a palmar grasp

2-3 years old

releases objects precisely (e.g. stacking blocks; stringing beads)
uses thumb and fingers to hold a crayon and draws a variety of strokes (lines and circles, dots)
shows a hand preference, but switches when learning new skills

3-4 years old

draws shapes (circle, cross, square, triangle and diamond)
eats and drinks by himself

4-6 years old

coordinates his hands to learn to dress himself, including zippers, buttons and other fasteners
learns to cut with scissors
learns to print letter and numbers
Parents must understand that some children acquire new skills quicker than others; the information above should be used only as a general guide to your child's fine motor development. If your child is not able to do some of the skills at the stated age, it does not mean that they are delayed. It may help to think of an average child as being capable of tasks in a range that encompasses some of the skills above & below those indicated for their age.
By Kris Borja, Occupational Therapist, THK Therapy Services
Kris Edward is a Paediatric Occupational Therapist who earned his Bachelor of Occupational Therapy degree at the University Of Santo Tomas – College Of Rehabilitation Sciences in the Philippines. He joined the team at THK Therapy Services (formerly known as The Children's Therapy Centre) in February 2012. Kris is a compassionate and devoted therapist who provides intervention for children with special needs and their families
This article was first published in The New Age Parents online magazine.
If you find this article useful, do click Like and Share at the bottom of the post, thank you.
Like what you see here? Get parenting tips and stories straight to your inbox! Join our mailing list here.