Gout is a chronic disease that affects joints, most commonly the big toes. Gout attacks are episodes of sudden pain, which cause joints to rapidly become swollen and painful, affecting all movement. If left untreated, gout attacks can affect multiple joints and even develop into painful lumps known as tophi.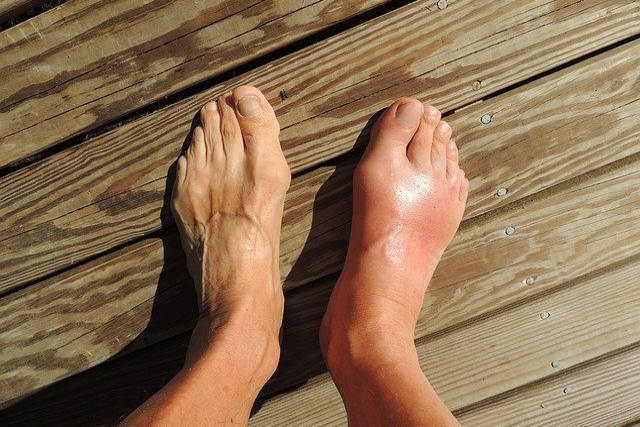 ▪ The risk factors of gout are:
Age and Gender: Middle aged men are at higher risk of getting gout.
Food with high purine content
Genetics
Kidney Disease
Obesity
Overconsumption of Alcohol
High blood pressure (hypertension), diabetes, high cholesterol
People who have had organ transplants
How is gout related to cardiovascular and kidney diseases?
Cardiovascular Diseases
▪ While the link is still unclear, patients with gout have a very high risk of cardiovascular disease. A study published in the Journal of the American Heart Association in 2018¹ found that patients with gout had a more than two-fold increase in the risk of death from heart failure.
Kidney Diseases
▪ Kidney problems can be caused by the build-up of uric acid crystals in the kidneys, like how uric acid crystals form to cause gout in joints. A study published in Arthritis Research & Therapy in 2018 found that patients with gout had a 78% increased risk of development of Chronic Kidney Disease (above Stage 3) as compared to people without gout.²
Increased uric acid levels in the urine can also lead to kidney stones, which are very painful as well.
What kind of cardiovascular and kidney diseases are linked to gout?
▪ Cardiovascular diseases include heart attacks and strokes, both of which could be fatal. Heart attacks can lead to heart failure, abnormal heartbeats and damage to the heart valves even if a sufferer survives. Strokes happen when the blood supply to the brain is disrupted, leading to damaged or dead brain cells and tissue. This can lead a characteristic numbness on one side of the body, to slurred speech and even a coma.
▪ Kidney failure can affect every part of the body, from fluid retention in the arms and legs, to irreversible damage that will require dialysis or a kidney transplant to avoid death.
⇒ Related Read: The Secret Hazards of Gout: No Longer a "Rich Man's Disease"
¹ Pagidipati, N. J., Clare, R. M., Keenan, R. T., Chiswell, K., Roe, M. T., & Hess, C. N. (2018). Association of Gout With Long‐Term Cardiovascular Outcomes Among Patients With Obstructive Coronary Artery Disease. Journal of the American Heart Association, 7(16). doi.org/10.1161/jaha.118.009328
² Roughley, M., Sultan, A. A., Clarson, L., Muller, S., Whittle, R., Belcher, J., Mallen, C. D., & Roddy, E. (2018). Risk of chronic kidney disease in patients with gout and the impact of urate lowering therapy: a population-based cohort study. Arthritis Research & Therapy, 20(1). doi.org/10.1186/s13075-018-1746-1
By Oh My Gout.
---
About "Oh My Gout"
Led by four students from the Wee Kim Wee School of Communication and Information, "Oh My Gout" is a pioneering health communications campaign that seeks to encourage people to seek professional medical treatment for gout by raising awareness of its severity and deeper health implications. For more information, visit website.
* * * * *
Like what you see here? Get parenting tips and stories straight to your inbox! Join our mailing list here.
Want to be heard 👂 and seen 👀 by over 100,000 parents in Singapore? We can help! Leave your contact here and we'll be in touch.