Singaporeans are largely uninformed of gout's concealed threats – a chronic disease that has an increased risk of chronic kidney disease, high blood pressure and other cardiovascular diseases that may lead to death.
Singaporeans are no strangers to the "Three Highs" – high blood sugar, high blood pressure and high cholesterol, the deadly chronic trio which has been shown to increase one's risk of developing serious illnesses such as heart disease and stroke.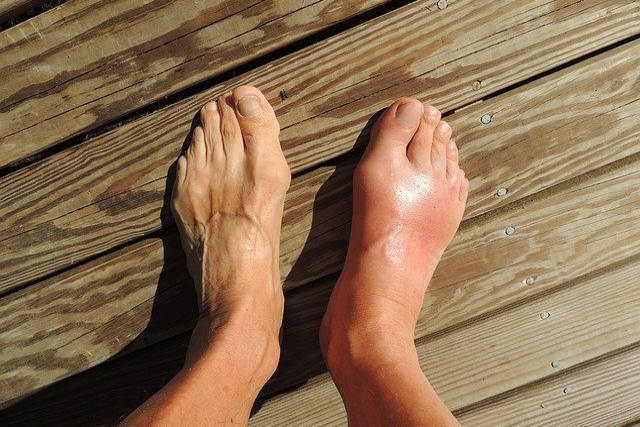 But they may not have heard of the "Fourth High" – high uric acid levels, which causes gout. A local study estimated that 4.1% of Singaporeans suffer from gout, a number which has risen over the past few years.1
Gout is caused by persistent high uric acid levels – or hyperuricemia which is attributed to:
Overproduction of uric acid in the body
Excessive eating of purine-rich foods such as certain organ meat, poultry, seafood, alcohol and sugary drinks, since purines are broken down into uric acid.
The excess uric acid crystallises into needles in the joints causing severe pain during a gout attack. The affected joint becomes hot, swollen and so sensitive that even a breeze or soft touch of a blanket can cause unbearable pain.2 In fact, gout attacks have been said to be one of the top 20 most painful conditions.3 It affects quality of life and takes an emotional toll on patients. If left untreated, gout can eventually affect multiple joints and develop into painful lumps known as tophi. It can also cause bone erosion, physical disability and even immobility. Gout also increases the risk of cardiovascular and kidney diseases, including high blood pressure and the formation of kidney stones respectively.




Despite gout being such a common disease, it is often overlooked. Dr Teng Gim Gee, Senior Consultant in the Division of Rheumatology at the National University Hospital, highlighted the lack of public awareness: "The impact of gout is under-recognised. Singaporeans don't prioritise this as a disease, perhaps because many don't know about the chronic nature of gout."
She added, "Many perceive gout to be just something short-lived. No doubt the pain and physical suffering is episodic, the negative health consequences of gout are significant, such as a higher risk of kidney disease, cardiovascular disease and mortality."
Shedding new light on this topic, a recent survey conducted by four final-year NTU undergraduate students from the Wee Kim Wee School of Communication and Information from Nanyang Technological University (NTU) revealed that amongst Singaporean men above 40, 76% did not believe that they were susceptible to getting it. However, gout is actually the most common form of inflammatory arthritis in Singapore in men of this age range.4
The survey also found that while 83% of respondents were confident they knew about gout, 61.7% were unaware that gout was chronic. Furthermore, 87.7% did not know gout could lead to cardiovascular diseases and 63.6% were in the dark about the link towards kidney failure, all of which can lead to an untimely death.
As such, the team of NTU students has embarked on a campaign called "Oh My Gout!", which seeks to educate the public on gout. By playing on the pun of "Oh My God!", a common phrase used to express emotions of disbelief and pain, the campaign aims to call attention to the severity and possible deeper health implications of gout. It also encourages people to seek medical treatment if they identify symptoms.
Ms Yap Chai Kian, Deputy Director of the Corporate Communications & Outreach department at the National Kidney Foundation, also believes that increasing public awareness of gout and its associated health impacts is important. "We think that this student-led initiative is a great opportunity to educate the public on the harmful effects of gout and its related kidney and cardiovascular risks."




As part of the campaign's efforts to raise awareness about this chronic disease, the team has produced multiple video series aimed at educating the public. These include an edutainment video starring a relatable campaign ambassador for facts about gout in a colloquial manner and gout patient interview videos where they share their experience of living with gout. Through these, the team hopes to address common misconceptions of gout while increasing awareness of the risk of gout amongst the high-risk group of middle-aged men.
This ground-up initiative is supported by the National University Hospital (NUH), National Arthritis Foundation, National Kidney Foundation and the Young ChangeMakers (YCM) grant, for youth projects beneficial to society.
For more information, visit What is Gout?.
1 Teng, G. G., Ang, L.-W., Saag, K. G., Yu, M. C., Yuan, J.-M., & Koh, W.-P. (2011). Mortality due to coronary heart disease and kidney disease among middle-aged and elderly men and women with gout in the Singapore Chinese Health Study. Annals of the Rheumatic Diseases, 71(6), 924-928. doi.org
2 Solomon, S. E. (2020). What Is Gout? Healthxchange.Sg. healthxchange.sg
3 Ritschel, C. (2018). The most excruciating pains humans can experience: From kidney stones to cracked ribs. The Independent.
4 Gout. (2018, April 20). Retrieved from SingHealth.com.sg website: singhealth.com.sg
About "Oh My Gout"
Led by four students from the Wee Kim Wee School of Communication and Information, "Oh My Gout" is a pioneering health communications campaign that seeks to encourage people to seek professional medical treatment for gout by raising awareness of its severity and deeper health implications. For more information, visit website.
If you find this article useful, do click Like and Share at the bottom of the post, thank you.
Want to be heard and seen by over 100,000 parents in Singapore? We can help! Leave your contact here and we'll be in touch.