Parenting has made 33-year-old mum of two, Deepa Nanwani Singh, an expert multi-tasker. On a typical day, she can be found helping her older son with his homework while shopping online with a facemask on. In addition to bringing up her boys, ages 4 and 1, and running a household, Deepa has a full-time job as an educator. But she's not complaining. "I enjoy being this woman and my reward is seeing the look of glee on my boys' faces," she said.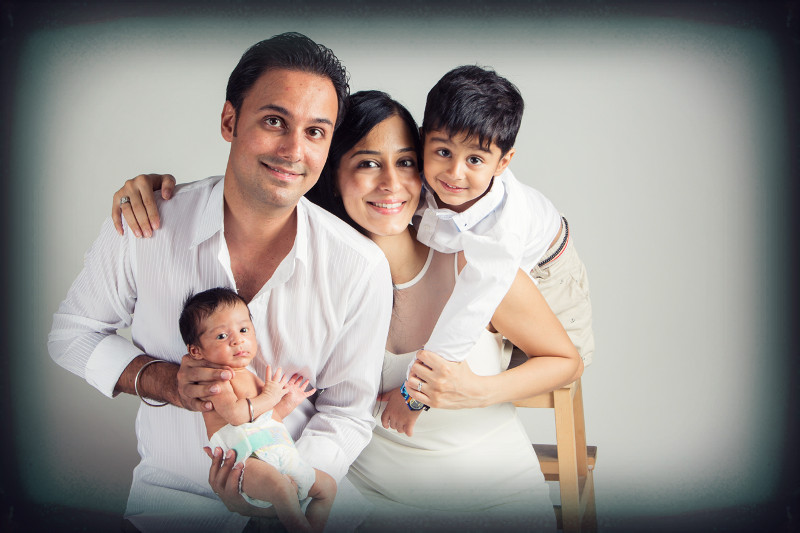 Photo courtesy of Deepa Nanwani Singh
Here, Deepa opens up to The New Age Parents about separation anxiety, what she loves best about being in her 30s, how to apply strategies in the classroom at home, and the parenting approach that works for her.
What advice do you have for mothers about balancing work and life?
Be as organized as possible. Keep a well-updated calendar that the entire family is aware of. This can help in de-conflicting any clash in events or defrazzling oneself. Colour code to prioritise various commitments.
Communicate. Communicate very clearly with your employer, peers and employees about your level of commitment in the job and build a good, positive working relationship. Communication with other members of the family is also crucial to ensure everyone is on the same page. Stay in touch with the younger ones by calling from work at least once a day to create a sense of close contact and affirmation.
What is one thing you love about being in your 30s more than being in your 20s, and how do you think that has helped you become a better mum?
One thing I love about my 30s is that I have more control, confidence, and direction than ever before. I've come to understand that life is too short to dwell on the unimportant things. This has allowed me to be a confident mum, one who is more sure of her own beliefs and opinions. This is important in order to help another individual grow up. Being a confident mum has enabled me to be strong for my boys, and it's something I may not have felt if I were in my 20s.




What is your parenting style?
I consider my style more of a 'millennial' one. My style is a cross between the Tiger Mum style and the helicopter parent. The Tiger side of my parenting is apparent through my rules and schedules to be followed in the house; that said, there are times I have to be flexible depending on the situation. The helicopter side of me is clearly seen when I need to constantly keep an eye on my children and ensure they are safe. So, mine is a unique and modern millennial parenting style that combines the above. This puts me in a comfortable position to enjoy parenting while being well informed to decide what's best for my child.
If you had to pick the most important rule in your family, what would it be?
Respect. Learning to treat and speak to others respectfully is of utmost importance. We feel everything else follows suit.
Complete this sentence: Before I was a mother, I would've never…
…shopped online this much. I buy clothes, vitamins, party stuff, books and tickets online. Before kids, I had the luxury of time to do face-to-face shopping. Now we need to be very focused and task-oriented.
How has your approach to parenting changed as you age?
I have become a lot more pragmatic in my style of parenting. While all of us want the best for our children, there is really only so much one can do in 24 hours.
You're an educator. Do you apply the skills and techniques you use in the classroom to teaching your own children at home?
Yes, absolutely. To me, consistency is important. This applies to both teaching and learning in the academic and non-academic domains. Academically, I believe in completing homework first, followed by daily academic revision.
One strategy that I apply both in my classroom and at home is G.R.A.C.E.
G – Greet. Just as students greet their teachers, my boys do the same at home although it's less formal.
R – Readiness. While students are expected to have their books and stationery on the desks before the teacher comes in, my sons need a little assistance to ensure they are ready with their materials, such as pencils, etc.
A – Attendance. Teachers take attendance to check who is present. I check to see that the boys are fully present and away from distractions.
C – Cleanliness. The classroom is expected to be clean before the lesson starts; similarly, my boys' rooms are also expected to be decently clean and orderly before our revision or activity segment for the day commences.
E- Expectations. Students are reminded of the expectations for the Lesson. I do the same with my boys at home by explicitly articulating my expectations, usually in terms of behaviour and practising values.
What is the most challenging part of being a mother?
Separation anxiety. (My own!) For weeks, I dreaded my eldest son Ashvin's first day of preschool. To my surprise, Ashvin had forgotten about my existence in less than a minute after dropping him off. While he was okay with his friends and teachers, I was busy pacing up and down outside the school and peering once in a while through the grills of the gate to see if he was fine. I have to constantly remind myself that my goal is to raise a happy and independent child.
And sometimes, in spite of all the good logical reasons, I sill break down in tears. This is especially so during bittersweet moments like when the baby's milestones have been reached. We feel like we are celebrating yet grieving the maturing and advancement of our child.
Kids say the most surprising things sometimes. Can you share some memorable remarks your 4-year-old has made before?
Me: How much do you love Mum, Ashvin?
Ashvin: I love you $10 billion dollars, Mum!
* * *
Ashvin: Mum, would you like to eat some chicken nuggets?
Me: No thank you, Ashvin. Mum is a vegetarian, remember?
Ashvin: Oh yes, you are a vegetarian and I am Singaporean.
By Jenny Tai.
* * * * *
Like what you see here? Get parenting tips and stories straight to your inbox! Join our mailing list here.
Want to be heard 👂 and seen 👀 by over 100,000 parents in Singapore? We can help! Leave your contact here and we'll be in touch.