Forced to shoulder the family's burden after her husband passed away due to a heart attack and without family support, Devi's troubles just started.
She was retrenched from her factory night shift job and her daughter who was 5 years old back then, needed a heart surgery operation.
Balancing work vs caregiving duties as a single mum
Devi was in urgent need to get a job to pay the bills. After finding work at Kentucky Fried Chicken (KFC) as a part-time staff in 2005, Devi was offered a full-time position a year later.
As a single mum, she was faced with a difficult conundrum: she had to work to support the family, but she didn't have after-school care for her daughter, especially during her primary school years.
Thankfully, after speaking to her manager about her situation, Devi was able to utilise her break time to fetch her daughter from school and bring her back to the KFC outlet where she worked.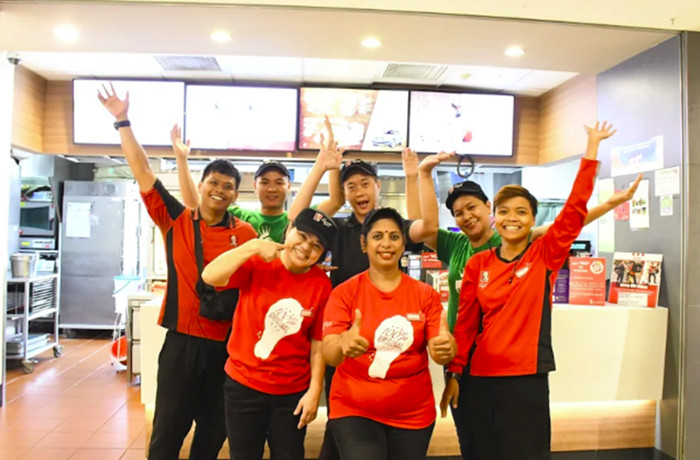 Devi credits her supportive KFC family for being understanding of her needs as a working single mum (Photo: KFC)
While some of us may not have workplaces that allow us to bring our kids to work, Devi's colleagues and managers had no qualms with her daughter staying at the KFC outlet daily after school, doing her homework until Devi knocked off work at 4pm.
Her Area Coach even chatted with her daughter and reminded her gently," See your mum working so hard? So you better study hard too."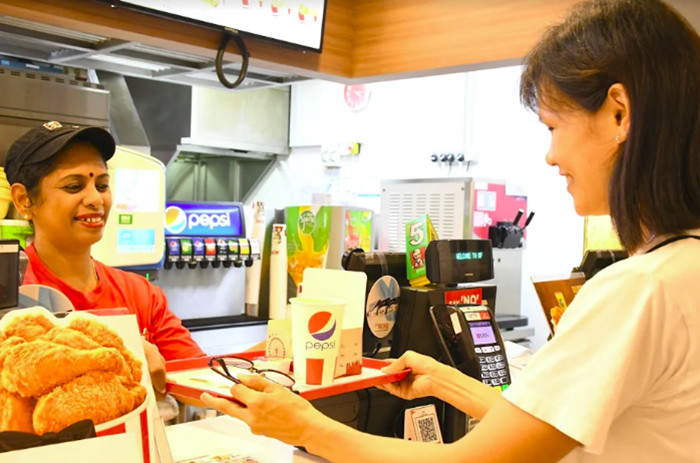 With understanding from her superiors, Devi was able to work and keep an eye on her daughter who did her homework at KFC after school. Her daughter (not shown), who is a grown-up now, also held part-time jobs at KFC while studying (Photo: KFC)
In return for their kindness, she looks after the welfare of her colleagues, who call her Amma as they look up to her like a mother-figure at work.
Creating a positive environment for working parents
Having quit her job when her second child arrived, Eileen yearned to return to the workforce after her child turned 3 years old.
Eileen was not able to commit herself to work as a full-time staff as she was the main caregiver dropping off and picking up her kids from school.
After landing a part-time service staff job with KFC, her shift of 7-11am allowed her the flexibility to do the above without worrying that her children would have to go home by themselves at a young age.
Her family was not well-to-do and she was worried about the costs of raising the children. These worries were relieved when KFC provided her children with study awards to support their educational costs.
Eileen continued to work hard and rise up the career ladder, being promoted every few years.
Eileen started out as a part-timer in KFC, raising her family and rising in her career to be a restaurant general manager today. (Photo: KFC)
There was an instance when she had to settle an urgent family matter immediately but worried she would have to quit.
Unsure of what she could do, she confided in her manager, who then told her, "Eileen, just take a month off and settle what you need, we will hold your job for you when you come back".
She was very touched by the understanding her superior had for her situation and still remembers it to this day.
Better wages, welfare and work prospects
KFC employees are represented by the Food, Drinks and Allied Workers Union (FDAWU), which works closely with KFC to give employees like Devi and Eileen better wages, welfare and work prospects.
FDAWU also collectively bargains for better employment terms and conditions for employees and has a collective agreement with KFC which captures some of these agreed terms.
| | |
| --- | --- |
| Category | Examples of Employment Terms and Conditions Unions Collectively Bargain For |
| Career | Progressive wages and career paths |
| Leave | Annual leave, family-care leave, childcare leave, sick leave, compassionate leave and exam leave |
| Allowances | Good attendance, laundry, meal allowance |
| Training | Additional upgrading initiatives, courses and grants |
| Benefits | Retrenchment benefits, additional insurance coverage, medical benefits |
| Working conditions | Flexi-work arrangements, additional workplace safety and health measures, redeployment during downturn, more favourable re-employment terms |
After talks with FDAWU, KFC formalised its commitment to re-employ workers up to the age of 68.
The company has also enhanced work processes to benefit workers of all ages and hires people of all abilities including those with special needs and mature workers older than the re-employment age limit.
"At KFC, people is our greatest asset. To ensure fair employment, we have worked with various Tripartite partners to adopt the best human resources practices and strived to offer competitive wages," shared Mr Philip Ng, Operations Director of KFC.
"We embrace the culture of recognition by openly recognising our people and rewarding them for a job done well. We encourage staff to recommend their family members to work with us and offer incentives with a Bring Your Friend programme," he added.
Making work-life balance possible
There has been an increase in organisations like KFC which invest in work-life initiatives to help working parents navigate various life stages and achieve fulfilment in their career and family-life.
Eileen appreciates how KFC has family care leave, marriage leave and compassionate leave, which is not a requirement under the Employment Act. (Photo: KFC)
Employees enjoy flexible working hours and family friendly benefits, free tickets to swimming pools and gyms with their families, study awards for their children and more.
KFC also participates in the annual Eat With Your Family Day where employees get to leave work early to enjoy a meal with their children and families.
By going the extra mile to help employees maintain a healthy and balanced work-life, KFC has witnessed higher productivity, improved employee engagement and satisfaction, as well as higher retention of talent.
Happy Team Members = Happy Guests
Devi used to be an introvert with a lack of confidence, however under the warm and encouraging guidance of her manager, she not only learnt how to cook KFC chicken but also began to speak to customers over the cashier.
Devi started as a part-time staff in KFC 13 years ago. With hard work, training and opportunities to improve her work prospects, she currently holds a supervisory role at KFC HomeTeamNS outlet, where she is affectionately known as Amma to her colleagues. (Photo: KFC)
Similarly, Eileen's positive attitude and good work performance translated to a full-time role in 2003.
She also received invaluable opportunities for skills upgrading through courses, as well as on-site training across KFC outlets situated around Singapore. In 2017, Eileen was promoted to restaurant general manager at KFC Nanyang Community Club outlet.
Eileen making her customers feel at home. "You can achieve whatever you desire with a growth mindset", she says. (Photo: KFC)
Now that all her children are grown up and her husband has retired, Eileen wishes to continue working.
She appreciates the supportive teamwork, close camaraderie among co-workers, staff recognition as well as the family oriented policies and practices KFC adopts.
Mr Philip Ng shared how employee satisfaction is a priority. "We believe we have to take care of our internal guests before they can take care of our external guests. With happy employees, we will have happy guests!", he said.
Eileen and Devi are just examples of the numerous mums working in KFC who are able to achieve "work-family balance". They excel in their career while fulfilling their duties as a mother.
KFC and FDAWU understand and support these mums through flexible work options and schedules, competitive salary and benefits, enhance skills through training and development programs, and a supportive family-oriented work environment.
About Food, Drinks and Allied Workers Union (FDAWU)
Formed in 1964, FDAWU represents employees in any food purveying or general catering business concern or establishment. The union pushes for better wages, better welfare and better work prospects for its members.
About KFC Singapore
Established in Singapore in 1977, KFC serves more than 1 million customers each month through over 85 stores across Singapore today. KFC has adopted five tripartite standards and works closely with FDAWU to look after its employees.
Written by Cheryl Sng.
* * * * *
Like what you see here? Get parenting tips and stories straight to your inbox! Join our mailing list here.
Want to be heard 👂 and seen 👀 by over 100,000 parents in Singapore? We can help! Leave your contact here and we'll be in touch.