In the weeks leading up to Chinese New Year, the area of Chinatown between Pagoda Street and Smith Street are transformed from a sleepy tourist spot to a fragrant, colourful and musical buzz of activity. Chinatown is also known as Niu Che Shui 牛车水 in Chinese and Kreta Ayer in Malay, which means "bullock cart water", referring to the carts that were used to carry our drinking water in olden Singapore times. Here in Chinatown, the main dialect you will hear is Cantonese.
The best time to visit Chinatown is probably the week just before Chinese New Year, when all the stalls are up and ready to hawk their myriad of wares, and everyone is in a festive mood.
As a parent of a young child or baby, it can be daunting to imagine braving the crowds for a trip to Chinatown, as much as you want to soak in the atmosphere and enjoy the sights. However, it's nothing that a little preparation can't overcome.
Here are 5 tips for surviving (and enjoying) the streets of Chinatown this year.
⇒ Related Read: Chinatown Chinese New Year Celebrations
#1 Prepare for rain and shine
While the shophouses and tentage along the street do afford some basic shelter in the event of rain, you can imagine that it will be extremely uncomfortable to be squashed up together with the throngs of people that would also be trying to avoid getting wet. Be sure to pack a raincoat or umbrella, especially since the weather's been increasingly erratic this year.
At the same time, it might be very hot, and again, a shelter is a premium. So do dress lightly, bring along your water bottles, and have your child wear a cap or hat for added protection from the sun.
#2 Know your territory
On your first visit to Chinatown, you might find the maze of streets rather confusing. More so if mandarin is not your second language, since many of the stall owners only speak in mandarin or dialects. If you are driving down, a good place to park is Maxwell Road Hawker Centre, which is just across the road from the famous Buddha Tooth Relic Temple (it's huge, you can't miss it).
If you are coming by public transport, take Exit A (Pagoda Street) from Chinatown MRT Station on the North-East Line or DownTown Line, and you'll find yourself in the centre of all the Chinese New Year action. You can also walk over from Outram Park, Tanjong Pagar, Clarke Quay and Raffles Place stations, if you really want the exercise…
#3 Travel light
The streets of Chinatown are not the place to push a bulky pram, especially during peak periods. As such, it's best that you either use a compact stroller or baby-wear your child. Older toddlers or kids can walk, holding hands, but be sure to have your eyes on them at all times. Getting lost in Chinatown would be a parent's worst nightmare, that's for sure.
⇒ Related Read: Tips For Parents When Your Child Is Lost
As far as possible, don't attempt to visit Chinatown during the Chinese New Year season on your own if you are bringing kids. Having at least two pairs of adult eyes around to watch the kids is vital to your sanity and safety.
#4 Make conversation
You'll be surprised how quickly you can cover the few streets where all the action is happening – but where's the fun in that? To have a truly enriching experience for yourself and your children, do take the initiative to talk to the various stall vendors. Ask them what the different decorative plants symbolize, or how they picked up their handicraft skill, or which tea is best for reducing heatiness. Let your children talk to them, too, and encourage them to ask questions to satisfy their curiosity.
Again, this is where it's good to have an adult travel companion come along with you, especially one who is fluent in Mandarin or dialect if you aren't!
#5 Don't hurry
There is so much to see, taste, hear, do and smell in Chinatown, so take your time to soak it all in. The best time to arrive is on a weekday morning between 10am – 12pm, when the area is less crowded and parking more available.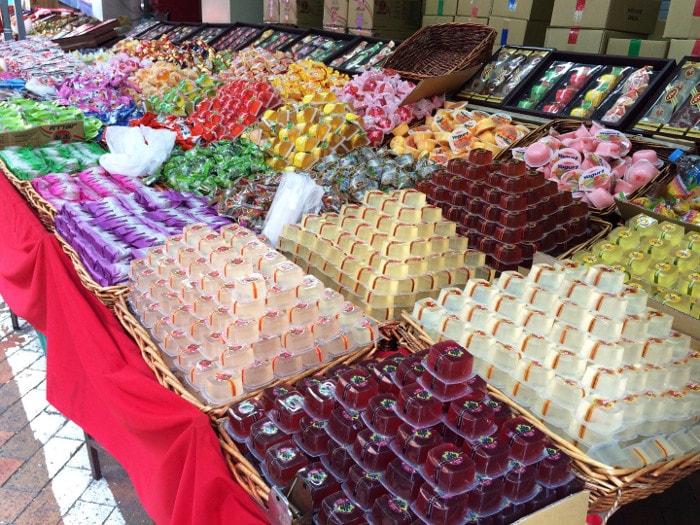 While it's true that places like Chinatown have become very "touristy" in nature over the years, there is still much evidence of Chinese culture and heritage to be discovered and appreciated.
Here are our top 5 picks of places to visit at Chinatown:
1. Chinatown Heritage Centre, 48 Pagoda Street, 9am – 8pm daily
This museum chronicles the history of Singapore's Chinatown, and the experiences of our migrant fathers. If you are coming by MRT, the Chinatown Heritage Centre is on the left if you walk straight from the Pagoda Street exit.
2. Buddha Tooth Relic Temple, 288 South Bridge Road, 9am – 6.30pm
You can't miss this four-storey high temple with a large hall and a beautifully adorned exterior. Inside, you will find a 27-foot statue of Buddha, and what is reputed to be one of Buddha's teeth (visible only during daily ceremonies at 9am – 11am, 2pm – 3.30pm, 6.30pm – 8pm).
3. Shopping Streets
While you can find shops throughout Chinatown, there are a large variety of stalls set up on Pagoda, Smith, Trengganu and Sago Streets during the festive season, selling traditional snacks and customary decorations. You're sure to find something to eat, wear or admire!
4. Lim Chee Guan, 203 New Bridge Road, 9am – 10pm (Daily)
If you're a fan of bak kwa (grilled barbeque pork), this is a must-stop to satisfy your cravings for this decadent snack. Do note that queues can be really long during the Chinese New Year period, so come early to avoid spending the better half of your time in a queue!
5. Paper Cutting, along Temple Street and Pagoda Street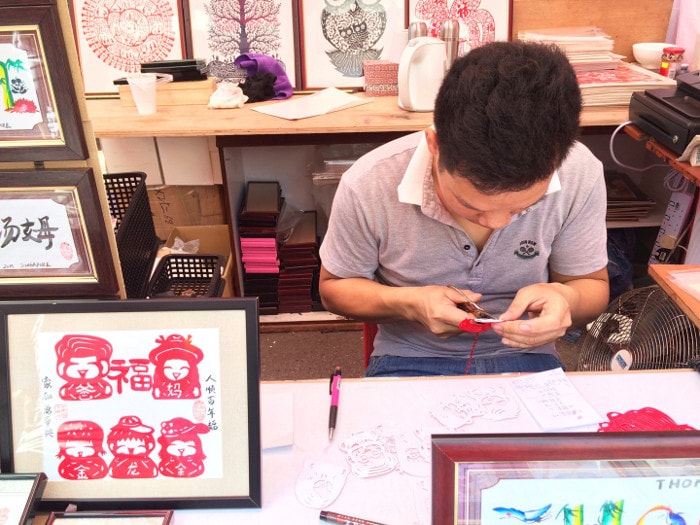 Create a unique and personalized centerpiece for your home or your loved ones. There are two paper cut stalls near Chinatown MRT where you can get your artwork done for the home or office. If the business is brisk, you may need to wait up to a couple of hours for your piece to be completed, so make this one of your first stops when you go!
Text and images by Dorothea Chow.
* * * * *
Like what you see here? Get parenting tips and stories straight to your inbox! Join our mailing list here.
Want to be heard 👂 and seen 👀 by over 100,000 parents in Singapore? We can help! Leave your contact here and we'll be in touch.