I love this quote from AskDrSears.com "The womb lasts eighteen months. Nine months inside mother, and nine months outside." My baby boy has just completed his nine months outside the womb. After spending many hours being carried in a baby sling or carrier, he has grown into a happy, observant and sociable boy. This article aims to share with you the benefits of babywearing.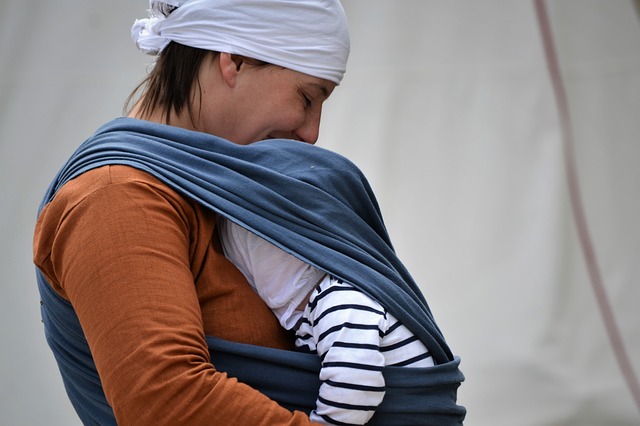 Benefits
1. Creates a Strong Bond
I often carried my newborn in a baby sling to replicate the womb-like experience that he has been used to for nine months. The close contact with me gave my baby a great sense of security as he could smell, hear and feel me at close proximity. This helped him adjust better to the outside world and enhanced our bond.
As a breastfeeding mother, I was able to respond to my son's hunger cues quickly and feed him before he started crying (which is a late hunger cue).
2. Calms Baby Down
My boy was bothered by gassiness in the early months and his fussiness peaked at night. Putting him in our sling and walking around in the bedroom was a sure-fire way to calm him down.
My alert baby was also the ultimate nap-resistor after reaching ten weeks old. For his evening nap, I often walked around with him in the sling so that he could take a cosy nap. Whenever he stirred, I would bounce him a little so that he could settle back to sleep again, taking long naps of up to two hours.
At four months old, he suffered from reflux and carrying him in a sling at an inclined or upright angle allowed him to feel more comfortable and not choke on his regurgitated milk.
3. Keeps Mummy's Hands-Free
Another great benefit of babywearing is that I could carry on with the daily household routine and keep the baby contented at the same time. It is easy to wash dishes and prepare the ingredients for his meals when carrying him on my back using a sturdy baby carrier. Many second-time mothers also find it convenient to look after an older child while carrying the younger child in a sling.
4. Enhances Baby's Learning
My curious baby enjoys observing my actions as I piggy-back him, and he is able to learn from my daily experiences – organising food in the refrigerator, washing vegetables and fruits, operating the washing machine and so on. This gives him an adult perspective to the world besides playing in his crib or play-yard.
5. Convenient Outdoors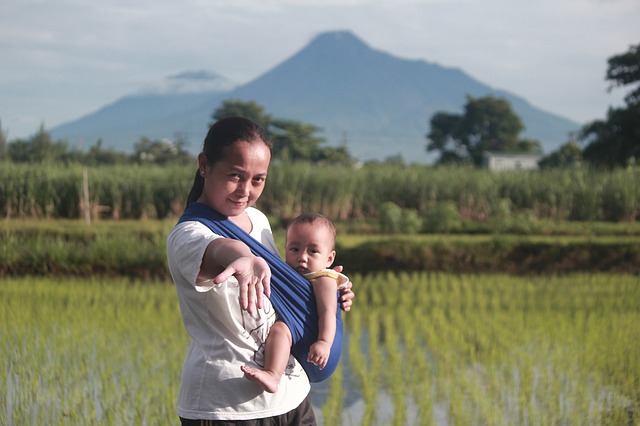 There are places where wearing the baby is much more convenient than manoeuvring a stroller, for instance at a crowded night market (pasar malam), and during grocery shopping when hands are needed to push a trolley. For short trips, it is also easy to simply wear the baby and leave the house, with hands-free to carry a diaper bag.
6. Keeps Baby Safe
Wearing my baby in a sling or carrier keeps both of us safer as compared to carrying him with my hands. With both hands-free, I could hold on to handrails of staircases or escalators, or hold on to somewhere for support should I lose my balance.
Choosing a Suitable Baby Carrier
There is a huge range of baby slings and carriers that can be mind-boggling to the new mother. Some factors to consider are your build, your child's built and developmental stage, your family's lifestyle, ergonomics and quality of the carrier, and your budget.
By MieVie, Mummy's Reviews.
Mummy to Baby V is a first-time mother who relocated from Singapore to Malaysia. She has been cloth-diapering and breastfeeding her 10-month old son since he was born. Her blog, Mummy's Reviews, provides reviews on products and services that her family has tried and aims to help parents make smart purchases.
* * * * *
Like what you see here? Get parenting tips and stories straight to your inbox! Join our mailing list here.
Want to be heard 👂 and seen 👀 by over 100,000 parents in Singapore? We can help! Leave your contact here and we'll be in touch.