STRENGTHENING OUR CULTURE AND COMMUNITY BONDING AT CHINATOWN CHINESE NEW YEAR CELEBRATIONS 2020
Year of the Rat-themed Street Light-Up illuminates Chinatown with 1,388 handcrafted lanterns, including a visual storytelling of the Chinese Zodiac race
Festival line-up enhanced with a celebration of Cantonese culture in Chinatown and upsized crowd favourites to welcome a prosperous year ahead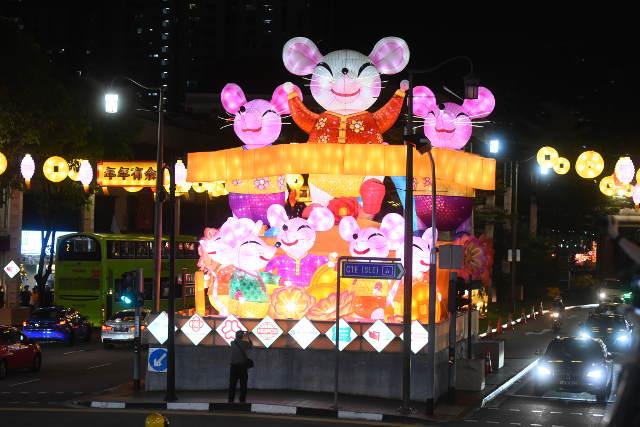 Chinatown will be immersed in grand celebrations and festive cheer this Chinese New Year as the Chinese Zodiac race runs across the main streets of Chinatown, with the quick-witted and resourceful Rat leading the pack! The spectacular display of handcrafted lanterns made with 4,000m-long LED strip lights illuminate Chinatown Chinese New Year Celebrations 2020, themed "Ushering in a Great Year" (金鼠当先迎新春 万象更新福满城). Kreta Ayer – Kim Seng Citizens' Consultative Committee invites all Singaporeans and overseas visitors to join in the festive revelry to kick start a prosperous year ahead.
To ring in the Year of the Rat, the Chinatown enclave transforms into a hotspot of festival mainstays and novelties in a 7-week celebration. In addition to the Rat Zodiac, this year's festival spotlights Cantonese culture with specially-curated activities that showcase well-loved Cantonese performing arts, heritage and cuisine in Chinatown. In the early days, Cantonese immigrants settled in Smith Street, Temple Street and Mosque Street – and ingrained their culture into the mood, feel and experience of the most popular and bustling area of Chinatown today!
⇒ Related Read: Bringing Your Child To Chinatown During Chinese New Year: 5 Tips For Parents
The Heritage & Food Trail opens with a Cantonese chapter in a bid to suss out and savour popular Cantonese dishes from famous hawker stalls in Chinatown. After working up an appetite during the heritage trail which will take participants to the Kreta Ayer Heritage Gallery and around Chinatown, chow down on a Cantonese spread which includes dishes such as Claypot Rice, Lotus Root Soup and Yusheng from five famous hawker stalls in Chinatown Complex Food Centre. Known for its clean yet robust flavour profile, refined cooking methods and use of fresh ingredients, expect to be taken on a gastronomic adventure, Cantonese-style!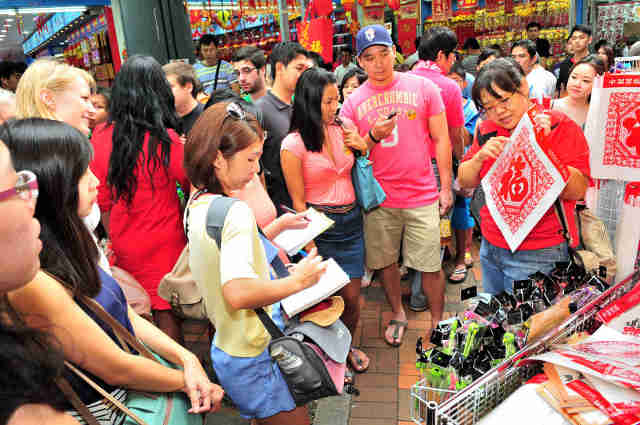 Continue to be immersed in Cantonese culture at Traditional Cantonese Opera performances at Kreta Ayer People's Theatre. Headlined by both local and international artists, witness elaborate and authentic Cantonese opera performances with a programme that includes a medley of famous opera songs and excerpts from classic operas. Also held at the Kreta Ayer People's Theatre is the 13th International Lion Dance Competition. This perennial crowd favourite is taken indoors into the theatre for the first time to accommodate a larger seating capacity and provide air-conditioned comfort for audience members. Be enthralled by 14 of the best lion dance troupes from countries such as Vietnam, Hong Kong, Malaysia, Taiwan, China and Singapore as they pull out all the stops to battle it out in a high-octane competition to vie for the title of "The King of Lions".
A huge draw of the festival every year is the Festive Street Bazaar that stretches across Pagoda Street, Smith Street, Sago Street, Temple Street and Trengganu Street, with a total of 329 stalls this year. Besides the vast array of traditional festive goodies, decorations such as paper cuttings, and apparel, there will be Disney merchandise on sale by Disney's authorised dealer, Goldwood Singapore, as well as a chance to shop online at the Shopee booth where shoppers get to enjoy next-day delivery with Shopee24!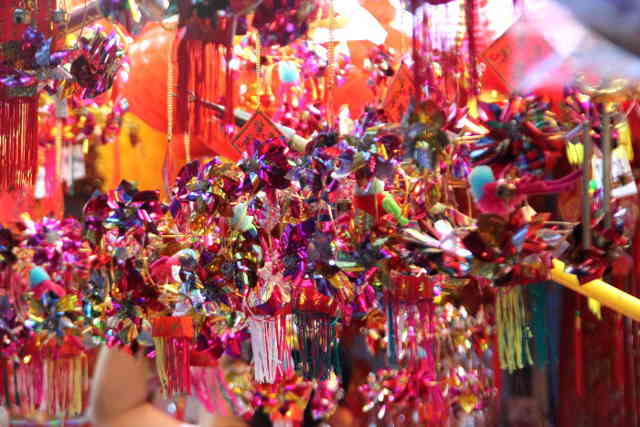 The Chinatown Chinese New Year Celebrations 2020, organised by the Kreta Ayer – Kim Seng Citizens' Consultative Committee (KA-KS CCC) and supported by the Singapore Tourism Board, will kick off on 4 January 2020 with the Official Light-Up and Opening Ceremony. Madam Halimah Yacob, President of Singapore, will grace the occasion as the Guest-of-Honour, where she will launch the Chinese New Year celebrations in Chinatown. There will be a high-spirited display of Chinese ethnic dance, Chinese Orchestra and Cantonese Opera performances by local and international groups that will lead up to an electrifying lion dance performance with 21 Plum Blossom Poles (meihuazhuang) on stage for a festival first. The stakes are raised for the most exciting lion dance performance yet! The ceremony culminates in a rousing firecrackers and fireworks display to usher in the new year. Chinatown will be all-aglow with beautiful lanterns from 4 January to 22 February 2020.
Dr Lily Neo (梁莉莉医生), Adviser to Jalan Besar GRC GRO (Kreta Ayer – Kim Seng) (惹兰勿刹集选区基层组织顾问(牛车水-金声)), says, "The Year of the Rat heralds a brand new start to the 12-year cycle of the Chinese Zodiac calendar, and Chinatown is set to celebrate with bright lights, exciting programmes and a deep appreciation of our tradition and culture. This year, we hope to strengthen Cantonese culture by giving Cantonese performing arts and cuisine a platform for the community to enjoy. In the company of family and friends, we hope the festive season brings renewed blessings and positivity for the year ahead."
Ms Serene Tan, Director, Arts and Cultural Precincts, Singapore Tourism Board, says, "The Chinatown Chinese New Year celebrations draw both locals and tourists to this well-loved precinct every year. Besides honouring Chinese culture, the festivities unite our multi-racial community and add vibrancy to the Chinatown precinct. We hope our visitors will enjoy the exciting line-up of activities and gain a rich cultural experience through them."
This year's Street Light-Up features 200 adorable rat lanterns dressed up in traditional Chinese costumes at Eu Tong Sen Street, New Bridge Road and the Garden Bridge. The rat lanterns are coloured in warm tones of pink to evoke feelings of happiness and celebration, and to complement the festive atmosphere in Chinatown. Segmented into three sections of Success, Celebration and Family, the centre divider between Eu Tong Sen Street and New Bridge Road is decorated with brightly-lit and elaborate handcrafted lanterns inspired by the Chinese Zodiac. In line with the festival's theme, the Chinese Zodiac race springs to life with the quick-witted Rat crossing the finish line, followed by the rest of the Zodiac animals in the order of Ox, Tiger, Rabbit, Dragon, Snake, Horse, Goat, Monkey, Rooster, Dog and Pig.
The towering centrepiece is a 12m-tall, 8m-wide and 8m-long lantern installation featuring the victorious Golden Rat and seven other rats celebrating atop a bed of gold coins, pink peonies and a giant ingot to symbolise good luck and prosperity. Under Celebration, rat lanterns and decorative prop lanterns in the shape of gold coins, gold ingots, mandarin oranges, firecrackers and Chinese scrolls are featured together with a ferris wheel made of gold ingots to represent an eternal cycle of luck and wealth. Lucky pineapples and red packets are added to the decorations under Family, in addition to a family of rats tossing Yusheng together in the tradition of Lo Hei to complete the brilliant display of good fortune and prosperity.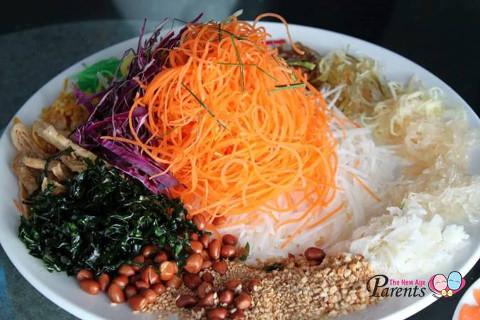 Eu Tong Sen Street and New Bridge Road are covered in a sea of resplendent overhanging gold coin lanterns and traditional red and green lanterns accompanied by festive greetings that stretch to South Bridge Road. Delicate flowers and lanterns in shades of red and pink adorn South Bridge Road to top off the spectacular sight. For even more photo opportunities, head to the Garden Bridge where visitors will be greeted by rat lanterns inspired by the Five Elements which are a part of Chinese philosophy – Wood, Fire, Earth, Metal and Water.
The design of this year's Street Light-Up is a collaboration between Kim Seng Citizens' Consultative Committee, students of Singapore University of Technology and Design (SUTD), the Organising Committee, and master craftsmen from the Chinese city of Zigong in Sichuan province. This is the ninth year in collaboration with SUTD. Led by Dr Jason Lim, Lecturer, Architecture and Sustainable Design, the group of 13 students were inspired by the origins of the Chinese Zodiac to come up with a design that resonates with people and showcases a vibrant display of tradition and culture this Chinese New Year.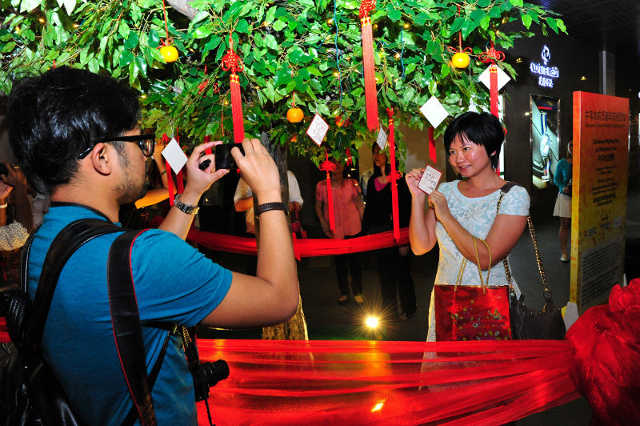 Some other key highlights of the festival include:
Chinatown Wishing Tree, to hang wishing cards on the lucky banyan tree where all proceeds collected will benefit Kreta Ayer Seniors' Activity Centre for the underprivileged elderly residing in Chinatown
Nightly Stage Shows, a packed programme of festive songs, cultural music and lively dance performances, including a nightly dose of the ever-popular Lion Dance
Mass Reunion Dinner, an annual community initiative that brings together residents from underprivileged families and needy elderly who will get to enjoy Cantonese cuisine in the symbolic and heart-warming affair
Chinese New Year Countdown Party, with star-studded performances by Mediacorp artistes to countdown to the new year together
Chingay 2020 @ Chinatown, the largest street performance and float parade in Asia will make an appearance to end off the Chinatown Chinese New Year Celebrations on a high note
---
CHINESE NEW YEAR 2021
We have compiled a list of Where to go during Chinese New Year 2021 especially for our readers. Click on the image to read more.
* * * * *
Like what you see here? Get parenting tips and stories straight to your inbox! Join our mailing list here.
Want to be heard 👂 and seen 👀 by over 100,000 parents in Singapore? We can help! Leave your contact here and we'll be in touch.