If you want your kid to have a better chance at happiness in life, instil an attitude of gratitude. That's the key. Beyond lavishing praise on them and teaching them the importance of grades and success, we need to teach them how to be thankful. Because thankful kids are better equipped to remain optimistic even in tough circumstances.
1. Thankful Tree
Collect a few large tree branches and arrange them in a vase. Cut out leaves from construction paper and have your kids write what they're thankful for on them. Hang them on the branches with string. Over time as more leaves "grow," the Thankful Tree will fill out, making a gorgeous and meaningful centrepiece.
2. Thank You Deeds
Keep a box of Thank You Deeds. Ask your kids who and what they're thankful for, then write them on individual note cards. On the other side of each notecard, come up with a related activity.
For example, if they name grandma as someone they're thankful for, then the corresponding deed could be, "Give grandma a kiss and hug." If they mention that they're thankful for the pretty flowers in the garden, the matching deed could be, "Help water the flowers." And if they say how much they love their new Elsa dress, suggest that they donate a few clothes for children in need to enjoy.
Once they fill up the box with note cards, they can pick one each week to carry out. The point is to identify what they're grateful for, and then to go one step further by doing something to show their appreciation through action.
3. Handmade Thank You Cards
Snail mail is a rarity these days, which makes receiving one even more of a treat. Ask your kids who they're thankful to have in their lives, whether it's their cousin who lives overseas, the bus driver, or their teacher. Then make Thank You Cards together and have several art materials on hand to decorate with, such as stickers, markers, glitter pens, sequins, adhesive rhinestones, etc.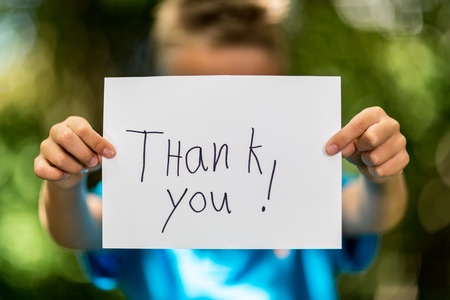 They can even sprinkle a small handful of tiny colourful paper scraps inside the card so that when the recipient opens it, they'll be pleasantly surprised by a mini shower of confetti. If your little one is too young to write their own thank you message, you can offer to transcribe it for them, and then let them do the decorating.
4. Gratitude Marble Jar
Every time your kid feels grateful for something, let them drop a marble in a jar. By the end of the week or month, they can see how full their jar is. When little children are beginning to learn about feelings and values, it's helpful for them to have a visual representation.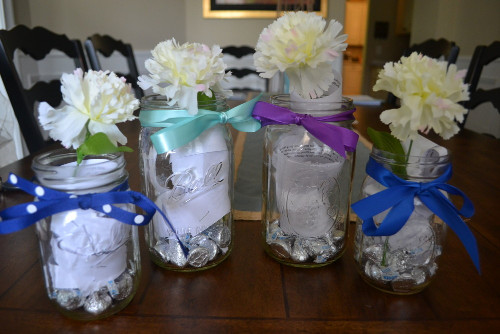 A Gratitude Marble Jar helps them understand an abstract idea like experiencing thankfulness. Using a small token like a marble works especially well for kids who can't read and write yet. They can be independent enough to drop an object in the jar the moment they feel thankful, without having to wait for you to write anything down.
5. Book of Family Blessings
Use a blank notebook or 3-ring binder with clear sheet protectors for the scrapbook. Every month, have each family member add an entry about what they're grateful for. They can draw a picture; insert a photo; write a short description; and add a keepsake such as a family show ticket if they're thankful for family time, a receipt from a daddy-daughter lunch date, or a memento from their birthday party. It's up to each individual to decorate their entries as they see fit.
⇒ Related Read: Teaching Our Children The Value Of… Giving Thanks
A Book of Family Blessings is a great collaborative project with your loved ones. It would make a lovely coffee table book for anyone to peruse at any time – especially when Thanksgiving rolls around.
By Jenny Tai.
This article was first published in The New Age Parents e-magazine.
* * * * *
Enjoyed reading this or learned something new? Click the Like and Share button below!
Like what you see here? Get parenting tips and stories straight to your inbox! Join our mailing list here.