Over a hundred participants thronged the meeting rooms on 16 May at the Suntec Convention & Exhibition Centre to hear Dr. Aw Guat Poh speak at the third of The Little Skool-house International Early Literacy Seminar series. Dr. Aw is Associate Professor at the National Institute of Education Singapore, and is renowned for her rich experience in training parents and educators on how to teach Chinese as a second language to children.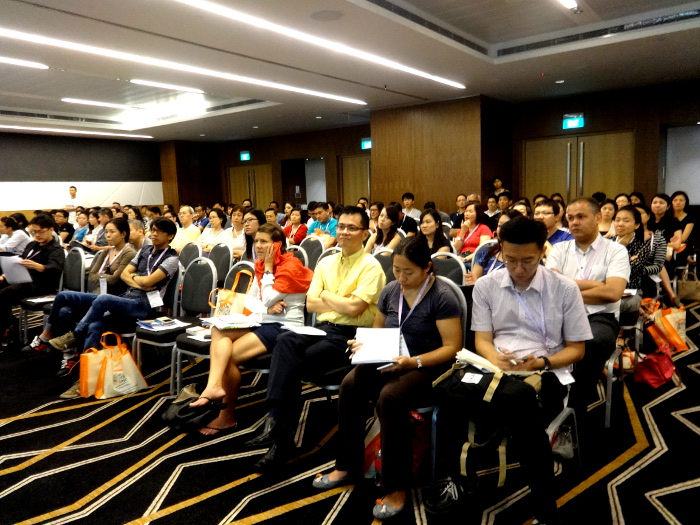 In this seminar series 'Promoting The Love Of Literature In Young Children', Dr. Aw delivered her keynote speech; highlighting the importance of supporting Chinese language learning for preschool children and strategies to strengthen language foundation in the young.
Language acquisition and language learning: Know the difference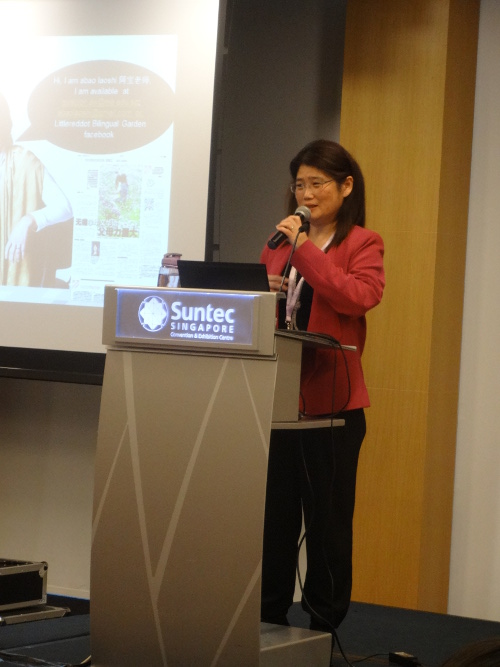 More families are speaking English at home and this is a worrying trend. "Even more children today are expressing the 'I hate Chinese' anxiety." Dr. Aw added. To help children overcome their mental hurdle and pick up Chinese or another second language, parents first need to differentiate between language acquisition and language learning. Once they have done, they need to find ways to encourage the former.
Dr. Aw explained that language acquisition and language learning are both essential in developing a child's literacy; the former works on the speaking ability and the latter, on the writing skill. While language acquisition happens through natural communication in daily life, language learning requires a well-planned curriculum and plenty of memorisation which is "extremely painful" for any young child.
Because children are considered natural learners, the most ideal way for them to learn a second language is through acquisition first. Dr. Aw advised all parents to expose their children to natural learning environments and real communication situations in order to make learning a meaningful, enjoyable and lifelong process.
Is Your Child A Passive Or Active Learner?
The goal for parents is to develop children to be active second language learners. A passive second language learner would be disinterested in the language and would dislike using it. Some signs are – the child dislikes to converse in Mandarin and does not want to complete his or her Chinese homework. Another trend of the passive second language learner is that they usually score well in other subjects but do poorly when it comes to their second language.
From Passive to Active Learners
Before the lecture came to an end, Dr. Aw reminded the audience to always be committed and firm to request their children to use their second langue at home in order to start the language acquisition process. After the lecture, parents were invited to attend one of three available workshops conducted by literacy development experts. In the series of workshops, all speakers agreed that in order to flourish in their languages, children need unwavering support from parents. Dr. Aw and the other experts concurred that parents can do well to start spending quality time together to learn with their children.
Useful Resources
The aim of the resources is to advance language acquisition and make learning memorable for young children. Here are a few parents can turn to.
Youtube
Sesame Street in Chinese
Miss Panda's Reading Playground
鳄鱼怕怕牙医怕怕
Websites:
Books: A plethora of Chinese books available at Maha Yu Yi Pte Ltd at 231 Bain Street #03-07 and #03-11 Bras Basah Complex Singapore 180231 and books by Tarō Gomi (五味太郎)
Other forms of media and exposure:
Chinese TV show
Chinese instructions on mobile phones
Listen to Chinese FM when driving children to school
Chinese bedtime stories
* * * * *
Like what you see here? Get parenting tips and stories straight to your inbox! Join our mailing list here.
Want to be heard 👂 and seen 👀 by over 100,000 parents in Singapore? We can help! Leave your contact here and we'll be in touch.