A group of sixteen children eagerly waits outside for their class to start. When the door opens, they tap their way in and have their attendance taken. After greeting their teachers, they take their positions, ready to begin.
"Show me your biggest, nicest sparkly smiles," Ms Tiffany Wrightson, Artistic Director of Jitterbugs Swingapore®, reminds the class of 5 – 7 year olds.
The atmosphere is relaxed, but the students are focused, poised and ready.
The music starts. And the tapping begins.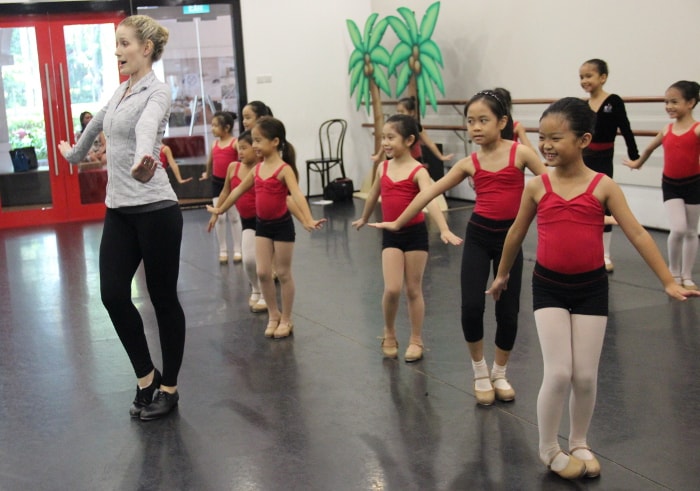 Bent knees? Checked.
Heels well lifted off the ground? Checked.
Confident use of arms and eye contact? Checked.
In the 45 minute tap session, students warm up, brush up on their techniques as well as learning new ones. Here they are polishing their routine for the upcoming year-end CSTD exams (pictured above).
It is clear that Jitterbugs Swingapore® is committed to providing excellence in dance education. Throughout the class, Ms Tiffany constantly reminds students of their posture, rhythm and techniques.
Every year, students work towards Modern Jazz, Tap, Classical Ballet, and / or Contemporary examinations under the Commonwealth Society of Teachers of Dance (CSTD). In 2016, the school received 194 Honours Plus results (95-100%) and 181 Honours Results (85-95%).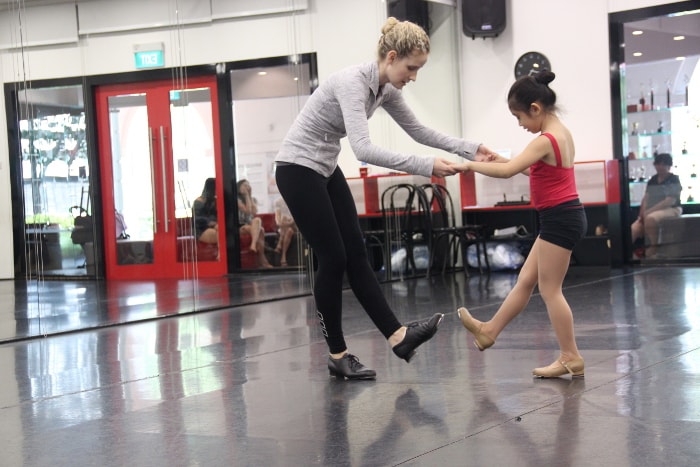 During the centre exercise (pictured above), Ms Tiffany goes through specific tap techniques individually, to ensure students execute them properly. When they do well, she acknowledges and praises their effort to instill confidence in the young dancers.
Despite having to watch a class of 16 students at the same time, Ms Tiffany, a veteran dancer and performer, and CSTD Grade Examiner and Diploma holder, is able to pinpoint and provide specific feedback to each student. The students remain engaged from start to finish and enjoy the process of learning.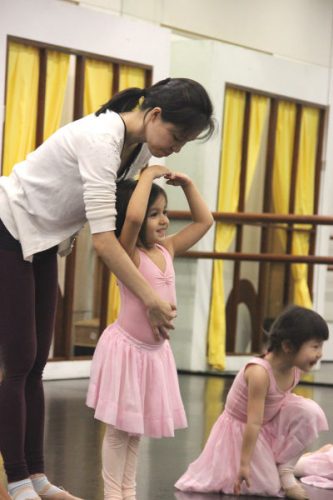 Young and On Pointe
Over in another studio, Teacher Qianyi greets her youngest group of students. Ms Qianyi, who is trained in and holds certification for CSTD ballet, modern jazz, tap and contemporary, introduces the fundamentals of ballet in a fun manner, using props and music to engage the 4-year-olds.
"Let me see your ballerina arms with nice big zeros. Don't forget your strong tummy muscles." Teacher Qianyi says as she introduces the basic positions in ballet (pictured above).
In one activity "Walk and Freeze", the girls walk on their tippy-toes with hands-on their waist, and 'freeze' when the music stops.
"What shapes do you want to make?" Teacher Qianyi asks the class. Each girl gets a turn to say the shape of their choice. The girls twirl, spin and wave, making smiley faces, rainbows and circles in the air (pictured below).
While tap dance places a strong emphasis on rhythm and musicality, classical ballet is the foundation of all dance genres. This is where proper posture, placement and control are developed.
Exposure to Multiple Dance Genres
In order for a student to reach their personal potential, Jitterbugs Swingapore® believes that students need to be exposed to multiple dance genres. It provides a holistic dance education by offering classes in Classical Ballet, Modern Jazz, Tap, Contemporary, Body Conditioning and Singing.
Besides qualifying for the CSTD exams, students also have the opportunity to perform in annual concerts, local and international competitions, and stage performances. One of the most notable performances is ChildAid, which they have been invited to perform in since 2011.
Inspiring students beyond the dance floor
The school not only wishes their students to be good dancers but to be good people first. "The Jitterbugs dancer is a person who is willing to put in hard work to achieve results, knows how to manage their time effectively, and how to present themselves well. They understand the value of teamwork, and peer support, all while excelling in dance." adds Ms Tiffany.
Free Trial Class in January and February 2023!
Jitterbugs Swingapore® is having FREE TRIAL classes for students who will be turning 4 – 8 years old in 2023. These trial classes will be held on these Dance Trial Class dates.
Children age 9 years and above with prior dance experience, are also welcome to come along and meet with the teachers to be placed into their correct level classes.
Spaces are limited, so do sign up quickly to avoid disappointment! For more details, call 6887 0383.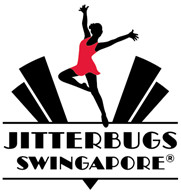 📍 20 Havelock Road #01-20 Central Square Singapore 059765
🌐 jitterbugs.com
☎️ 6887 0383
📧 admin@jitterbugs.com
For more enrichment programmes and preschool tips, read our Enrichment and Preschool Resource Guide, or download it here.

* * * * *
Like what you see here? Get parenting tips and stories straight to your inbox! Join our mailing list here.
Running a service or business targeted for parents? Reach out to a wider audience in our Tap Classes for Kids compilation. Leave your contact details here and we will get in touch with you.