If you're a pregnant mother or working parent with young children, going back to work and juggling work and family can be tricky at times. A wrong move may see us feeling discriminated, losing our jobs and our self-confidence.
Assistant Secretary-General Cham Hui Fong from the National Trades Union Congress (NTUC) shares some tips and insights on workplace protection, flexi-work and breastfeeding at work.
1. Know your rights before you announce your pregnancy
Many women are thrilled at learning they are pregnant and cannot wait to share the news with everyone. Before you do so, find out your workplace rights before you announce the good news.
Have you experienced the following worries?
I feel stressed about my work now that I'm pregnant. Is there someone I can talk to?
My employer said I am not entitled to the full maternity benefits as I have not passed probation. Is this true?
After I announced my pregnancy, I was asked to leave. Who can I turn to for advice?
What kind of protection or benefits are pregnant mums entitled to? What can pregnant mums do if they receive unfair dismissal before or during maternity leave? Can you share a case where NTUC stood up for pregnant mums? What if I'm retrenched during my pregnancy? Workplace tips for working mums?
A pregnant female employee who has been working in the company for at least 3 months will be entitled to maternity benefits. The benefit will include 16 weeks of paid maternity leave (prior to birth or after the child's birth). This benefit will apply for parents who are lawfully married and that the child is a Singapore Citizen. For pregnant single mums who have not married or pregnant mums whose future child will not be Singaporean, they are entitled to 12 weeks of paid maternity leave.
Employers who terminate the employment of pregnant employees without valid reason/s will be required to pay the full maternity benefits that the pregnant employee is entitled to (MOM, 2014). Union members can approach their unions for help.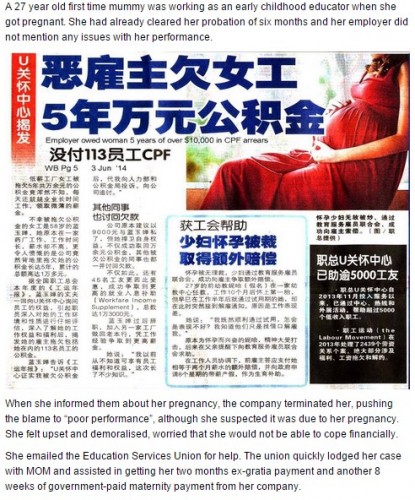 Before announcing your pregnancy, know your entitlements and speak to your employer first to understand their policies or feelings towards pregnant workers and flexi-work.
2. Don't ask for flexi-work from a "me" perspective
Although flexi-work is becoming more common, some parents feel there is still a taboo in asking for flexi-work to survive the early years of parenthood.
Do I have the right to request for flexi-work arrangement? Will my appraisal be affected?
What kinds of flexi-work can my employer accept?
How can I approach this topic sensitively with my employer?
Are all parents entitled to parental leave? How much parental leave can you take? Do you have the right to request for flexi-work? What kinds of flexi-work can you request?
Before you approach your supervisor or HR, think through the 6 "W"s:
– WHAT kind of flexi-work you really need (e.g. shorter work week, shorter working hours, work from home)
– WAYS to help your colleagues manage the workload in your absence
– WHY a flexi-work schedule to keep you as an employee benefits your company. It definitely helps if you put in effort beforehand to be a star performer that the company would hate to lose.
– WHICH time, place, situation, setting, is the most conducive for asking for flexi work? Is your employer in a better mood on Fridays? Does your supervisor normally feel more generous after a good sales report?
– WHO should you approach to back you up? If your supervisor or colleague is supportive, ask them to back you up. If you know someone who isn't, find out why and think of ways to assure them you're not slacking on the job.
– WHEN the flexi-work arrangement will stop. Your employer may not be comfortable with a permanent arrangement. Pitch your flexi-work proposal as an experiment for a certain duration (e.g. 2 years), and you and your employer can assess at the end of the timeframe if this flexi-work arrangement is successful.
Flexi-work arrangements should be open to both fathers and mothers.
3. Not preparing your lactation requirements before you go back to work
Money can be earned back, but being able to provide our child with breastmilk is priceless.
Many mothers feel pressured to stop breastfeeding upon returning to work as they did not prepare in advance for questions such as:
Where will I express milk?
Can I take regular breaks to express without affecting my performance?
Is expressing in the office acceptable to my employer and colleagues?
Is there any workplace protection in place for nursing mothers who need to express breastmilk during working hours? Words of advice for working mums who breastfeed? How is NTUC promoting breastfeeding-friendly workplaces?
If you plan to express milk after maternity leave, don't suddenly surprise your employer by insisting on a private room on your first day back at work. Talk to your employer and ask if it's possible to make arrangements for a private room. If there isn't a suitable place inside your office, check if there are private rooms or nursing rooms near your office, or purchase a hands-free pump to use at your desk.
Speak to your employer to understand how open he/she is if you take 2 -3 breaks to express. As with flexi-work, do not make it just about "you" gaining extra breaks. If you feel you have to ask your boss for a favour, show him you are worth the effort by sharing how you intend to contribute to the company's success.
No one said it would be easy being a working parent. You will have to make sacrifices and navigate tricky workplace issues. We hope these 3 tips will smoothen your journey.
Read more here:
Workplace Protection for Working Mums
10 Things All Working Mums Should Know
* * * * *
Like what you see here? Get parenting tips and stories straight to your inbox! Join our mailing list here.
Want to be heard 👂 and seen 👀 by over 100,000 parents in Singapore? We can help! Leave your contact here and we'll be in touch.