Importance of Probiotics
Probiotics are live microorganisms that provide various health benefits when consumed. These "friendly" bacteria are naturally present in the gut and play a crucial role in maintaining a healthy balance of intestinal microflora plus strengthening immunity. Probiotics have been studied extensively for their benefits and have also been proven to be beneficial to children's health. Here's why probiotics are important:
Better gut health: Probiotics help establish and maintain a healthy balance of beneficial bacteria in the gut. This balance is essential for proper digestion, nutrient absorption, and overall gastrointestinal health.
Healthier brain: There's emerging evidence that the gut-brain connection is significant, potentially impacting cognitive development and behavior in children.
Mood booster: An estimated 90% of serotonin is in the digestive tract. Studies have suggested that a balanced gut microbiome could have a positive impact on a child's mental well-being.
Immune System Support: Probiotics can help regulate the immune response by promoting the growth of beneficial bacteria and preventing the overgrowth of harmful bacteria.
Aid digestion: It has been shown that probiotics can alleviate symptoms of common digestive issues in children, such as diarrhea, constipation, and irritable bowel syndrome.
Regulate appetite: Probiotic bacteria can influence the release of hormones that are associated with the feeling of fullness and satiety. A healthy gut regulates appetite by telling the brain when to stop eating.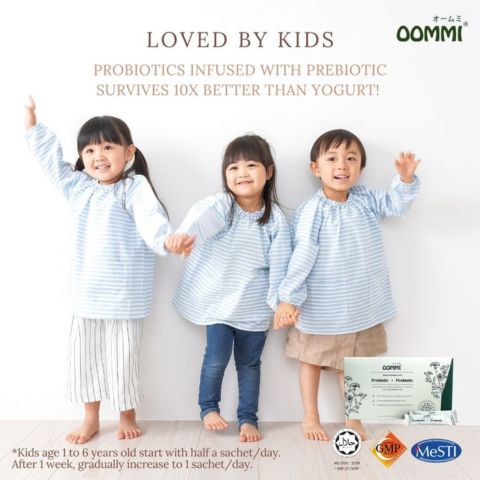 Oommi Probiotics
Oommi Probiotics specialises in using Japanese micro-biotechnology to customise their specific blend of powerful microbes in their probiotics range of products. Their products are created for individuals who choose quality over quantity and they carefully handpick the ingredients when formulating each product.
With many probiotics products in the market, it's important to understand the process behind the products and ingredients used. Many commercial products are designed for the mass market and this limits the quality of ingredients so they can stay competitive.
Oommi Prebiotics + Probiotics is one of their best-selling supplements with a formulation that has 5 billion colony-forming units of live probiotics to nurture gut health. This unique formulation is also infused with prebiotics which help the probiotics thrive and multiply in the gut. When consumed together, the synergistic effect creates a favourable environment for the good bacteria to flourish and maximise the positive effects of the probiotics.
In addition, Oommi Prebiotics + Probiotics also has added vitamins A, B1, B2, B3, B5, B6, B9, B12, C, D & E for extra nourishment. This daily supplement is suitable for children 1 year-old and up and 1 sachet a day will give children a probiotics boost. The best part is that the supplement has a refreshing flavour made from real strawberries.
The New Age Parents had a chance to taste test the sachet and it's indeed a flavour that is well-loved by the family. Parents will be glad to know that Oommi Prebiotics + Probiotics has no added preservatives, artificial sweeteners & colouring. Natural stevia has been used in place of sugar, which makes it suitable for both kids and elderly diabetic patients.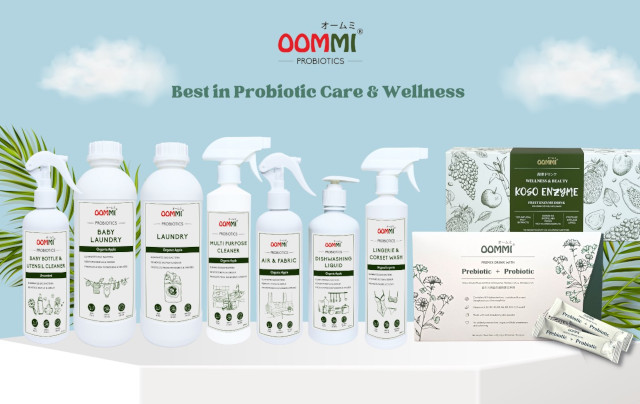 Wide range of products
Beyond their popular Prebiotics + Probiotics supplement, Oommi Probiotics has a wide range of other products to check out:
Koso Enzyme – A Japanese century-old heritage recipe in fruit fermentation to replenish the depleting enzymes in the body, especially for those over 40 years old. Made of 100% pure juice extracted from various fruits that are selected for their antioxidant and anti-inflammation properties, it helps to improve sleep quality, boost metabolic rate, manage weight and achieve longevity.
Household & Baby Care – A series of natural household probiotic cleaners ranging from multipurpose cleaner, air & fabric spray, baby bottle cleaner, dishwashing liquid to laundry detergent that incorporates Japanese micro-biotechnology to eliminate bad bacteria, remove grease and stains, biofilm and odour, and continue to clean and protect surfaces for days. It's gentle on skin, suitable for those with eczema and has no SLS/SLES, paraben nor alcohol. So safe and ecologically friendly that you are encouraged to use the diluted probiotic waste-water on your home-grown plants to boost their growth.
Pet Care – A range of pet hygiene natural probiotic cleaners such as pet skin treatment spray, pet shampoos, pet dry shampoo, and ear and eye care sprays. These keep your pet and home clean, easily remove stains and odours, prevent and treat yeast and fungal infections, heal open wounds and reduce itching.
TNAP Awards 2023 Spot & Win Icon: 🦀
With such a wide range of natural yet effective products that help create a perfect balance of microbes for a healthier home, Oommi Probiotics is The New Age Parent's pick for being the Best in Probiotic Care & Wellness.
Be sure to check out Oommi Probiotics' range of products. To commemorate the winning of this Best in Probiotic Care & Wellness award, OOMMI Singapore is offering a Buy 2 Get 1 promotion for their Oommi Prebiotics + Probiotics on their website, with the use of the promo code "PREPRO Buy 2 Free 1" till the end of 2023.
Don't forget to like and follow their social media pages on Facebook and Instagram for more updates on where to hunt for their exclusive Expo Bundle Deals!
This post is brought to you by OOMMI Probiotics.
By Jasmine Chua.
---
The New Age Parents – TNAP Awards 2023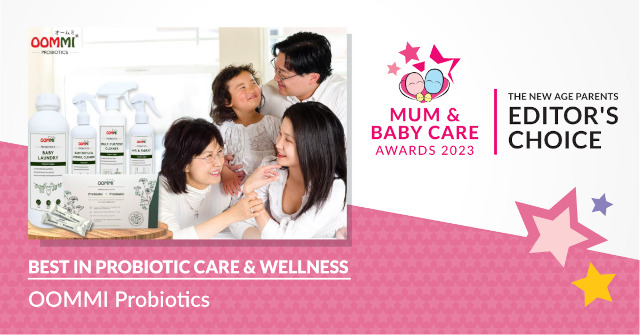 Congratulations to OOMMI Probiotics for being the winner of TNAP Awards 2023 (Mum & Baby Care) – Best in Probiotic Care & Wellness.
Find out who are the other winners of the TNAP Awards 2023 (Mum & Baby Care) here!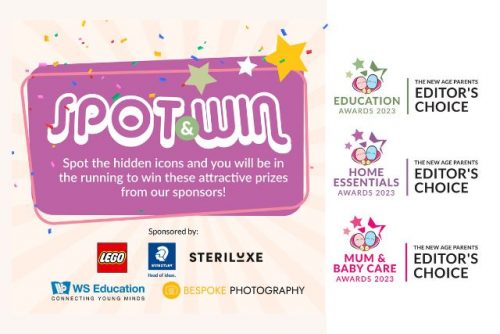 Ready to snag some enticing prizes? Wait no more! Get in on the action with our The New Age Parents Awards 2023 Spot & Win Contest for a shot at winning. Head over to the TNAP Awards 2023 Spot & Win Contest to join in. Best of luck!
#TNAPAwards2023 #TNAPAwards #thenewageparents #TNAPEditorsChoice #sgmumandbabycareawards #sgbabies #sgfamiy #sgkids #TNAPgiveaway #sgmums
* * * * *
Like what you see here? Get parenting tips and stories straight to your inbox! Join our mailing list here.
Want to be heard 👂 and seen 👀 by over 100,000 parents in Singapore? We can help! Leave your contact here and we'll be in touch.