Integration represents the physical presence of a person with special needs (or commonly known as disability) in a mainstream educational setting. While children with special needs may share a certain degree of common purpose and activity with their same-age peers, special education and aid is provided for them in a separate setting within the school.
Inclusion, on the other hand, is the participation of a person with special needs alongside with their non-disabled peers in all aspects of school life (academic, extra-curricular and non-academic activities). This means they are full-time active members of the mainstream educational setting and necessary supports are provided for them to participate meaningfully within their classrooms.
Related read: Special Needs Education in Singapore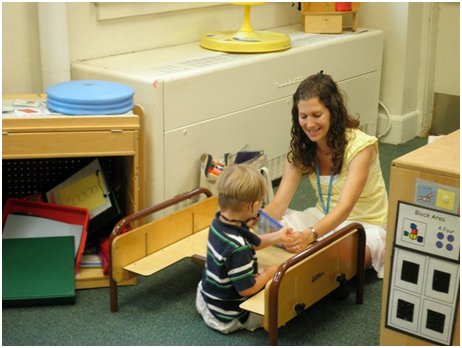 How would you feel if you knew your child has a classmate with special needs?
I returned from a study trip to Boston, Massachusetts in the United States. I visited several preschool settings, including the Driscoll School where I witness what I never believed was possible, an entirely inclusive setting. This jolted me with surprise, as I wondered if this will someday come to pass in Singapore. Is it possible that children with special needs will become full-time active participants in our local schools?
At Brookline's Driscoll School, I observed the teacher of a class who is assisted by the special education aides. The breath-taking sight is this – in that classroom, there was a child with Down Syndrome, a child with Cerebal Palsy and a child with multiple disabilities, yet every child was participating actively. The teacher communicated with the child with Cerebal Palsy through the communicative device, sat the child with Down Syndrome on a universally designed chair, and brought water play to the child with multiple disabilities. The teacher treated all the children with equality, and the other children interacted and played alongside with them.
While this scene was happening in front of me, a question came to mind: "What about the parents of typically developing children in this school? How do they feel about such an environment?" Well, the parents with typically developing children choose and want to enrol their kids in this school because they are aware of the inclusive program offered in the school. Inclusion has already become part of these people, it is part of their culture.
Are Singaporean parents ready to have typically developing children share the same classroom with children with special needs?
Share your views with us in our comments below.
Text and photo by Melisa Neo
If you find this article useful, do click Like and Share at the bottom of the post, thank you.
Want more comprehensive info? Check out our e-guides here.