Maximizing Development of Your Child's Right Brain
#1 Heguru Education Centre @ OneKM, Sengkang and Waterway
What: A heart-based brain development program that maximises the limited window of opportunity for right brain development during your child's first 6 years.
What your child can gain: Powerful right brain abilities include strong visualisation abilities, good concentration and mental focus, heightened awareness of the surroundings which aid in language acquisition and cognitive thinking, increased capacity to learn and creativity. Children with developed right brain are often more positive, confident, have better memory, and are able to learn at an accelerated rate, which enable them to excel in various aspects of life such as academics, music, arts and sports.
Suitable for: 6 months – 6 years old
Class session: 60 minutes weekly class
Where: Heguru Education Centre @ OneKM
Address: 11 Tanjong Katong Road, #02-53 Singapore 437157
Tel: 6346 4646
Heguru Education Centre @ Sengkang
Address: 10 Sengkang Central, #01-02 Singapore 545 061
Tel: 6686 6566
Heguru Education Centre @ Waterway Point
Address: 83 Punggol Central, #02-07 Singapore 828761
Tel: 6385 1588
To find out more: Interview with HEGL (Heguru) Founders, Mrs Ruiko and Mr Hirotada Henmi
Activating The Untapped Potential Of Your Child's Brain
#2 Sparkanauts (previously known as Gymnademics)
What: The first and only intellectual enrichment and gym centre in Singapore that is affiliated with the Institutes for the Achievement of Human Potential (founded by Glenn Doman) in Philadelphia, U.S.A. (IAHP), Sparkanauts enhances the holistic development of your child's through a series of physical and intellectual activities built upon the concept of purposeful play.
What your child will gain: Physical fitness, develop a positive and joyful attitude towards learning, social excellence; with skills such as sharing, teamwork, and respect with fellow classmates.
Suitable for: 5 months to 5 years old and children with brain injuries or children with special needs.
Class session: 60 minutes weekly class
Where: SAFRA Toa Payoh | Tel: +65 6259 0307
293 Toa Payoh Lorong 6 #02-01 Singapore 319387
To find out more: How to Develop Your Child's Brain Holistically.
#3 Happy Train
What: The Happy Train programme is a holistic brain-training programme conducted in a tri-lingual environment to enrich children's growing minds through a variety of games, hands-on activities and guided play. Lessons are conducted in English, Mandarin and Japanese. Parents have a choice to choose between their bilingual, trilingual and pure Japanese program.
What your child can gain:
Develop a passion for learning
Improve concentration and attention span
Build strong linguistic foundation
Increase creativity
Gain perfect pitch
Develop photographic memory
Improve spatial intelligence
Learn strong visualisation skills
Sharpen observation skills
Fine tune auditory processing ability
Acquire high-speed information processing ability
Genius problem-solving skills (IQ)
Improve socio-emotional skills (EQ)
Learn high-speed calculation ability
Suitable for: 3 months to 6 years old
Class session: 1 hour per class
Where: Happy Train Bugis (HQ)
87 Beach Road, Chye Sing Building #06-02 Singapore 189695 | Tel: 6336 5080
Happy Train Tampines
CPF Tampines Building 1 Tampines Central 5 #08-01, Singapore 529508 | Tel: 6781 6788
Preparing your child for Primary School
#4 My Little Genius
What: A thematic based whole Child Brain Development programme which develops children's skill sets and increases their knowledge base. A bilingual programme (conducted in purely English and Chinese, in one language each week) using brain-stimulation techniques to unleash the genius potential in your child.
What your child can gain: A more holistic development of your child's left and right brain hemispheres. Enhanced cognitive and motor skills development, better memory and language development.
Suitable for: 6 months – 5 years old
Class session: 70 min, classes are available from Thu – Sun OR a two day program at Whole Brain Activation, a subsidiary of My Little Genius
Where: My Little Genius (Hougang)
Address : 1024 Upper Serangoon Road Singapore 534762
(5 minutes walk from Kovan MRT station)
Tel: 6287 7637
My Little Genius (Jurong East)
Address : 135 Jurong Gateway Road #04-355 Singapore 600135
(above NTUC Fairprice opposite Jurong East MRT station)
Tel: 6560 7050
To find out more: How To Tap Into Your Child's Brain Potential
Holistic and Fun Brain Exercises
#5 iGenius
What: iGenius is a learning centre specializing in programmes that develop your child's potential. Their Whole Brain learning activates the less-utilised right hemisphere of the brain to stimulate its visual centre. iGenius aslo have programs that will help nurture children's multiple intellectual development.
What your child can gain: Developing and sharpening the right brain's photographic memory, visualisation skill, intuition and creativity.
Suitable for: 3 -12 years old
Class Session:
3 – 4 years old – 60 minutes
5 – 6  years old – 75 to 90 minutes
7 – 9 years old / 10 – 12 years old – 90 minutes
Where: Park Mall, 9 Penang Road #12-01 Singapore 238459 | Tel: 6737 3333
Tri-lingual/Bilingual Program with Hands-On Activities
#6 BrainFit Studio
What: BrainFit Studio deals with the 'how' of learning, as opposed to its more popular partner, the 'how' of teaching. Its mission is thus not about turning every child into a genius, but about assisting each child to achieve his/her maximum potential, whatever that may be. Their programmes are developed based on neuroscientific principles, target at the 5 brain fitness systems, which form the foundation of the engine for learning:
Memory & Attention
Auditory & Language Processing
Visual & Spatial Processing
Sensory Motor Coordination
Social-Emotional Functioning (EQ)
What your child can gain: Improvement in academic results, better performance at speed & control, increase in visual spatial perception (important for Math and Chinese), improvement in Brain Scan research (fMRI), improvement in Standardised Test Scores taken before and after training.
Suitable for: 5 – 12 year olds and children with special needs. BrainFit Studio has also trained individuals diagnosed with learning difficulties such as attention deficit hyperactive disorder (ADD or ADHD), auditory processing disorder (APD), dyslexia, language delays, sensory-modulation disorder, dyspraxia and autism spectrum disorder (ASD).
Class session: 90-minutes sessions once a week
Where: BrainFit Studio, Novena
193 – 197 Thomson Road Goldhill Centre Singapore 307633
Tel: 6737 3511 Fax: 6737 4533
BrainFit Studio, Marine Parade
1 Marine Parade Central, #08-07 Parkway Centre Singapore 449408
Tel: 6344 8434
BrainFit Studio, Serangoon Garden
74 & 74A Serangoon Garden Way Singapore 555970
Tel : 6281 1343
To find out more: A Brain Fit For Primary One
Sensory-motor approach
#7 KindyROO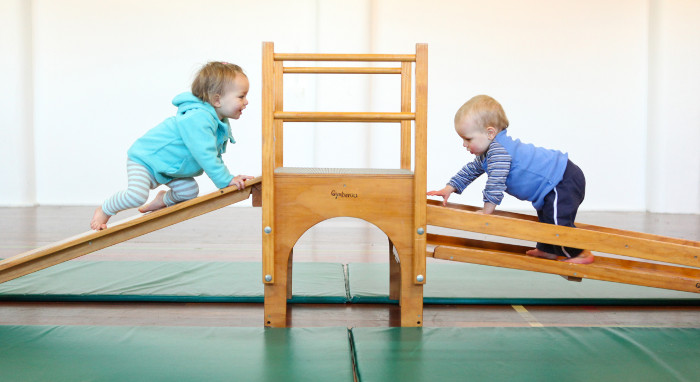 What: A neuro-physical centre for babies and children using an innovative sensory-motor approach. Originated from Australia, the program is now a global brand with presence across South America, Europe, Asia and Oceania. Universities in Australia and USA are investing and researching on the program's sensory-motor approach towards brain development and its impact on future learning.
What your child can gain: Many opportunities to lay down the foundational neuronal pathways in the brain that enable future higher – order thinking and learning capabilities. Highly relevant especially for today's babies and children where natural development opportunities are significantly reduced through limited movements and high technological interferences.
Suitable for: Infants from 6 weeks old to 6 year olds
Class session: 60 minute session per week
Where: 460 Alexandra Road #02-25 Alexandra Retail Centre (ARC) Singapore 119963 | Telephone: 6274 7827
Meet and find out more about the program and the Director, Dr Jane Williams.
If you find this article useful, do click Like and Share at the bottom of the post, thank you.
Want more comprehensive info? Check out our e-guides here.