Perhaps the most distinct feature of Tap dance is not just the moves, but also the sounds of tap shoes striking the floor. The sound is made by Tap shoes, which have a metal "tap" on the heel and toe.
Tap dance is the music of the feet by making a rhythm. Beats are created by the metal plates on the bottom of the dancers shoes, making contact with a hard surface.
If you think only older children and adults have the coordination to learn this form of dance, you're mistaken! Young children are also capable of learning, and there are many Tap classes out there that cater to a younger crowd.
We round up various dance studios offering Tap classes for kids.

1. Jitterbugs Swingapore®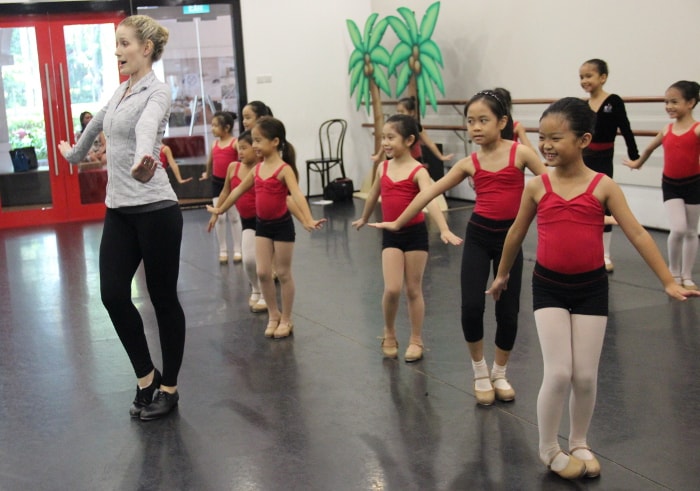 Tapping places a strong emphasis on rhythm and musicality. Tap dancers are often considered percussive musicians as a result of the music they produce.
If you want your child to have holistic and excellent dance education in Tap dance, Jitterbugs Swingapore® is the place to go.
The school is committed to providing excellence in dance education. Every year, students work towards Modern Jazz, Tap, Classical Ballet, and, or Contemporary examinations under the Commonwealth Society of Teachers of Dance (CSTD), an authoritative examining body whose high standards are internationally recognised.
CSTD Preliminary and Medal examinations are offered beginning with preliminary 1, which introduces basic barre and centre exercises, simple combinations and tap dance.
This gives the students a real feeling of achievement and prepares them for the intricacies of more advanced steps and choreography. In 2016, the school received 194 Honours Plus results (95-100%) and 181 Honours Results (85-95%).
Want to know what goes on in a Tap class at Jitterbugs? Read our review of Jitterbugs Swingapore Tap Dance.

2. Dance Arts Singapore
Dance Arts Singapore was established since 1983 and they have since been providing a wide and exciting range of classes for children and adults, all taught by professional teachers. At Dance Arts Singapore, their tap dance classes follow the Al Gilbert syllabus.
The style of the syllabus allows students to learn each step in a systematic way, making learning exact, easy and fun. Each level in Tap is progressive and classes are offered from beginner to advanced levels.
Visit www.dancearts.com.sg for more information.

3. Stepping Out Studios
Stepping Out Studios has a clear affinity with Tap dancing. Almost all their warm, fun and professional teaching team have competed, performed or taught Tap at some point during their careers. They offer a full range of Tap classes and have classes for children as young as 4!
Their Little Stars classes cater for children aged 4 – 5 and provide an enjoyable introduction to Tap and Jazz which is popular with both boys and girls. If your child loves to dance and move their feet, they will love this fun class!
For children aged 5 and above, the studio offers all grades of CSTD Tap as well as a very successful award-winning Tap performance Troupe. There are more than 15 Tap classes available throughout the week.
From the traditional style of Fred Astaire to the more recent styles of Tap Dogs and Stomp, the CSTD syllabus gives students a real feeling of achievement and prepares them for the intricacies of more advanced steps and choreography.
The buzz at Stepping Out Studios is infectious. If you are looking to introduce a child to dance in a place where their talent can be cultivated whilst enriching their enjoyment, you will love Stepping Out Studios. Why not sign up for a trial class and find out for yourself?
Visit steppingoutstudios.com.sg for more information.
Read our review of a Ballet and Jazz Dance Class at Stepping Out Studios.
* * * * *
Want to be heard 👂 and seen 👀 by over 100,000 parents in Singapore? We can help! Leave your contact here and we'll be in touch.
Stay in touch! Subscribe to our Telegram here for our latest updates.