Every parent knows how important it is for their child to be an effective communicator as this life skill will greatly impact their school years all the way through into adulthood. We sat down with Gerry Pereira, passionate Master Trainer at Stariffic, to find out how its proprietary programme helps children hone their natural speaking abilities to become confident leaders.
Gerry gives us some insight into how he developed the concepts behind the Stariffic methodology. With over 40 years in the communications field, his interest has always been to analyse how great speakers such as Bill Clinton, Barack Obama and Steve Jobs deliver their speeches. He dissected how the various elements in their speech came together and curated a comprehensive curriculum to build confidence that extends to stage speaking, presentation skills, social conversations, oral examinations, interview skills and so on.
Natural speaking starts with S.T.A.R.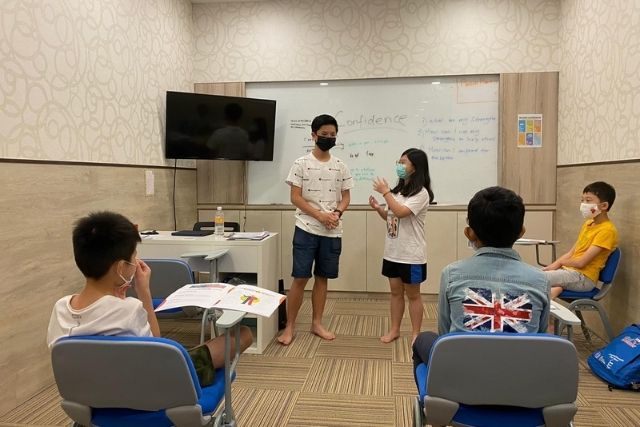 Ongoing lesson at Stariffic
Throughout our conversation, Gerry placed a lot of emphasis on being "natural". They believe that every child's personality is different and at Stariffic, teachers are trained to observe how natural the children are when speaking so that they can help the child best incorporate the speech nuances most suited for them. For example, boisterous children could use bigger hand gestures more naturally.
"There is no one-size-fits-all manner of doing public speaking – the emphasis should be on being natural, being yourself."
The S.T.A.R. System is Stariffic's proprietary method that helps one transform from the inside out and is made up of these components:
S – Speech: Learn about the different elements that make up speech such as words/message, structure, diction/stress and body language/gestures. Children will also be exposed to the different types of speech and how to modify them according to the occasion.
T – Tonality: Tone is very important when giving a speech as it changes the meaning of words when varied. Children will learn how volume, facial expressions, passion and rhythm contribute to how the message is conveyed through tone.
A – Appeal: First impressions count. Children will learn how to increase their likeability and appeal to the audience.
R – Response: Children will learn how to start with knowing the response they want to get from the audience and what they need to do to then connect with the audience to get that response.
Each component of the S.T.A.R. System works in tandem to maximise the persuasive and confident delivery of a speech.
Stariffic's proprietary S.T.A.R. System
Click here for larger view.
Emotional intelligence with Penguin Practices
Beyond the curriculum focused on components of speech, Stariffic also highlights the importance of Emotional Quotient (EQ). The ability to understand, demonstrate empathy, be caring and having the confidence to take action is important for leaders – and the Penguin Practices that underpins Stariffic's curriculum lights the way for these future leaders. Stariffic believes that having EQ and sensitive meaningful conversations and speeches are powerful skills to be successful socially, in school and in the future in work life.
Getting your child started early
Gerry shared that it's better to start inculcating good speech habits in children from young as these will have a long-term impact on their lives. At Stariffic, they have curated lessons for different age ranges: Little Stars (3-5 years old), Kids (5-7 years old), Tweens (8-12 years old) and Teens (13-17 years old). About 220 students go through speech enrichment lessons at Stariffic each week in classrooms that are equipped with state-of-the-art audio-visual capabilities.
Classes have a maximum of 8 students per class. This teacher-child ratio is ideal for nurturing confident speakers as it allows teachers to dedicate sufficient time to coach each student. Children get hands-on practise writing their own speeches using Stariffic's OMG, which is a disciplined approach that guides how children outline their speech – O for opening, M for middle and G for closing/germination. Each lesson is interspersed with activities to keep children engaged and they are also given a lot of air time to practise their speeches.
The teachers at Stariffic come from a variety of disciplines, most having been in the public eye. Stariffic harnesses their collective experience from radio broadcasting, television, hosting and stage while layering the concepts of effective speech delivery and confidence.
Gerry ended our interview by sharing his most memorable teaching experiences and reaffirming his belief that in every child there is huge potential for confident, natural speaking waiting to be uncovered.
If you would like to maximise your child's speaking, social and leadership abilities – Stariffic!
*Stariffic first campus is at the SAFRA Punggol Clubhouse and have opened their second campus at Parkway Centre in Marine Parade.
This post is brought to you by Stariffic.
By Jasmine Chua.
---

* * * * *
Like what you see here? Get parenting tips and stories straight to your inbox! Join our mailing list here.
Running a service or business targeted for parents? Reach out to a wider audience in our Public Speaking Courses compilation. Leave your contact details here and we will get in touch with you.