My kids were happy to be at the playground.
My son crawled swiftly behind his sister, as she led him to the steps up the fort. I sat on the bench, glad to just be sitting as I unwind after a day of unpacking boxes (our belongings from Florida had finally arrived).
Then I saw a lady with her grandson.
She was consistently no more than three steps behind the toddler, shadowing his every move. The lady looked to be in her 70s and clearly, it was laborious to chase after her grandson. I wanted so much to ask her to sit with me, but I know it would sound absurd to her.
The toddler ducked under the fort, and she would shield his head with her hand, afraid he would suffer a bump. He went on to climb the steps and she said, "Be careful" (in Mandarin), while holding his hand.
Then he sat proudly on the top of the slide, all ready for the glide.
She stood midway, as she was not tall enough to reach the top of the slide, and said it again, "Be careful".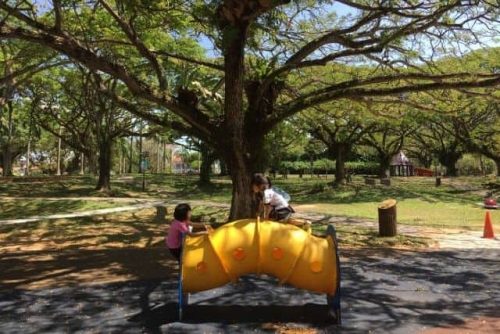 This I realised, was a common sight almost everywhere we go. Not just at the playgrounds – restaurants, libraries, supermarkets.
If there was a child, the word 'be careful' lurks close by.
But honestly, what is there really to be careful of? Do our children listen when we say that?
The irony is that limiting our children's exposure to risk and constantly trying to keep them safe from falling can impede their physical development. They can actually become unsafe.
We learn best through experiences, not by avoidance.
Likewise, our children need to fall, to learn how not to fall. They learn how to feel if a surface is unstable for stepping or if it is slippery for walking. These cannot be taught.
Children are more capable of assessing risk than we think. In fact, they are natural risk-takers.
Just observe when kids are playing outside.
They reach for the highest monkey bars, climb up and not down the slides, rock the rope course while their friend is scaling it.
They are constantly asking themselves, "Can I do this? How can I do this?" They are attempting to problem-solve independently. And by saying, 'Be careful' we have just interrupted their thought process.
Taking risks independently also boost confidence.
Just yesterday, I saw my son sitting on (not at) the dining table, reaching for the flower vase, my glass of milo, and just about anything fragile on it.
When he saw my horror, he grinned. I plopped him on the floor and he climbed right up the bench and onto the table. This repeated several times until his sister took out his favourite toy – her electric toothbrush – which he would chew on while it vibrates.
I was part annoyed and part proud that he was 'scaling new heights'. He started by climbing onto lower objects like the sofa and coffee tables. Gradually, his confidence grew and his appetite for risk grew as well.
So you ask, do I say, 'Be careful' at all? Yes, I do, but rarely.
I save it for times that really matter. I do remind them when my kids are in dangerous situations such as reaching for food while I cook (my son is especially greedy), or when they are running on a busy pavement with zooming bicycles.
The next time you feel the urge to warn your children, rephrase the caution as an opportunity to foster greater awareness.
For example, "Did you notice… the thorns on this branch? The heat from the fire? The strong waves? The slippery rocks?" It is more effective than the general, catch-all statement we frequently use.
Letting your kid take risks can be frightening initially, but the independent play they enjoy offers far more benefits and value to them.
By letting them fall today, we are preparing them to be safer in the long run.
This article was contributed by Cai Lin Ng. Photos courtesy of Cai Lin Ng.
Cai recently moved back to her sunny island after living in sunny Miami for several years. She is a parent to two kids (1 and 4-year-old) and is also the founder of Our Backyard (www.our-backyard.com) – a community that is on a mission to bring families and kids closer to nature.
* * * * *
Like what you see here? Get parenting tips and stories straight to your inbox! Join our mailing list here.
Want to be heard 👂 and seen 👀 by over 100,000 parents in Singapore? We can help! Leave your contact here and we'll be in touch.