The digital interview has rapidly accelerated into our world and is now the most common method of conducting interviews for job recruitment as well as for school entrance evaluations.
We are indeed in a period of an extraordinary worldwide phenomenon, but even after we return to normalcy, the "new normal" will include digital interviews.
From the point of view of job recruiters and schools, face-to-face interview has always been and will likely remain as the gold standard.
But with many institutions currently being forced into adapting their day-to-day activities, the ease of use of new video conferencing platforms will be taken into consideration and will increase the usage of digital interviews going forward.
In what way is the digital interview different from a face-to-face interview?
The core of the interview remains the same. The objective, the questions and the answering technique are no different. What is different however is the environment which the interview takes place, which is through a screen, without any physical presence.
Interviewees mustn't view the digital interview as being more challenging than the face-to-face interview. At Discovering Potential, we believe that mindset is crucial and it is the most important determining factor of the success of the candidate.
The digital interview takes place in a different environment, changing some of the rules of the game, but it is no less or no more challenging than a face to face interview.
With every game we play, there are different rules, and we adapt to the rules as required. Winning or losing depends on our ability to adapt and practice, and it all begins with mindset.
Laying the basic groundwork
1. Prepare the technical hardware
Some of the basic hardware that is required would include a good internet connection (as fast and as stable as possible), a laptop or a desktop, with a microphone and video camera.
We recommend that anyone who is in the job market and students who are expecting to apply for a school or university admission in the coming months, to be ready with the basic hardware or be prepared with plans as to how you would get sufficiently equipped.
If it is within your means to invest in better equipment, there are a wide range of good video cameras and video conferencing accessories in the market now that do a great job of enhancing both audio and visual quality.
Audio quality, in particular, is essential, as we want to have an environment which enables you to speak the way you usually do, without feeling the need to raise your volume or over emphasize your tonality.
2. Location, location, location
Once you have the hardware in place, identify an appropriate location in your home to have a video conference. Aim for clean and sterile. Remove clutter and keep the space around you neat.
Lighting is important too, check for shadows that may prevent the interviewer from having a clear view of you. When choosing your location, do take into consideration any potential interruptions by children and pets and if they can be seen or heard through your video camera.
Do take advantage of any technology enhancements as appropriate such as using the virtual background in Zoom (again, we are aiming for clean and sterile), or to blur out the background when using Skype.
3. Do a dry run
We advocate practice for an interview, but a dry run using the actual technical equipment, conditions and video conferencing platform is critical.
Find out the video conferencing platform that will be used beforehand, have it downloaded on your computer, and practice using it with a friend or a family member.
Fiddle around with the settings, know the appropriate buttons especially mute and microphone related settings and take a look at the angle to see what the interviewer is able to see. Make the necessary adjustments such as changing the tilt or even the location if the view is not appropriate.
How do we ace a digital interview?
While the basic groundwork is important, acing the digital interview requires what we at Discovering Potential call the digital rapport. Digital rapport is the building of trust and feeling of comradeship through the screen. In any form of communication, rapport is always key, but it is even more important when trying to establish trust digitally, without the comfort of traditional physical presence.
Some clients find that it is difficult to speak naturally when talking through the screen. It is indeed a challenge, especially if it is not something you do often, but just like many other new skills we build, the challenge gets easier with practice.
For those who feel awkward during a video call, learn to zoom in on the person you are talking to. Keep your eyes focused on the person, and learn to ignore the borders of your computer or laptop.
It is when you allow the mind to wander (and your eyes will dart as well), that you will get an overwhelming sense of being awkward, as your mind is now trying to process many things – from the mug behind your computer to thinking about how you look to the other person.
Zoom in and zone into the person, their expressions, their gestures, and you will find that you are able to pick up their nuances better. This is all part of digital rapport – when you have sensorial sensitivity to the person you are talking to over the screen.
It allows you to understand the person better, beyond just words, and in turn, this allows you to mirror, adjust and respond appropriately. Zone in has another benefit – it prevents your eyes and your face from moving and darting around. Remember that movements can be exaggerated over the screen.
Body language and facial expressions become more important and more pronounced during digital interviews. Too much of movement or jarring expressions become more noticeable, and yet too little movement makes the candidate appear more frozen in place. Aim for calm and collected, and most importantly sincere.
The posture of the body is under greater scrutiny during a digital interview. Remember that unlike a traditional face to face interview, the focus is now more microscopic. The interviewer only sees the shoulders and face of the interviewee.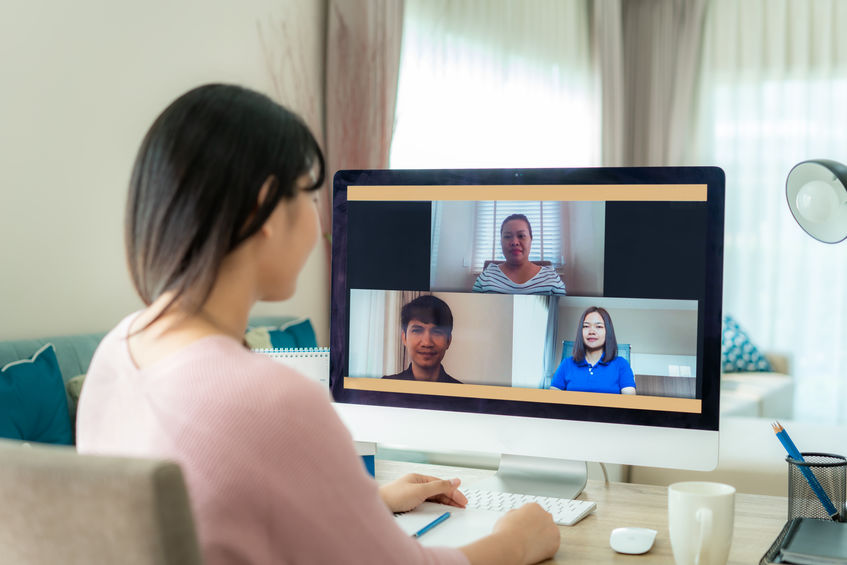 Poor posture, hunched shoulders, shoulder shrugs are now significantly more obvious. To avoid poor body posture, ensure that the camera angle allows you to sit back on your chair and to look forward without having to tilt your head.
Most laptops are placed too low, and as such the camera is tilted to fit the shoulders into the frame. Raise your laptops if necessary, using a thick book, and then keep the camera straight and at eye level.
We find that clients tend to take longer to settle into a digital interview as compared to a face to face interview. It may be due to the increased number of equipment involved, and the feeling of being awkward, but aim to build digital rapport within the first 5 to 10 seconds of your call.
Avoid as much fiddling as possible, do a test run prior to starting your actual interview. Try not to commence your maiden meeting with your potential employer or school principal saying "Test 1, 2, 3".
The digital interview is here to stay
The current crisis has forced us to adapt and with that, the digital interview has become commonplace in a very short period of time. With large numbers of people using video conferencing platforms on a daily basis now, the ease and comfort of use will continue even after the crisis. There is no denying the time savings and cost savings from reducing travel, especially for first-round or screening interviews.
The digital interview is here to stay. Let's adapt, grow and prepare for the new normal by learning and excelling in our digital interview skills. This is a skill set that has become important and will continue to be important going forward.
By Siew Ling Hwang, Founder and Principal Interview Coach, Discovering Potential.
Ms Siew Ling Hwang has extensive experience providing interview skills training to candidates for various industries and schools. She is also a Certified Practitioner of Neuro-Linguistic Programming (NLP) and NLP Coaching, as well as a Certified Advanced Behavioural Analyst and Career Coach. Her unique skillset in combining real-world practices, NLP Coaching techniques and personality and behavioural expertise provide clients with an effective session to achieve real improvements that are suited to their own natural personalities.
* * * * *
Stay in touch! Subscribe to our Telegram here for all our latest updates.
Want to be heard 👂 and seen 👀 by over 100,000 parents in Singapore? We can help! Leave your contact here and we'll be in touch.