What do you know about Special Needs Education in Singapore?
When we talk about Special Needs Education, these two terms will often be heard: 'integration' and 'inclusion'. So what exactly is integration and inclusion?
Integration represents the physical presence of a person with special needs (or commonly known as disability) in a mainstream educational setting. While children with special needs may share a certain degree of common purpose and activity with their same-age peers, special education and aid is provided for them in a separate setting within the school.
Inclusion, on the other hand, is the participation of a person with special needs alongside with their non-disabled peers in all aspects of school life (academic, extra-curricular and non-academic activities). This means they are full-time active members of the mainstream educational setting and necessary supports are provided for them to participate meaningfully within their classrooms.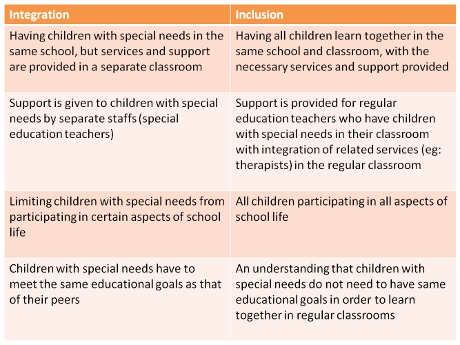 Singapore – Integration or Inclusion?
With these in mind, you might ask: "What about Singapore? Are our local schools integrative or inclusive?" First and foremost, let us take a look at the Primary Schools.
At the lower primary level, the 'Learning Support Program' (LSP) provides support for those who face difficulties with Literacy and Mathematics. During the curriculum time, these identified students proceed to a separate setting in the school, where the LSP teacher will provide them with specialised educational support. Hence, this reflects integration.
However, with the increased awareness of a need to become an inclusive society, in the year 2004, the Ministry of Education (MOE) has initiated the deployment of Allied Educators, educators who are trained in special needs, in all Primary Schools to provide in-class support for children with mild special needs.
In the preschool setting, while I have observed that there are a handful of preschools and kindergartens that are striving to become inclusive, most of our local Child Care Centres and Kindergartens still lack the knowledge, resources and support to provide effective early intervention.
This could be due to the lack therapists who can provide on-site services such as physiotherapy and speech therapy. Fortunately, these challenges can be gradually overcome by training early childhood educators to create curriculum that can be adapted to each child's individual learning needs and abilities. Furthermore, trained educators in special education can also be placed in the schools.
Ideally, as early childhood educators, we believe and advocate strongly for an inclusive setting, where no child gets left behind. At the present moment, baby steps are slowly taken to shift our educational system towards one that is inclusive. Even though it is lofty and difficult as it requires the support of not just professionals in the early education field, and especially from parents who are one of the stakeholders in the education system, inclusion is not impossible.
Give it a thought.
By Melisa Neo
If you find this article useful, do click Like and Share at the bottom of the post, thank you.
Want more comprehensive info? Check out our e-guides here.