Singapore Biennale 2022 (SB2022) named Natasha will soon close on 19 March 2023 after an eye-opening five-month run of its main event. In its last two weeks, the Biennale invites artists, collaborators, and audiences for a final gathering as it celebrates the connections that have brought everyone closer to art, life, and one another. Programmes run the gamut from artwork activations, performances, food rituals, talks and workshops. Audiences can also enjoy free admission to the exhibition in SAM at Tanjong Pagar Distripark from 1 – 19 March 2023.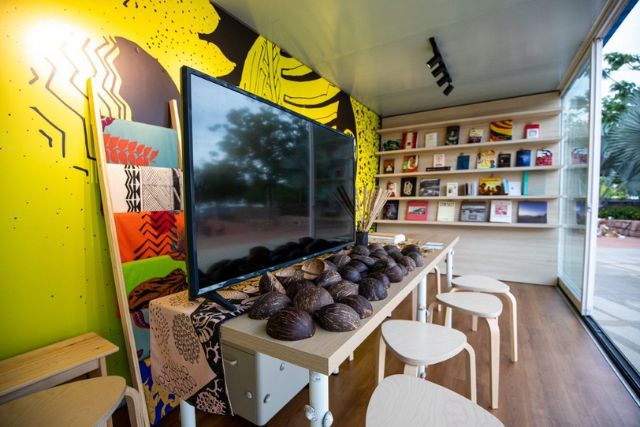 Installation view of KĪPUKA [for "Natasha"] by Maile Meyer & Drew Kahu'āina Broderick. Come join a series of activations at the installation at Sentosa Cove Village on 17 March. These activations include a weaving workshop, panel discussion and poetry reading.
Organised by the Singapore Art Museum (SAM) and commissioned by the National Arts Council, Singapore (NAC), SB2022 is conceived by Co-Artistic Directors Binna Choi, Nida Ghouse, June Yap, and Ala Younis. Through journeying Natasha, audiences have encountered artistic projects in unconventional ways and unique formats, presented by over 50 artists and collaborators from Southeast Asia and around the world. Here in Singapore, people of all ages, backgrounds and abilities met Natasha in the heartlands, at iconic landmarks within the city centre, and even went beyond our shores to rediscover Natasha on the Islands.
Natasha connects the local and global
This month, the public can embark on their final experience with Natasha as international artists present collaborative programmes that connect wider global practices to the region and Singapore. Food continues to bind at SB2022, as Åsa Sonjasdotter and Daniela Zambrano Almidón reimagines a traditional Peruvian-Quechua food ritual in Singapore through a series of programmes where the public can partake in the gathering, cultivation, and cooking of common crops across 10 to 12 March. On 17 March, Maile Meyer and Drew Kahuʻāina Broderick will present a three-part programme at their site-responsive installation at Sentosa Cove Village. These activations and programmes bring archipelagic practitioners from Hawai'i and Singapore to create a hub of cultural activity set within an urban environment.
Natasha connects people
As part of the Nina bell F. House Museum project, artists and collaborators come together for a series of programmes between 10 to 19 March that interrogate institutional habits and archival practices as living heritage. The line-up includes an online talk by artists Nuraini Juliastuti and Annette Krauss on 10 March, a two-day programme by Valentina Desideri and Denise Ferreira da Silva on 18 and 19 March where participants will engage in exercises of reading. There is also a collaborative performance, Slideshow Party: a feminist sharing of art and other provocations, by artist Erika Tan and curator Adele Tan on 19 March where participants will be invited to generate new connections, networks, and gendered ancestries through the sharing of personal objects and images..
SB2022 brings diverse audiences together
Besides talks, tours and workshops, SB2022 will continue to engage diverse communities through outreach programmes. This includes Kopi, Teh and Contemporary Art: Singapore Biennale 2022 with senior volunteers from RSVP Singapore; Patterns of Perception a multi-sensorial guided tour featuring sign language, audio description and ASMR that aims to open up the accessibility of the exhibition format; and the development of fun-filled children's games for those with Added Needs in a three-day workshop jointly organised by Malaeb, a playlab from Jordan, and Superhero Me, a ground-up arts initiative from Singapore.
This is the final opportunity to catch SB2022 across 13 locations, including SAM at Tanjong Pagar Distripark; No. 22 Orchard Road, as part of the Temasek shophouse extension; Tampines Regional Library; and the Southern Islands. As Singapore's pre-eminent platform for international dialogue, the Biennale explores the human condition through contemporary art that speaks to the urgent issues faced today, while encouraging audiences to collectively reflect on the role of art in our lives.
For more information, visit here.
---
Singapore Biennale 2022: Natasha on the Islands
Keen on a day of adventure at the Southern Islands? In this final month to check out Natasha, the Singapore Biennale 2022 (SB2022) will be bringing the islands to life with a series of programmes and activities that shed light on the rich biodiversity and history that informed the artworks presented on St. John's Island and Lazarus Island.
Available in two sessions next Saturday, 25 February, island-goers will be able to participate in a variety of programmes for everyone to join in the fun. Think island tours and artist chats for art aficionados to hands-on craft activities, pop-up food stands and performances for families with little ones to adventure seekers.
Visitors can also anticipate the unveiling of Shooshie Sulaiman's Kancil Mengadap Beringin (The Mousedeer Comes Before the Banyan Tree) at Lazarus Island as part of SB2022. Imagining the encounter of between the Sang Kancil (mousedeer) and the pohon beringin (banyan tree), the work brings important symbols in Malay fables and cosmology from the Malay Heritage Centre, where it was previously located, to Lazarus Islands where it is fully realised and complete for the first time.
Natasha on the islands. Image courtesy of Singapore Art Museum
📅 25 Feb 2023
⏰ 10am – 1pm
🏷 Free (Ferry tickets not included)
Ferry tickets to be purchased directly from Marina South Ferries or Klook.
For those interested in a breezy morning of art and lifestyle activities, head down to the Southern Islands with family and friends from 10am to 1pm. The public can get their own tickets, embark on a self-guided journey of the artworks and hear directly from artist Zarina Muhammad on her artwork Moving Earth, Crossing Water, Eating Soil. Complement your experience with island activities like learning how to survive in the wild with three curated adventures, or visiting the St. John's Island National Marine Laboratory.
📅 25 Feb 2023
⏰ 4pm – 7pm
🏷 $30 (Return ferry tickets included)
Programme tickets to be purchased here.
For those interested in a deeper exploration of SB2022, make your way across the sea for an evening of cultural wonder from 4pm to 7pm. Rest and unwind with us while the sun sets with a special storytelling session by artist Shooshie Sulaiman and gamelan performances inspired by Zarina's artwork. Take a trip back in time with a special guided tour by a fourth-generation Orang Laut and learn about the islands' rich history from Singapore's indigenous seafarers, or attend a talk inspired by Åsa Sonjasdotter and Daniela Zambrano Almidón's Tarpuycha/Earthing Potatoes, which traces the history of the potato in Southeast Asian cooking.
[DROP-IN ACTIVITY] Introduction to Survival Skills by Into The Wild
---
SB2022 announces the addition of Singapore Flyer and 22 Orchard Road to the extensive list of SB2022 venues across Singapore, the activation of artworks and performances across the Southern Islands and Tanjong Pagar Distripark, and a diverse range of public programmes for the opening week, on 16, 21 and 22 October.
The seventh edition of Singapore Biennale 2022 (SB2022) named Natasha, officially opens to the public this Sunday, 16 October 2022. Three new venues – the Singapore Flyer, International Plaza and 22 Orchard Road – will join the exciting lineup of
locations around Singapore. Organised by the Singapore Art Museum (SAM) and commissioned by the National Arts Council, Singapore (NAC), audiences can embark on a journey with Natasha and its artists and collaborators, and re-discover different perspectives of viewing and relating to the world and the transformative potentials of life and relationships within it.
Eugene Tan, Director of SAM, said, "SAM is extremely pleased to present Natasha to the public. In developing this edition of the Biennale, the Co-Artistic Directors – Binna Choi, Nida Ghouse, June Yap and Ala Younis – created a biennale that sensitively responded to its time, as we contemplate the role and place of art in a post-pandemic world. Through framing Natasha as an intimate and collective journey across Singapore with artists, collaborators and audiences, SAM foregrounds its interest in placing relationships at the centre of our work, where art is infused into the everyday and made accessible to different communities. We look forward to how this journey with everyone will unfold as Natasha continues to evolve and transform over time."
Experience Natasha at three new locations, and with SB2022's Islandwide Coverage project
Conceived as exploratory spaces for audiences to wander, rest and converse, SB2022 will take place in a variety of locations beyond Tanjong Pagar Distripark and traditional gallery settings. International Plaza, the iconic Singapore Flyer and 22 Orchard Road are now part of the multiple locations visitors to the Biennale can experience art, in addition to the previously announced Sentosa Cove, St John's Island, Lazarus Island, as well as everyday spaces like regional libraries and Yan Kit Playfield.
SB2022 Co-Artistic Directors, Binna Choi, Nida Ghouse, June Yap and Ala Younis, said, "The additions of International Plaza, the Singapore Flyer and 22 Orchard Road as spaces for art takes the experience of Natasha into unexpected places, and probes audiences to change their perspectives through art. It extends our interest in the re-discovery of life and everyday encounters in SAM's home of Tanjong Pagar Distripark and the neighbourhood around International Plaza and Yan Kit Playfield."
The Singapore Flyer will serve as one of many locations under AWKNDAFFR's (Wayne Lim and Soh Kay Min) multi-authored project Islandwide Coverage, which spans six diverse locations in Singapore, taking audiences from a well-loved icon of the Singapore skyline to regional libraries in the heartlands. By activating a variety of viewing experiences through these locations, AWKNDAFFR charts a course towards a sense of "no-whereness". Through the integration of the artworks into the movement and mechanism of each venue, the audiences' encounter with each location will be transformed. In keeping with AWKNDAFFR's artistic practice of exploring forms of gathering, the art collective will also stage a roving exhibition consisting of a series of trailers and work-in-progress materials such as photographs and sketches of the presented artists' work. The roving exhibition Prologue will be staged at the following three Regional Libraries:
Woodlands Regional Library (Wednesday 9 November – Monday 26 December 2022)
Jurong Regional Library (Wednesday 28 December 2022 – Sunday 26 February 2023)
Tampines Regional Library (Wednesday 1 March – Sunday 9 April 2023)
Venturing to SAM Hoardings, AWKNDAFFR's Islandwide Coverage will be featured at the Hoardings along Bras Basah Road. Designed by CROP, the work uses a combination of symbols and shapes to represent networks and connectivity.
Apart from these works under Islandwide Coverage, audiences can also encounter Yejin Cho's draw2play, an independent work presented on the Hoardings along Queen Street. The work consists of ten geometric notations with accompanying rules and instructions on how to play the associated games. Through this work, Cho invites audiences to gather and play, thereby creating a space for conversation and exchange.
From December, audiences can look forward to experiencing Natasha at 22 Orchard Road, an old shop house building that will feature artistic practices that puts the artists' local communities at the core of the project such as Malaeb, Nina Bell F. House Museum, and S.O.I.L. Community with CONA PROJECTS. Also presented at this space are the works of Areumnari Ee, Sarah Abu-Abdallah, and Jaemin Cha, inviting more personal encounters and reflections.
Brazilian-Indonesian artist Daniel Lie will present a new site-specific installation in January 2023.
Journey to the Southern Islands
Natasha will also take audiences past Singapore's coastline to the Southern Islands with the support of the Sentosa Development Corporation and the Singapore Land Authority. These islands provide a space for reflection, imagination, and projection while serving as a potent site for art, artists, and the public to gather in lived encounters. Audiences can look forward to six artistic projects that engage with our relationship to nature, social practices and myths.
Encounter contemporary art across three floors at Tanjong Pagar Distripark
As audiences embark on their reflective journey with Natasha, they will come across a variety of artworks that respond to their respective environments, and spanning multimedia installations, immersive experiences and participatory workshops.
Spanning various spaces on Levels 1, 3 and 5 of Tanjong Pagar Distripark, the homeground of SAM will play host to an exciting and diverse selection of works of artists from Singapore, Southeast Asia, the Asia-Pacific, the Middle East, Europe, and the Americas. This includes renowned artists such as Haegue Yang, Araya Rasdjarmrearnsook, Cevdet Erek, and Wu Mali and homegrown Singapore artists like Berny Tan and Ong Kian Peng. For the first time, audiences will be introduced to the practices of seminal artists including Samia Halaby and Joo Jae-Hwan and encounter newly commissioned works by Angkrit Ajchariyasophon, Kanitha Tith, Natasha Tontey, Kiran Kumar, Aarti Sunder, Brian Fuata, Ali Yass, Moad Musbahi, and Valentina Desideri and Denise Ferreira da Silva, among others.
As part of SB2022's artist residencies in partnership with Darat al Funun – The Khalid Shoman Foundation, Singapore artist Ong Kian Peng will present an immersive multimedia installation titled The Viscous Sea, created during his three-month residency in Amman, Jordan. Jordanian artist Raed Ibrahim, who is in-residence in Singapore till November 2022, will present on Level 5 a series of clay tablets coded and customised to reflect a subject that is missing, obstructing or obscuring, exploring the anonymity of established concepts. Singapore artist, curator, and writer, Berny Tan will also be in-residence from November 2022 to January 2023 at SAM's EX-SITU space on Level 3, with a curatorial research project titled Page Break that looks at how everyday objects and scenes are explored through the medium of the art book.
Through the act of naming, the public is invited to meet and connect with artists, their lives, and different forms of life that are more than human. A myriad of conversations with surrounding environments are introduced as some artists present their interventions and artworks across spaces, whether it is on the grounds of Tanjong Pagar Distripark, or beyond. Visitors are encouraged to traverse between SB2022 venues and spaces to truly experience the breadth and depth of relationships and narratives of Natasha.
Low Eng Teong, Deputy Chief Executive Officer of Sector Development at the National Arts Council, and member of the Singapore Biennale Committee, said, "Since its inception, the Singapore Biennale has been crucial in spotlighting the artistic vigour of Singapore and the region's arts and culture scene in a global dialogue on contemporary art. It has been an important platform for public engagement and to further nurture arts appreciation in Singaporean audiences. The Biennale continues to pursue its mission by inviting audiences to participate in a collective journey that traverses a variety of iconic, everyday and artistic spaces across Singapore. In transforming the island into a distinctive city through art, we hope to bring the arts to people of all ages and backgrounds. This is also in line with the next iteration of Our SG Arts Plan (2023-2027), as NAC continues to work closely with our partners and key stakeholders to strengthen our arts ecosystem."
Public Programmes for SB2022's Opening Week
To celebrate the return of Singapore Biennale, SAM will be presenting a series of public programmes as it kickstarts the opening week of Natasha. Programmes are held across two weekends on 16, 21 and 22 October 2022, where audiences can participate in art experiences that reflect the vulnerabilities and stories of transformation of the artists and collaborators. These include encounters with many of SB2022's participating artists and works in-person, through a series of artist talks, including Joo Jaehwan, Haegue Yang, Samia Halaby and Brian Fuata in deep conversations with the Co-Artistic Directors; workshop by Kiran Kumar; and performances by Brian Fuata and Natasha Tontey.
SAM's doors will also be open past opening hours on 21 and 22 October 2022, inviting all to explore the museum after dusk in a fun-filled evening of art and entertainment. Parents can also plan an exciting day out for the family at SAMily Funday on 22 October and enjoy a line-up of programmes and activities designed for all ages.
Benesse Prize Winner to be announced on 15 October
Benesse Holdings Inc. will be once again collaborating with SAM in presenting the 13th Benesse Prize at SB2022. In its third edition with the Singapore Biennale, the winner of the Prize will be announced at an awards ceremony on 15 October 2022, during the opening of the Biennale. The prize will be awarded to an outstanding artist or artist collective chosen from the participating artists of the Biennale, based on how their work embodies an experimental and critical spirit beyond conventional practices and who is expected to have the potential to create works that will lead to "Benesse = Well-Being". The winner will be selected by an international jury that has been jointly appointed by Benesse Holdings Inc. and Singapore Art Museum.
The main event for SB2022 will run from 16 October 2022 to 19 March 2023. More information on ticketing can be found on SB2022's website.
---
It's the weekend and are you looking for things / activities to do? Check out our weekly roundup of Things to do This Weekend in Singapore.
* * * * *
Stay in touch! Subscribe to our Telegram here for our latest updates.
Like what you see here? Get parenting tips and stories straight to your inbox! Join our mailing list here.