7 August 'virtual' event takes performing arts to the heartlands to commemorate Singapore's 55th Birthday
In a first for the People's Association's PAssionArts programme, PA will take musical performances from budding Singapore artists and performers to the heartlands under its newly curated '#TravelWithArts' as part of National Day 2020 celebrations. The inaugural 60-minute virtual event will kick off on 7 August 2020 and will be live-streamed on PAssionArts Facebook and SISTIC Live.
In another first for PAssionArts, it will collaborate with SISTIC, Singapore's largest ticketing agency, through its 'SISTIC Live' platform to reach out to its base of 7,400 customers. '#TravelWithArts' will be streamed into this platform for free.
In keeping community arts alive and active in Singapore amid the on-going Covid-19 pandemic, this initiative leverages on digital platforms to enable music enthusiasts to share their experiences at musical performances and concerts when 'travelling' virtually with PAssionArts. In the same vein, the goal is to give budding artists the opportunity to perform and showcase their talent to a wider audience.
In the kick-off virtual event on Friday, 7 August 2020 (8pm), there will be an enchanting handbell live performance by Ministry of Bellz featuring National favourites like Singapura Sunny Island and Di Tanjong Katong; East Coast Choir singing a national day medley of Stand up for Singapore, Count on Me Singapore, Our Singapore, One United People, and We are Singapore. Within the stream, Ministry of Bellz and East Coast Choir will share their secrets to success through live interview and audience will also learn insights about Handbells. To deliver on the high mood, homegrown girl group MissChief will deliver a rousing live band performance, with live song dedication, to keep the Singapore spirit high.
➡️ Related Read: National Day NDP Theme Songs Over The Years
Over the next 4 weeks, there will be a 60-minute streaming of performances by vocal and instrumental groups – including Nadi Singapura, Open Score Project, OBOG Wind Symphony and OrkestraSri Temasek – at 8pm on 14, 21, 28 August and 4 September 2020. In each of the five performances, there will be three segments comprising a 'live' instrumental music performance, a performance by a community arts group, and a 'live' band performance. In between these performances, professional hosts will interview some of the groups so that performers can share insights into their motivations and passions with their online audiences. Among the performers, NADI Singapura, the most recognizable Singapore performing group, has agreed to collaborate with PAssionArts for two evening performances on 28 August and 4 September 2020. All the performances will be live-streamed free.
Ms Ashley Lin, Assistant Director (Projects) of Community Arts & Culture at People's Association, said: "PAssionArts' overarching goal of continuing to bring performing arts by community groups to Singaporeans amid the on-going Covid-19 pandemic will help realise this fresh initiative. PAssionArts remained focused on bridging, bonding and building communities through community arts and in this latest virtual step, we are able to launch this programme in conjunction with National Day 2020."
➡️ Related Read: Shopee's National Day Sale: Amazing Deals Not to Be Missed
Ministry of Bellz Music Director Mr Damien Lim, whose group will collaborate as part of '#TravelWithArts' said: "Handbells are not easy but we made it easier to connect among local audiences by tweaking the notes so as increase audience participation. As it is an instrument generally played by large groups, Ministry of Bellz is striking a new chord through this initiative. At the launch performance, we will present an ensemble of five players, breaking with the tradition of having the usual 15 to 20 members and combining the delivery with technology and music minus-one tracks."
Mr Lim added that handbell performances, by virtue of their history, have been considered sacred in that they are played on their own accord and, with no sound additions or insertions. Hence, combining music from five-member ensemble with the recorded music is expected to elevate the audience receptions. At its second performance on 14 August 2020, the Ministry will display its full ensemble, hoping to exhilarate its audiences with the likes of tunes from the Phantom of the Opera with handbells, instead of the usual pipe organs.
Details of '#TravelWithArts' performances:
Dates: 7, 14, 21, 28 August and 4 September 2020
Time: 8pm
Platform: PAssionArts Facebook | SISTIC Live
---
'#TravelWithArts' – About the Performing Groups
Segment I
Live Instrumental Music Performance with Live Interview
Ministry of Bellz
Established in 2007, its main objective is in creating an active community handbell ensemble for current and former school ringers, to continue their passion in the art of handbell ringing. Coming together with the common passion of Handbells Ringing & Music Making, the ensemble is recognised as a "Leader in Handbells Music" in Singapore.
Open Score Project
The Open Score Project is a young ensemble led by co-founder and composer Syafiqah Adha Sallehin. The group produces unique sounds by combining ethnic instruments with contemporary arrangements, converging various ethnic musical cultures of the world.
NADI Singapura *
The NADI Singapura ensemble is made up of young, aspiring and impartial musos who believe in uplifting their traditional drums and percussions and has become one of Singapore's most acclaimed performing groups. A regular partner to PAssionARTS, they expect to continue reaching their ardent followers digitally with '#TravelWithArts'.
* Will perform on 28 August & 4 September 2020
Segment II
Community Performing Art Groups Performance and Live Interview
East Coast Choir (South East)
The choir is a community group made up of ordinary people united by a common love for singing. It is an inter-generational choir comprising of members from as young as seven years old to seniors who are passionate about choral singing. Although majority of the choir members have no formal music background, the group has managed to gain its own traction of followers.
OBOG Wind Symphony (South West)
The group describes itself as a "place where school graduates continue to pursue their passion for music-making". As home to most students, the group was formed in 2008, with the ai of being an alumni band for ex-band members to continue playing and being a part of the band. In recent years, it has steadily seen a number of alumni from other schools join in its projects. Hence, OBOG is now made up of past and present band members from various schools.
Nee Soon South JustUke Strummers (North West)
This ukulele interest group from Nee Soon South Constituency started out in 2013. It comprises a group of fun-loving ukulele enthusiasts with the spirit of sharing the joy of singing and strumming the ukuleles. Its unique repertoire of songs includes a good mix of Mandarin and English songs together with some dialect songs.
Sambiesta (Central)
Sambiesta is a Singapore percussion band with an Afro-Brazilian set-up. Its 25-strong percussion outfit specialises in fusing modern funk, drum and bass and other unique beats with the traditionally ethnic Afro-Brazilian rhythms. Purely percussive as a standalone band, Sambiesta features an army of drums that consists of surdos, caixas, repinique, tamborims, agogo bells, chocalhos, congas, djembes and timbals.
Orkestra Sri Temasek (North East)
A traditional Malay orchestra based in Tampines West Community Club. Comprising of multiracial youths and adults from students to professionals. The group's goal is to seek, sustain and nurture the appreciation of Malay music heritage of the Malay Archipelago. It is the only Malay orchestra in Singapore that performs with traditional Malay and western musical instruments, which brings a unique flavour to their songs, some of which are sung in Malay.
Segment III
Live Band Performance
MissChief
MissChief is a girl band based in Singapore well versed at multilingual hits ranging from soothing ballads to upbeat dance tunes. A fusion of individualities, they appeal to a wide spectrum of audience and listeners. Growing up as teens and young adults through the '90s and 2000s, the energetic and fun-loving members of MissChief were fortunate to listen to Mandopop artists of different genres.
The JumpStart
The JumpStart group is a bilingual acoustic live band and its music can be easily distinguished through its tight harmonies, which is complimented by the eclectic use of a broad range of sounds and instruments. The members of The JumpStart, namely Ashton, Nat, CK and Yan Hua have conquered numerous big stages around Singapore, Malaysia, Thailand and China.
---
TRAVEL WITH ARTS, TRAVEL WITH PASSIONARTS
The People's Association PAssionArts is taking musical performances from budding Singapore artists and performers to the heartlands under its newly curated '#TravelWithArts' programme.
In keeping community arts alive and active in Singapore amid the on-going Covid-19 pandemic, this initiative leverages on digital platforms to enable music enthusiasts to share their experiences at musical performances and concerts when 'travelling' virtually with PAssionArts.
Travel with us on PAssionArts' #TravelWithArts on Friday, 4 September 2020, at 8pm with the captivating performance of Nadi Singapura streaming live on PAssionArts Facebook. Get your weekend vibes moving with this ethnic performance by award-winning Nadi Singapura whose passions in ethnic drums and percussions from the Malay Archipelago are the highlights of the evening.
Also, hum along with bilingual acoustic live band The Jumpstart or catch Orkestra Sri Temasek, a uniquely Singaporean group which performs melodious tunes with traditional Malay and western musical instruments.
Date: 4 September 2020
Time: 8pm
e-Venue: www.facebook.com/PAssionArtsSG
---
Singapore's 55th Birthday is just round the corner. Check out our list of Fun Things To Do This National Day 2020 Long Weekend In Singapore.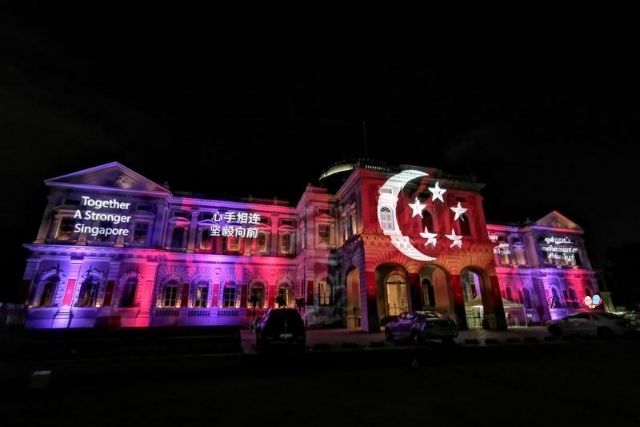 ➡️ Related Read: NDP Mobile Column Route 2020
Stay in touch! 📣 Subscribe to our Telegram here for our latest updates.
Want to be heard 👂 and seen 👀 by over 100,000 parents in Singapore? We can help! Leave your contact here and we'll be in touch.