We list down new and revamped places around the island that cater to the whole family. Here are some new or revamped places to go in Singapore in 2021.
New & Revamped Places in 2021
1. i12 Katong
Keppel Land's wholly-owned retail mall, i12 Katong, is reopening in phases following major asset enhancement works that commenced in early 2020. The enhancement of i12 Katong is in line with Keppel Land's vision to be a leader in redefining urban spaces for a sustainable future, including through improving its retail offerings and shaping them into future-ready, smart and sustainable retail hubs.
i12 Katong's 180 stores will progressively open in the lead-up to the mall's grand opening in March 2022. The mall will feature a number of firsts and welcome a portfolio of established lifestyle brands along with a refreshing mix of new concepts, dedicated art and sustainability zones, as well as a host of future-ready amenities and solutions for a holistic retail ecosystem, offering shoppers seamless and personalised shopping experiences. Harnessing the synergies of the Keppel Group, Keppel Land has also collaborated with M1 to transform i12 Katong into a 5G-enabled shopping mall.
Soft Open Date: 23 December 2021
********************
2. TreeTop Walk
The TreeTop Walk (TTW) is the highlight of several long hiking routes in MacRitchie that brings you through different stages of mature secondary forest. The first of its kind in Singapore and in the region, this free-standing suspension bridge connects the two highest points (Bukit Peirce and Bukit Kalang) in MacRitchie and offers a bird's eye view of the community of plants and animals that live in the forest canopy. The total length of the walkway is about 250m and its height from the forest floor varies, with the highest point at 25m.
TreeTop Walk is closed for maintenance works from 11 August 2020. Works are expected to complete by Q3 2021.
Reopen Date: 15 December 2021
For more information, visit TreeTop Walk.
********************
3. Splash Adventure Mobile Sea-play Park (New)
Splash Adventure and KKday are proud to launch Asia's first Mobile Sea-play Park on 4 December 2021. Splash Adventure floating playground is perfect for weekend island-hoppers, thrill-seekers and families looking for a day of outdoor fun at the sea.
Splash Adventure will open from 9am to 6pm on weekends and public holidays at Lazarus Beach, St John's Island. Park fees will be at $45 per person for 1-hour unlimited play, launching at a special rate of $30 up till the end of December 2021.
You can book online on KKday.
For more information, visit Splash Adventure Mobile Sea-play Park.
*************************************
4. SkyHelix Sentosa, Singapore's Highest Open-air Panoramic Ride (New)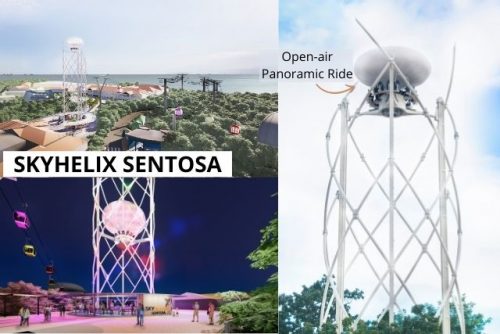 Mount Faber Leisure Group's highly anticipated new attraction, SkyHelix Sentosa, will open ahead of schedule on 15 December 2021, in time for the December school holidays and year end celebrations. It is Singapore's highest open-air panoramic ride and will be the first carbon-neutral attraction on Sentosa.
Located within the collection of attractions at Imbiah Lookout, SkyHelix Sentosa is an unforgettable gondola ride that reveals breathtaking views as it gently rotates 35 metres above ground along a vertical helix-like structure. Guests will enjoy unparalleled 360° sights of Sentosa and the developing Greater Southern Waterfront while dangling their feet in the air with a cool drink in hand. The ride's apex is 79 metres above sea level, making it one of the highest vantage points on Sentosa.
For more information, visit SkyHelix Sentosa.
*************************************
5. D'Ultimate XCape at Downtown East (New)
With a variety of attractions and fun activities at Downtown East and after a well-rested night in the comfort of your SHOWroom, wake up energised and ready for ACTION!
Official Opening Date: 13 October 2021
For more information, visit D'Ultimate XCape at Downtown East.
********************
6. Revamped Marks & Spencer Wheelock Place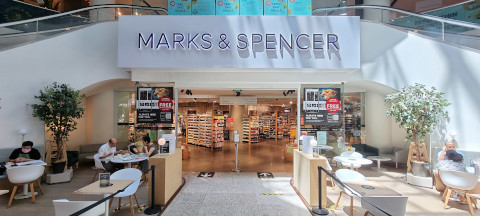 The iconic British retailer's back with a bang. Brace yourself for a brand-new pop-up store at 313@somerset, a refreshed VivoCity store, and a revamped Wheelock Place outlet with a one-stop baby shop, Singapore's largest food hall and a brand-new Home section.
To celebrate M&S' relaunch and Singapore's birthday, customers will receive a free limited edition tote bag designed by popular local artist Tiffany Lovage upon any nett purchase over $100 in M&S' Wheelock Place and VivoCity stores from 10 September 2021.
For more information, please visit Marks & Spencer Wheelock Place.
*************************************
7. Reflections At Bukit Chandu Museum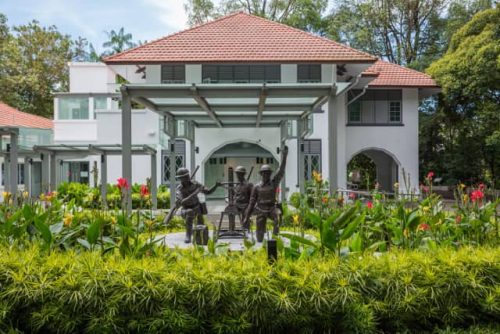 Photo credit: Reflections at Bukit Chandu
Reflections at Bukit Chandu is a World War II interpretative centre housed in a restored black and white colonial bungalow close to the former battle site – the Battle of Pasir Panjang. The centre is a place for visitors to reflect upon Singapore's heritage of heroism. The presentation, through artefacts, exhibits and multi-media, invites visitors to contemplate about our nation's war experience and to discover how far Singapore has come as a nation.
Official Reopen Date: 9 September 2021
For more information, visit Reflections At Bukit Chandu Museum.
********************
8. Bukit Gombak Park (New)
The 4.8-hectare park, which is located at Bukit Batok West Avenue 5 opposite the Bukit Batok Driving Centre, was originally scheduled to be opened in early 2020.
Visitors will be able to enjoy its greenery and recreational facilities that will include a hill trek and a nature playgarden, NParks said, adding that residents' feedback on the features was gathered during the planning process.
Official Open Date: 5 September 2021
Admission: Free
For more information, visit Bukit Gombak Park.
********************
9. Pasir Panjang Park Phase I (New)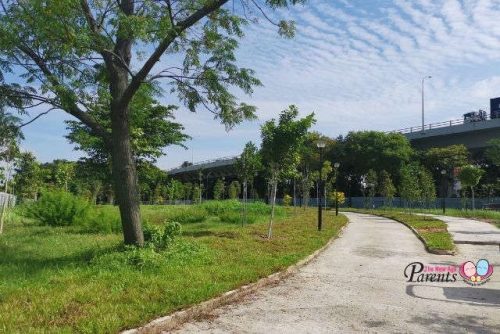 The new Pasir Panjang Park, stretching from West Coast Park to Labrador Nature Reserve, is part of the Greater Southern Waterfront (GSW), and will be completed in phases, with the first section following the engagement targeted for completion in 2021. The GSW extends from Pasir Panjang Terminal to Marina East, and covers 30 km of Singapore's southern coastline.
Official Opening Date: 4 September 2021
Admission: Free
For more information, visit Pasir Panjang Park.
********************
10. The Karting Arena at Jurong (New)
Photo credit: The Karting Arena
The Karting Arena has earned an enviable reputation as Singapore's ultimate motorsports playground for electric go-karts. With two locations, The Karting Arena is now Singapore's only track with electric and petroleum-powered karts for the best all-rounded karting experience. The newly revamped 153,000 square-feet karting facility at Jurong will offer both professional and leisure karters a new space to fulfil their adrenaline rush while uncovering the Jurong district.
Official Opening Date: 27 August 2021
Venue: Block B, 511 Upper Jurong Road Singapore 638366
********************
11. Museum of Ice Cream (New)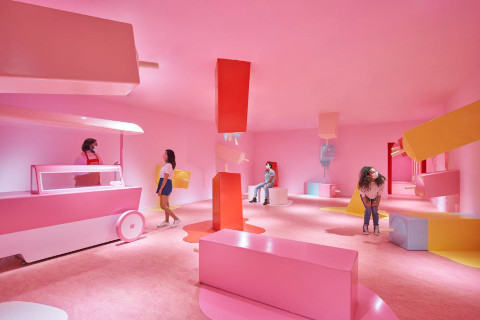 Image Credit: Museum of Ice Cream Singapore
Museum of Ice Cream (MOIC) is bringing its sold-out interactive museum experience to local shores, marking the first time the world-famous U.S. based attraction has set foot abroad. The experiential museum will be located in Dempsey, and will open its doors to visitors from 19 August.
Housed within a lush 60,000 square foot property, MOIC will feature 14 never-before-seen installations dedicated to the celebration and experience of enjoying ice cream. Guests can expect to experience a fully functional, Singapore-inspired "Dragon Playground", a pink and yellow jungle with 10,000 bananas, and the largest MOIC sprinkle pool ever created to bring their imaginations to life and create lasting memories over the magic of ice cream. Guests will also be able to enjoy five unique ice cream treats as they are guided through the 60 to 90-minute experience by talented #TeamMOIC performers.
Official Opening Date: 19 August 2021
Venue: 100 Loewen Road Singapore 248837
For more information, visit Museum of Ice Cream.
********************
12. ABC Waters at Jurong Lake (New)
Take in the picturesque view of the lake from the boardwalk and admire the flora and fauna at the largest man-made floating wetlands in Singapore. With a total area of 3,850m², the floating wetlands improve the water quality of the reservoir and also serve as a natural habitat for wildlife. If you're lucky, you might even spot some of our famous furry friends playing in the water 🦦.
Located along the northern shore of Jurong Lake, the newest #ABCWaters can be accessed via Jurong Park Connector along Yuan Ching Road, just next to Lakeside MRT station.
Official Opening Date: 8 July 2021
********************
13. Sembawang Heritage Trail (New)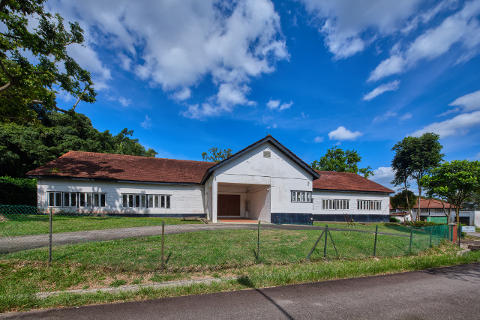 Did you know that Sembawang used to be home to an important naval base for the British Empire? Or that it was once populated by rubber plantations owned by prominent pioneers such as Lim Chong Pang? Sembawang, which derived its name from the Mesua ferruginea or the Sembawang tree, has also been home to people from all walks of life – from seafaring villagers who dwelt in kampongs; Asian dockyard workers from Kerala and Hongkong who lived at quarters along Canberra Road; to British naval officers who stayed in black-and-white houses – adding to the area's rich history and cultural diversity.
These lesser-known stories of Sembawang's naval history and diverse communities will be showcased in the National Heritage Board's (NHB) new Sembawang Heritage Trail. The trail features 31 trail sites and nine heritage trail markers, which invite trail-goers to explore Singapore's northern coastal town from when it was first mentioned in maps in the early-1800s, to the decades before and after World War II.
Official Launch Date: 13 July 2021
For more information, visit Sembawang Heritage Trail.
********************
14. Haw Par Villa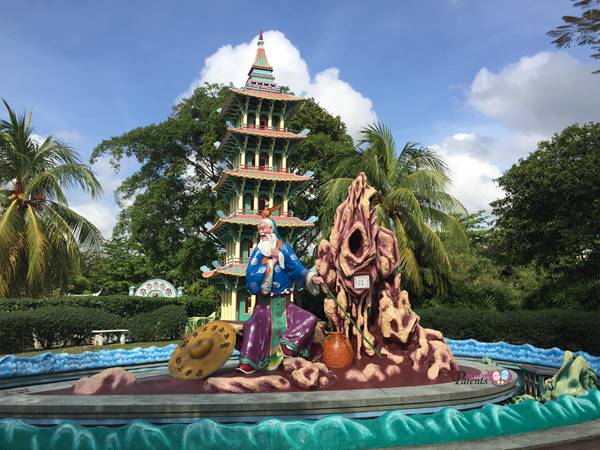 Haw Par Villa is a unique garden that is rich in educational value and grand in architecture. It is an undisputed wonderland of beautiful landscape and over a thousand sculptures that artistically portray stories and events based on famous Chinese historical personalities, mythology and legends.
Official Reopen Date: 1 July 2021
Opening Hours: 9am to 10pm
Admission: Free
For more information, visit Haw Par Villa.
********************
15. LEGO Certified Store at Resorts World Sentosa (New)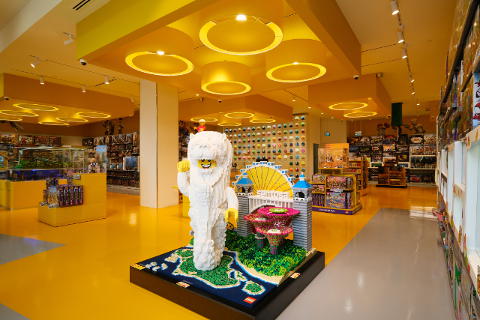 Southeast Asia's largest LEGO Certified Store (LCS) at Resorts World Sentosa (RWS) featuring a new retail innovation that makes its debut in the region – LEGO Mosaic Maker. Located at the heart of the Sentosa island and spanning over 3,165 square feet, the new LCS aims to bring exciting in-store experiences to the builders of tomorrow.
Located at street level, the LCS sports a 17 metre tall store-front facade that resembles giant LEGO bricks combined and stacked to welcome visitors into a new LEGO world. This eye-catching facade is accompanied by a customised Singapore-themed outdoor 3D model, sporting 'I ❤ SG'. The store highlight will definitely be the LEGO Mosaic Maker, which enables customers of all ages the opportunity to purchase their very own, personalised LEGO mosaic portrait. Visitors will also be greeted by the largest mosaic wall in Singapore titled 'Quay Colours', a 1.4 metre tall and wide 3D model in store featuring local landmarks, the vertical play wall in store which is the largest ever created with more than 11,000 LEGO pieces that are surrounded by 990 Minifigures representing the global population, and other store features.
Official Opening Date: 25 June 2021
Address: 26 Sentosa Gateway #01-72/74 Singapore 098138
********************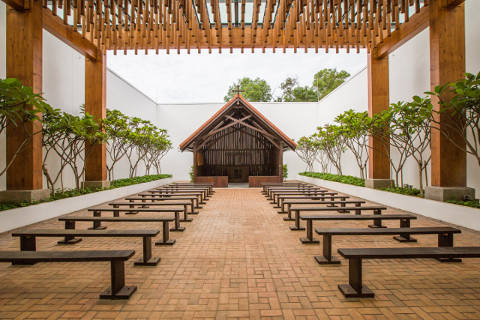 The Changi Chapel and Museum will be reopening its doors to the public on 19 May. The revamped commemorative site features new content and artefacts presented in an intimate and engaging format, highlighting the personal stories, courage and resilience of the prisoners of war and civilians who were interned in Changi prison camp during the Japanese Occupation.
Official Opening Date: 19 May 2021
Address: 1000 Upper Changi Road North Singapore 507707
For more information, visit Changi Chapel and Museum Reopening.
********************
17. IKEA @ JEM (New)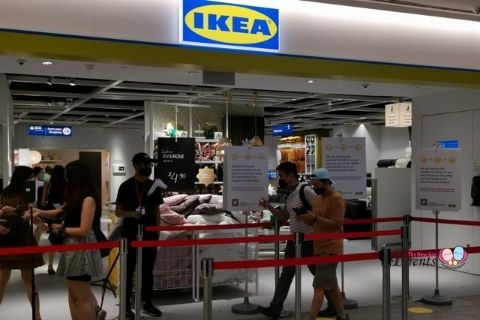 IKEA will open the doors to its first small-store concept in South East Asia on 29 April 2021. At around 6,500 square metres, the 3rd IKEA store in Singapore will be spread across three floors inside the popular Jem shopping centre. The store will be organised in a new way, combining the inspiration and products that IKEA has to offer for each core area of the home into one department, making it easy for customers to shop. This new store will not have a playground or built-in warehouse, but customers can look forward to buying the full IKEA range. Besides the IKEA Swedish Food Market, their popular IKEA Restaurant will be part of the offer, with Swedish meatballs, sustainable seafood and the local favourite, fried chicken wings.
Shop for free!
On 29 April, 10am, the first customer at our store entrance at Level 2 & 3 will get a FRAKTA bag to shop for free on us! Participant will get 120 minutes to fill the FRAKTA bag with cash and carry items only. Self-serve or pre-order items are not included. T&C apply.
Official Opening Date: 29 April 2021
Address: 50 Jurong Gateway Road, Singapore 608549
For more information, visit here.
********************
18. Coastal PlayGrove (Former Big Splash)
Take on the Play Tower, which is Singapore's tallest outdoor play feature, featuring 4-storey vertical net play area and slides on the third and fourth floor. The latter being the tallest outdoor slide in Singapore. The water play area guarantees fun for children as they run through the numerous water jets and splash around the wading pool and streams. Children can also reconnect with nature and engage each other in spontaneous play at the nature playgarden flushed with greenery.
Official Opening Date: 28 March 2021
Venue: Coastal PlayGrove (Former Big Splash)
For more information, visit Coastal PlayGrove.
********************
19. Gallop Extension @ Singapore Botanic Gardens (New)
The Gallop Extension is an eight-hectare addition to the Singapore Botanic Gardens, bringing the total area of the Gardens to 82 hectares. It comprises two conserved buildings that have been refurbished into the Botanical Art Gallery and Forest Discovery Centre @ OCBC Arboretum, the COMO Adventure Grove, and additional trails, scenic lawn and landscaped areas and naturalised habitats.
Official Opening Date: 13 March 2021
Address: Opposite 1, Tyersall Ave Singapore 257700
For more information, visit Gallop Extension @ Singapore Botanic Gardens.
********************
Popular Finland based SuperPark, with its purposed built indoor sports-oriented activity center, has selected DreamUs to operate its 40,000 sq ft branded Singapore activity park under a new license agreement.
Be spoilt for choice with more than 20 sports-centric activities spread out over two massive levels to cater to guests of all ages, fitness, and skill levels! Everyone gets to Move with Joy with their friends and family at SuperPark! Look forward to a new play addition, Archery; various popular ball games like Street Basketball, SuperBall, Street Soccer and BaseBall; interactive games like SuperHoop, SuperPinBall, Valo Jump, Hot Stepper and adrenaline rushed games like Trampoline, Skate & Scoot, Flying Fox, SuperClimb and Tube Slide, amongst others.
Official Opening Date: 9 April 2021
Venue: Suntec City
For more information, visit SuperPark Singapore Reopens.
********************
21. Green Corridor Central
Reopening of Rail Corridor (Central), the signature 4km stretch between Hillview and the conserved Bukit Timah Railway Station!
The area's lush greenery and railway heritage were retained while making it a more accessible and safe space for visitors of all ages and abilities.
Exciting new enhancements you can now discover include:
🟩 Eight new or improved access points along Rail Corridor (Central)
🟩 A new pedestrian underpass at Hindhede Drive
🟩 Sensitive restoration and refurbishment of railway heritage landmarks, such as the two truss bridges and the Singapore Quarry Bridge
Green Corridor Underpass near Tanglin Halt
Also note that the barricades at Jelita Holland, Ghim Moh and Tanglin Halt have been removed since 28 March 2021. Therefore there is a continuous path from Kampong Bahru all the way to Hill View via the Green corridor with slight detour at Jalan Kilang Barat.
Official Opening Date: 22 March 2021
Venue: Green Rail Corridor
********************
22. Once Upon A Time On The Orient Express (New)
Once Upon A Time On The Orient Express offers visitors a chance to embark on a fascinating journey through the history of the Orient Express, reliving the experience of travellers who boarded the train more than 100 years ago. Spanning over 2,000sqm, the pop-up attraction will feature two original train carriages classified as National Treasures of France, and a 158-year-old locomotive shipped from France to Singapore, along with 300 heritage items such as uniforms, shields, a pullman car, affiches, Louis Vuitton original luggage, priceless porcelain and more. The attraction will also feature an exclusive Orient Express shop, Orient Express road cafe, Orient Express restaurant and lounge* and escape room experience*.
*Reservations must be made separately.
Official Opening Date: 27 March 2021
Venue: Gardens by the Bay
For more information, visit Once Upon A Time On The Orient Express.
********************
Change in Plans
Chinatown Heritage Centre Singapore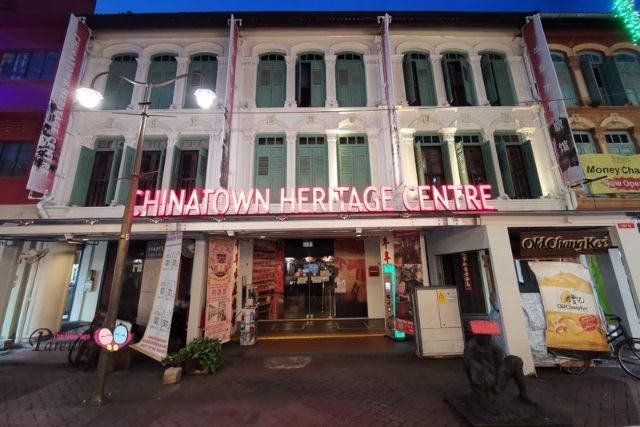 Located within three beautifully-restored shophouses on Pagoda Street, the Chinatown Heritage Centre is the only place in Singapore that has recreated the original interiors of its shophouse tenants in the 1950s, offering a rare glimpse into the lives of Chinatown's early residents.
Chinatown Heritage Centre will undergo enhancement works till April 2021.
Projected Reopen Date: Closed Indefinitely
For more information, visit Chinatown Heritage Centre Singapore.
********************
It's the weekend and are you looking for things / activities to do? Check out our weekly roundup of Things To Do This Weekend In Singapore.
* * * * *
Want to be heard 👂 and seen 👀 by over 100,000 parents in Singapore? We can help! Leave your contact here and we'll be in touch.
Stay in touch! Subscribe to our Telegram here for our latest updates.