My boys have been asking me relentlessly when we could visit SuperPark Singapore whenever we were in Suntec City. After some hesitation as I initially assumed SuperPark Singapore was similar to the other children's indoor playgrounds, I finally agreed to visit the park with the boys.
After spending several hours there on my first visit, I now know why everyone keeps talking about this place. It is truly not your usual indoor playground. It is in a league of its own and so much more fun for everyone in the whole family, regardless of age and fitness levels!
Visiting SuperPark Singapore
For starters, the boys and I were there for a grand total of 5 hours, and they would have kept going if I hadn't called it a day. That's 5 hours of endless fun, action and adventure. Well, it was mostly them taking the lead and me trailing behind…
Quick tip for parents who haven't been there: I would highly recommend purchasing your tickets and signing the waiver form via the website prior to coming down. Online tickets may sell out in advance, resulting in walk-ins not being able to play, and especially so on public holidays and weekends.
The entrance to SuperPark Singapore is on the second floor of Suntec City, in the North Wing of the mall. When we arrived there, we were warmly greeted by the counter staff and given their special SuperPark grip socks to wear. You would need to top up an additional $3 for these, and they are mandatory to be worn at all times in the play areas.
Sprawling Play Space
At first glance, the play area on the second floor didn't look that big, but as we made our way around the different play stations, we realised just how huge this place actually is, with the bulk of the activities being on the lower floor.
The playground spans a jaw-dropping 40,000 square feet, which makes it the largest play area in town.
Within SuperPark Singapore, the activities are split into three categories: Adventure Area, Game Area and Freestyle Halls, which are distributed across the two levels. You can find out more here. However, there's no need to worry about covering all the areas sequentially, go wherever your heart (and legs) take you!
Here are some of our favourite activities at the indoor playground.
Tucked into a corner next to the Street Soccer zone on Level 2 was a really fun section called iWall which the boys loved.
We don't own Wii or PlayStation at home, so they haven't had much opportunity to play these kinds of first-person-perspective games. They took a while to get the hang of this very energetic and interactive game, but like most kids, they figured out how it works in no time!
They also enjoyed the Pedal Car Track on the same floor, and went round and round the tire-lined track several times! There were larger vehicles for the older kids and adults to ride too – and I had a go myself!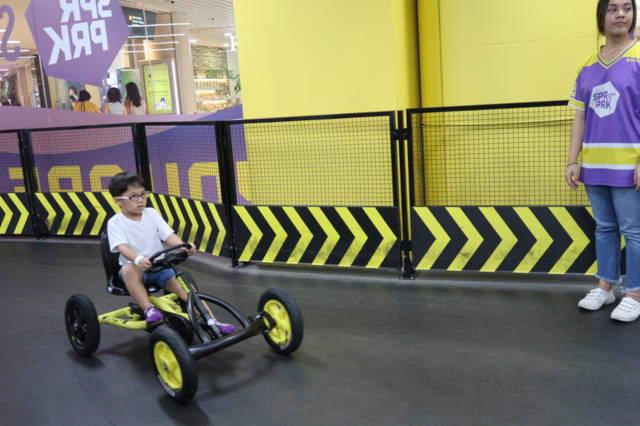 To get down to the lower level of SuperPark Singapore, there are two ways to go about it. The boys excitedly clambered down inside a vertical tower that was part of Kids' Adventure City, a sprawling network of padded play equipment, tunnels, slides and towers. I chose to take the safer albeit boring route – the stairs.
The boys really enjoyed going up and down the various towers and slides in Kids' Adventure City and made several new friends along the way. Isn't that the amazing thing about children? They can make friends literally everywhere they go.
Next, we tried the Flying Fox. My older boy loved it and happily zipped across many times, happy to knock the giant foam blocks off at the end.

Meanwhile, my younger son was a bit worried at first, but after some persuasion and letting him witness his brother's joyful success, he gave it a go too. Finally, I got a turn too!
The Tube Slide was another big hit with the boys. The queue for this can get long as only one person can slide down at a time, but it's worth the thrill of whizzing down the carpeted track! All three of us enjoyed this very much.

Daryl had a field day on the Ninja Track, and was so hooked on mastering the various stages.
Meanwhile, David enjoyed his time in Skate and Scoot World, where a staff member was happy to give him some tips on how to control and brake on a skateboard and scooter. Win-win for both boys, while mummy got to sit down and rest for a moment…
We walked past a wall that had bats appearing on it. It turned out to be the Augmented Climbing Wall, a shorter rock-climbing face on which is projected the game.
Their mission was to hit all the bats that appeared at various times all over the wall. The more bats hit, the higher the points! As you can imagine, we were here for quite a while after that.
All warmed up from the wall, my energiser bunnies hopped off to the Trampoline Platform. I tried jumping on the trampolines too, and while it was a wee bit embarrassing how I had way less stamina and control than my little bunnies, I must say it was really a very liberating feeling for me.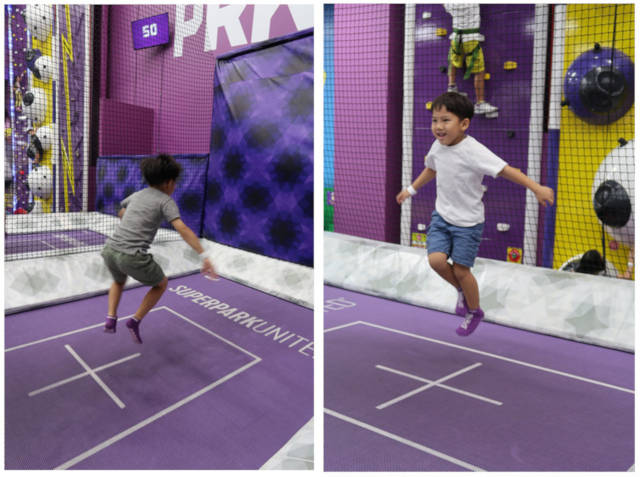 After getting their fill of bouncing on the traditional trampolines into a "sea" of cushiony foam blocks, the boys lined up multiple times for a go at Valo Jump, an interactive game where they bounced to complete their mission on the screen. It was so hilarious and a ton of fun!

If you have an avid climber in your family, don't miss the SuperClimb section! David made it all the way to the top this time.
SuperPark Singapore also has several team sports activities, such as soccer, basketball, bowling and baseball – great fun if you go as a bigger group with friends. Since it was just the three of us, it was difficult to play.
But my very sociable littlest son marched right up to a family playing Street Basketball and asked if he could join their game. Thankfully the equally-friendly dad said yes!
Now, we've almost come to the end of all the activities you can do here, except for one summer holiday special. If you're looking for a programme dedicated to honing your child's motor skills, don't miss out on SuperPark Singapore's SuperDayCamp!
June Holiday SuperDayCamp

SuperDayCamp provides children an opportunity to explore fun and exciting new skills and tricks at their own pace. Through specially-tailored competition games, your child can practice social-cognitive skills and build on their self-confidence.
The camp runs every Monday to Wednesday from June to July, from 9am to 3pm. It's $150 for a 1-day camp and this includes lunch, snack, SuperPark grip socks, a camp kit and full day venue access after the camp.
Suitable for kids in these age groups: 4 to 6 years old, 7 to 9 years old and 10 to 12 years old. Enjoy a 10% off if you book for 3 days!
Click here for more SuperDay Camp details and registration information.
As for me, it was very hard to tear the boys away from their new favourite place to play at the end of the day. But I promised them that we'd be back again someday soon.
Text and photos by Dorothea Chow.
This post is brought to you by SuperPark Singapore.

* * * * *
Like what you see here? Get parenting tips and stories straight to your inbox! Join our mailing list here.
Want to be heard 👂 and seen 👀 by over 100,000 parents in Singapore? We can help! Leave your contact here and we'll be in touch.