Contrary to the belief that Singapore is all about GDPs and economic growth; there have been efforts to make Singapore a more family-friendly working place for parents.
We list down the reasons why we think so.
1. Subsidies for Child Care And Infant Care
All parents with Singapore Citizen children enrolled in child care centres licensed by ECDA will continue to be eligible for a Basic Subsidy. In addition, families with monthly household incomes of $7,500 and below are eligible for an Additional Subsidy, with lower-income families receiving more.
2. One in Every Two Children Will Have A Place In A Childcare Centre By 2017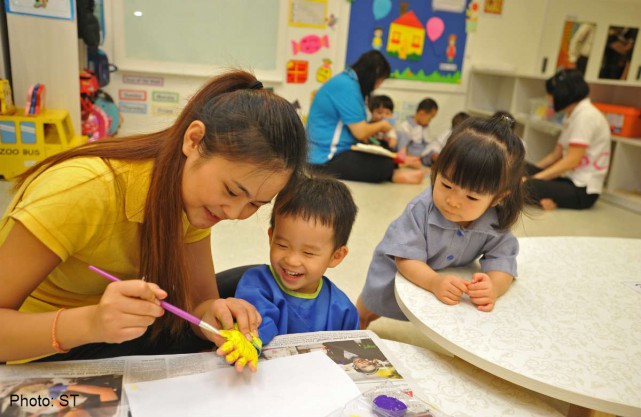 Photo: Straits Times
Since 2015, the Ministry of Social and Family Development (MSF) has added 17,000 childcare places across Singapore and will most likely be meeting their target of having 20,000 new child care places by 2017; providing places for one in two children for its cohort.
3. More Childcare Options For Residents In New Housing Estates
Photo: Low Wei Xin/TODAY
In mid-2016, there will be 1,000 more child care places for residents of Punggol and Sengkang. These centres, each with a student capacity of 500 will be run by an ECDA-appointed Anchor Operator.
Five locations have been singled out for new mega child care centres, which will be able to take up to 300 – 500 children. The sites – which have been selected due to their large number of young families – are: Jurong West, Punggol, Sengkang, Woodlands and Yishun. Four of these centres will be ready by the middle of 2016 while the fifth will be ready by the end of this year.




4. Making Childcare Services More Affordable
Today, 85% of Child Development Account (CDA) usage goes into either child care or healthcare-related purposes. MSF announced that it will top-up the CDA for all Singaporean children aged zero to six years old, by $300 to $600 per child, depending on the annual value of the family home. We believe this will be a big booster to many parents in the low to middle-income group. Parents will receive the top-up by September 2015.
5. Help For Households, Marriage And Parenthood
Instead of a single poverty line or even a single layer of assistance, Singapore works towards giving multiple lines of assistance to help Singaporeans across the spectrum.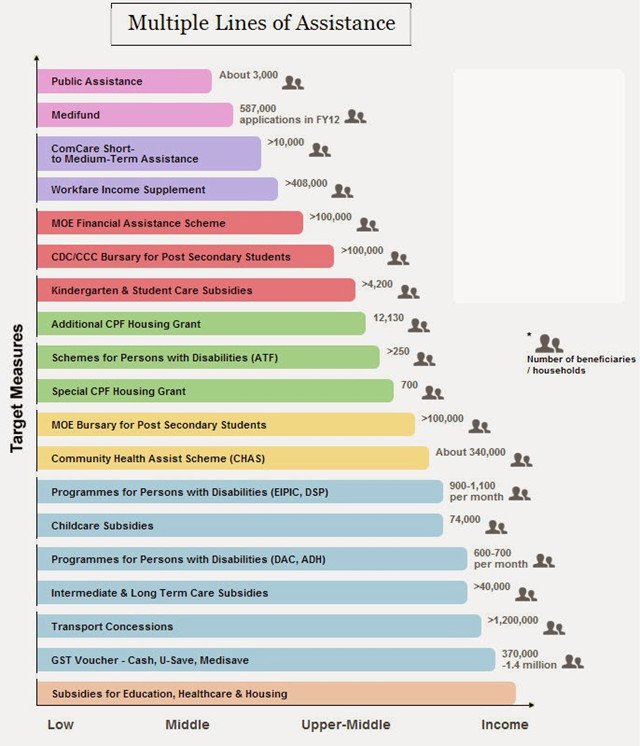 Source: Ministry of Social and Family Development
Dubbed as the 'kuih lapis' method by Minister Chan Chun Sing (refer to the chart above), Singaporeans of various household incomes can benefit from the various government schemes, with lower incomes benefitting from more layers.
6. Pushing For More Family-Friendly Workplaces
Advocacy groups such as AWARE and NTUC U Family are pushing for more family-friendly workplaces. More websites offering flexi-work job opportunities are popping up, such as Mums@Work, CareerMums and NTUC Women's Development Secretariat.
More stories of family-friendly workplaces have also been surfaced in the last few years.
Shara Syed Masood, a Senior Motor Executive with NTUC Income, loves her job and relishes in the intangible rewards she gains from it. However, as a mother of three young boys, aged 8, 5, and 3 respectively, she also understands that they need her attention too.
Shara worked out a half-day flexi work arrangement with her company and she is now able to do what she loves and spend time with her family.
"They are usually at school in the mornings, so the half-day flexi work arrangement helps me to fulfil my job and attend to my children. Another empowerment is that we do not need to clock in and out, cultivate a trust element. This has created happy, good teamwork and productive workforce," the mother of one explained.
Unlike othe