In our mummy blogger series, we find out what keeps these tech and social-media savvy mummies talking, or blogging!
Ruth Wong, late 30s, Work-at-home mom / Writer
Married to: Andrew Tan, Banker
Child: Kenan, 4 year-old
Blog: themommycafe.net, mommecircle.com
Blog was started in: April 2010
Hi Ruth! Tell us your blog in a nutshell.
Mommy Café is a heartwarming mix of mommy moments and kid's adventures peppered with lifestyle topics such as food, product reviews and interesting places to visit.
What's the story behind the blog?
I started Mommy Café when my son was about 3 months old. I realised how fast he was growing and wanted to capture his milestones and other precious moments through a medium I'm most comfortable with. Being a writer, blogging was the most natural choice.
What gets you talking/writing?
Motherhood, parenting, food, business/ mompreneurship.
How much time do you spend online each day/week?
I have cut down tremendously on the amount of time I spend online, especially on social media and I try to be disciplined about it. These days, I probably spend no more than an hour each day for leisure online. But if I am working and need to do research and so on, it will be longer.
Share with us your favorite post and what it means to you.
There are quite a few posts I love but if I really have to choose, I would say the series of four posts title "Things My Son Says" which I enjoy the most. They reminded me of those early days when my son started talking and the conversations are both heartwarming and funny, I really enjoy reading them again.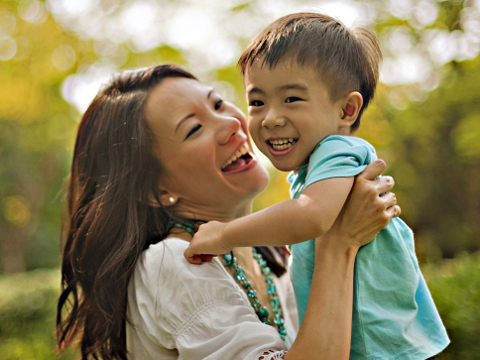 What do your kids have to say about being the stars of your blog?
He finds it interesting to see his photos on mommy's blog. However, he's just too young to form an opinion now. On my part, I have become more conscious of what I post about him, because I don't want what's being written now to have any repercussions on his future.
If your child decides to follow your footsteps and blog for a living, or blog to earn that extra income in the future, what would you say to him or her?
If that's really his passion and he thinks he can make a living out of it, why not? I'm all for self-employment.
Do you read your past posts? How often do you do so? Any regrets or do you find yourself re-editing some of the posts?
Honestly, I don't read my old posts much. But I know that if my husband and I need to reminisce about our son's younger days, the blog is there.
Future plans. What will happen to the blog when the kid(s) grow up?
Mommy Café is a personal blog and not a commercial site, so I don't have any future plans for it. I'll let it evolve naturally; suppose that's also part of the fun of blogging for me.
That said, I started another blog MomMe Circle to blog more about something close to my heart. I believe a mom's presence in a child's formative years is very important and through this blog, I hope to support moms who want to work-at-home and trying to find their way around it. The site is relatively new and a work-in-progress, I intend to focus more time and energy on Momme Circle this year.
Tips for budding mommy bloggers out there?
Blog about what you love and enjoy the process, I think that's the most important. Forget about the blogging rules you may have read and don't stress yourself over them. Also look for a community of bloggers that you can connect with – they will help you to grow as a blogger and you'll get to make some wonderful friends too, which I did and am so thankful for!
Stay tuned for more interviews with mummy bloggers in Singapore!
If you find this article useful, do click Like and Share at the bottom of the post, thank you.
Want to be heard and seen by over 100,000 parents in Singapore? We can help! Leave your contact here and we'll be in touch.