In our mummy blogger series, we find out what keeps these tech and social-media savvy mummies talking, or blogging!
Deborah Gifford, 34 years old, SAHM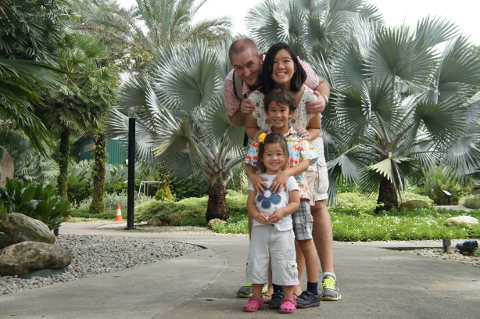 Also known as: Debs G
Married to: JG, 33, Radiologist
Children: J, 6 years old and Little E, 3 years old
Blog: owlswellblog.wordpress.com and owlflyaway.wordpress.com
Blog was started in: 3 Sept 2013
Hi Deborah! Tell us your blog in a nutshell.
Owls Well is owl (haha) about my shenanigans as a stay-at-home mom in Singapore and my little sister's adventures as a fancy-free single in Sydney. (I also have a travel blog called Owl fly Away, which documents our family vacations since the kids came into our lives.)
What's the story behind the blog?
The Owls Well blog is a way for my sister and I to share what we are doing and talk about what interests us. We have both been living far away from each other for many years, and we want to keep out family bond alive. So this is more like a series of letters to each other because we get to talk about little, everyday things.
As for the Owl Fly Away blog, I just wanted a place to write about travelling with kids in tow. So many parents don't feel empowered enough to travel outside their own homes and I just wanted to share my travel experiences to show other families that having young children doesn't mean being permanantly grounded!
What gets you writing?
Being at home with my kids allows me to stretch my creative muscles so I like to talk about the different ways I teach them about the world around them and encourage them to think about how they can contribute to pouring more awesome sauce on the world. Because the world could always do with more awesome sauce. I'm also a bit of a geek so raving about books that I've discovered or the latest superhero movie comes with the territory.
How much time do you spend online each day/week?
About 4-5 hours a day. I usually schedule my online time for when the kids are asleep or completing an activity that doesn't involve my direct supervision. My kid refer to my online time as 'Mummy's office hours'. I used to be an early sleeper, but having kids has taught me to become more like an owl, staying up late to explore the virtual world.
Share with us your favorite post and what it means to you.
Well, recently my son and I collaborated to make a series of videos on the blog about tabletop games that we play together as a family (http://owlswellblog.wordpress.com/category/staying-inside/tabletop-games/). Apart from being able to encourage other families to play more games with their preschoolers, it was really fun project for the both of us. It was wonderful and exciting to help make J's idea come to fruition as this not only encouraged him to continue to generate big ideas, but also showed him that I would always try my best to support his dreams. I also learned alot about video editing! I love learning new things.
Your most viral blog post to date?
That would have to be my very first post about making a space rocket out of cardboard boxes. I mean, why build a house when you can have a spaceship, right? The post is still really popular on Pinterest and was even mentioned in a local publication earlier this year.
What do your kids have to say about being the stars of your blog?
What? I'm the star of my blog! My kids are my co-stars! (My sister begs to differ though, she says she's the star of the blog.)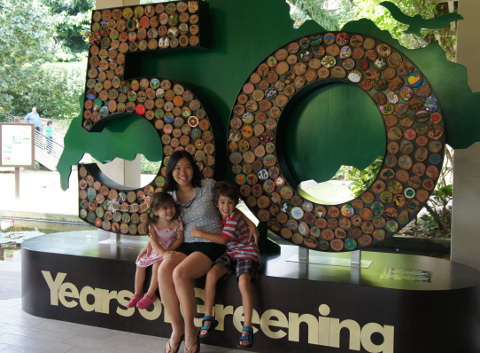 If your child decides to follow your footsteps and blog for a living, or blog to earn that extra income in the future, what would you say to him or her?
I would advise them write sincerely and honestly to please themselves and to use their words thoughtfully and with kindness. It's important not to contribute to the amount of WorldSuck that is out there.
Do you read your past posts? How often do you do so? Any regrets or do you find yourself re-editing some of the posts?
Owls Well is a young blog still, but I am treating it as a time capsule of my life. If I ever write something on there that I will later regret, I will probably keep it there as a reminder of how I used to think at the time. When I get old, I can read it and laugh and say to myself, 'Ah, to be young and foolish again…'
Future plans. What will happen to the blog when the kid(s) grow up?
The focus of the blog will evolve as my circumstances evolve. Being a mother is just one of my many roles but it is not my entire identity – and I see my blog the much same way. There will always be something new in my life that I will want to share and I think that keeps it exciting and fun.
Tips for budding mummy bloggers out there?
Make sure you separate your online life from your real life – it's easy to get lost in the virtual world and forget that you have real children who should always come first.
Stay tuned for more interviews with mummy bloggers in Singapore!
If you find this article useful, do click Like and Share at the bottom of the post, thank you.
Want more comprehensive info? Check out our e-guides here.